It's a yearly tradition. Crawling out of bed at a ridiculously early hour. Pushing away the turkey-induced sleepiness to stand in line in the cold, dark morning in the hopes of snagging that one crazy deal. For so many, Black Friday kicks off the holiday shopping season.
But holiday shopping isn't just about patronizing the big stores. Holiday gift-giving is a great reason to support small businesses. These businesses add so much to the character and vibrancy of our community.
How to participate
Small Business Saturday was first observed in 2010, and Little Boxes has expanded this tradition into a full weekend event. This Portland-wide program encourages residents to shop at participating businesses. From November 23 through 25, holiday shoppers have the opportunity to discover the quality and variety offered by the local shopping scene.
As a bonus, shoppers will have the opportunity to enter raffles for fun prizes. Prizes include gift certificates, Portland Thorns tickets, as well as a dream vacation worth more than $4,000 dollars.
Buying local makes a difference
Many of the participating businesses are also OnPoint members. We're proud of our business members, including Ellen Hsu who is the owner of Vintalier, located near OnPoint's SW 5th Ave Branch.
"The Little Boxes event is a great way to call attention to local businesses and remind people that Portland has a great local economy we can all appreciate," said Ellen. "It gets people excited and it brings people into the stores that they may not have known about before."
Vintalier is a lifestyle store that features clothes, accessories and home décor. Ellen first opened her business in 2013 as a vintage clothing store in Portland's Pearl District and it soon evolved into carrying new clothing. In March of 2017, Vintalier moved to the West End of downtown Portland and is now a lifestyle store with simple, functional, and beautiful clothes, accessories and home décor. Ellen has participated in the Little Boxes event for multiple years.
Businesses like Vintalier may be small, but they have a big impact on Oregon's economy. According to the U.S. Small Business Administration, Oregon small businesses employed more than half of the private work force in 2013. The smallest businesses actually have the largest share of small business employment.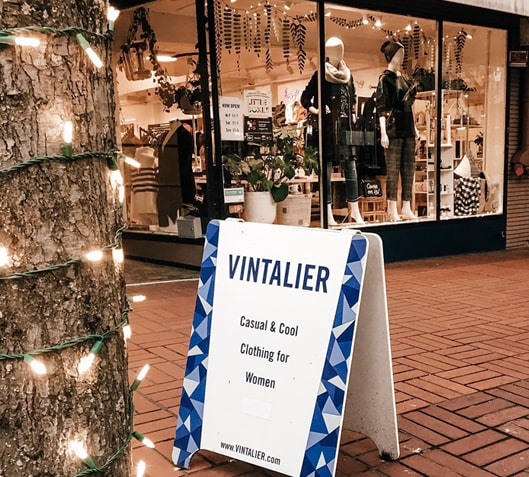 Ellen joined OnPoint when she started her business in 2013. She came to OnPoint looking for a more personal experience. "During the years, everyone at OnPoint has been friendly, trustworthy and forthright," said Ellen. "I came from a bigger bank and that experience was not the same."
Large retailers aren't the only place to find great deals. The Little Boxes event is a great time to visit Vintalier or another one of the more than 140 participating businesses that will offer special discounts. And best of all, snagging these deals won't require setting the alarm at three in the morning.
Supporting our community
At OnPoint, we love small businesses. Many of our members are small businesses, and several of our branches are located in lively shopping districts. That is why we are proud to sponsor the Little Boxes event.
OnPoint Community Credit Union offers a variety of banking products for businesses of all sizes. Join us this holiday shopping season in supporting the small businesses that help make our neighborhoods merry and bright.
Interested in joining in? Learn more about becoming an OnPoint member.