The current low interest rate environment can restrict the low-risk returns options of those who prefer to keep their money in a savings account. Ideally, at minimum, the goal is often to ensure that savings keep pace or stay ahead of the inflation rate, protecting the value of the deposit. However, for years now, interest rates have remained low by historical standards and consistently remain below annual inflation. The result is that at current rates of interest for many savings vehicles, inflation typically erodes the value of the deposit. Corporate and municipal bonds may provide somewhat better returns but are still at historic lows and offer little potential to deliver returns beyond inflation. What causes low savings interest rates, and what can fixed-income investors do about low interest rates?
If savings options are not providing the returns you need, you may consider various investment options. It's important to note that savings options at banks and credit unions are protected up to $250,000, while investments are often not protected and come with the risk of losing part or all of your principal balance. Before undertaking any new investment opportunity, it's always best to discuss your overall strategy with a Financial Advisor.
Understanding the Federal Reserve and interest rates.
The United States Federal Reserve (the Fed) sets the foundation and basis for interest rates in our economy. The Fed's goal is to maintain economic stability through official actions that promote maximum employment in the country, provide support for price stability and mitigate inflation—primarily by adjusting short-term interest rates. When the economy is strong and growing, the Fed can fight rising inflation by raising interest rates. High interest rates tighten credit and the money supply and subsequently slows overall spending in the economy. In economic downtimes or times of uncertainty, the Fed may reduce interest rates. Low interest rates lead to greater credit availability and promote increased employment, consumer spending and investment. Rates were already low before the onset of the coronavirus pandemic—which resulted in additional reductions—and now they are at historic lows with the Fed target interest rate of 0.00% to 0.25%. The result is the ultra-low interest rate environment exacerbating challenges for savers and fixed-income investors who desire low-risk opportunities for savings and investing their money.
Should I invest when interest rates are low?
Savers and fixed-income investors may be able to find a better rate of return by considering alternate strategies. By considering lower-risk investments like fixed annuities, people on a fixed-income or nearing retirement can diversify their assets and create an opportunity for returns. The low interest rates that depress yields in the fixed-income investment market may positively impact the various equity investments and some other alternate investments as the same mechanisms that depress savings rates can also boost economic growth. Here is a brief look at possible alternatives to improve returns in a low interest rate environment.
For those investors who wish to stay close to a bond or cash saving account portfolio, there are tweaks to those investments that may help improve performance.
Fixed Annuities. An annuity is a contract with an insurance company where you initially invest a lump sum premium, which is repaid to you with earned return in periodic payments over time. Annuities can offer enhanced earning potential when compared to a certificate of deposit (CD). However, they are longer-term investments that do not include NCUA/FDIC protection as CDs do.  You should also know that a fixed annuity contains guarantees and protections that are subject to the issuing insurance company's ability to pay for them.* Annuities also have surrender charges that may apply to any early withdrawals, whereas CDs generally limit withdrawal penalties to interest earned.
Corporate Bonds. For an investor wanting to remain in bonds with all or a significant portion of their portfolio, weighting toward high-grade corporate bonds could produce a much better return. Even in the current low interest environment, the top-rated corporate bonds offer returns somewhat above expected inflation rates and above 10-year Treasury bills. One method of investing in such bonds is a defined-maturity bond exchange traded fund. These funds have a set maturity date ranging from one to 10 years. Recent yields for high-grade corporate bonds in the two-year to 10-year maturity range yielded slightly more than the expected 2.00% inflation rate.
Series I U.S. Savings Bonds. An interesting current alternative is the Series I savings bond. This is a U.S. government bond designed to keep up with inflation. When purchased, it has a fixed rate, which at present is zero. However, in addition to the fixed rate, the investor receives an additional semi-annual interest rate to protect against inflation. Annualized that interest rate as of February 25, 2021, is 1.68% The bond must be held for 12 months before redeeming and is limited to $10,000 per individual per year (plus up to $5,000 additional from any tax return). These bonds must be purchased directly online by the investor at TreasuryDirect.com. The purchasing process is user-friendly and is a conservative option for protection from inflation.
What if I need a higher rate of return on my investments?
If you are considering opportunities with higher potential returns, equity investments may offer better performance. Additionally, low interest rate environments typically have a positive impact on the equity markets.  Please keep in mind that as potential returns rise, so does the risk associated with any specific investment.
Dividend Stocks. Choosing stocks that historically pay high dividends can offer an additional income stream along with the possibility of increasing rates. Over the last year, the dividend yield on stocks comprising the S&P 500 Index has approximated the average expected rate of inflation and exceeded the performance of U.S. Treasuries. Dividend-paying stocks tend to have less volatility than the market as a whole, but still carry risk with market fluctuation.
Preferred Stocks. Preferred stocks have similarities to both equities and bonds. Their dividend is fixed and is paid to the investor on schedules similar to bonds, providing an income irrespective of the interest rate environment. Preferred stocks may be an attractive option for investors interested in income and less in total return or appreciation in value. Because of exposure to market risk, these stocks traditionally provide relatively higher yields than bonds.
Exchange Traded Funds (ETFs). Researching ETFs will provide many options with varying investment strategies and holdings. Such funds are similar to regular equity investments as they offer the possibility of appreciation, dividend growth and liquidity from public trading. Some are constructed to track a particular market index, such as the S&P 500 Index. High yield ETFs have the ability to offer in significantly higher returns than bonds or other investments that are just tracking the inflation rate target, but the potential for loss is also greater.
High-Yield Securities. High-yield corporate bond funds are available with lower rated or unrated bonds, which offer higher returns than the defined-maturity bonds. These investments are significantly riskier than investments in high-grade bond funds. Still, they offer yields that have been several percentage points better than higher grade bond funds with the same maturities during this time of low interest rates.
Real Estate Investment Trusts (REITs). Real estate investment trusts generally offer higher returns for long-term investors by way of higher dividend yields than bonds, as well as capital appreciation. They may provide monthly or quarterly income streams. Holding REIT shares is an option for investing in real property and adding diversity to your portfolio.
Discussing your financial planning and retirement goals with a Financial Advisor can help determine what kind of investment opportunities are a good fit for you—potentially increasing returns when interest rates are low. An advisor can help you explore and research options while helping you understand your options and the risk factors.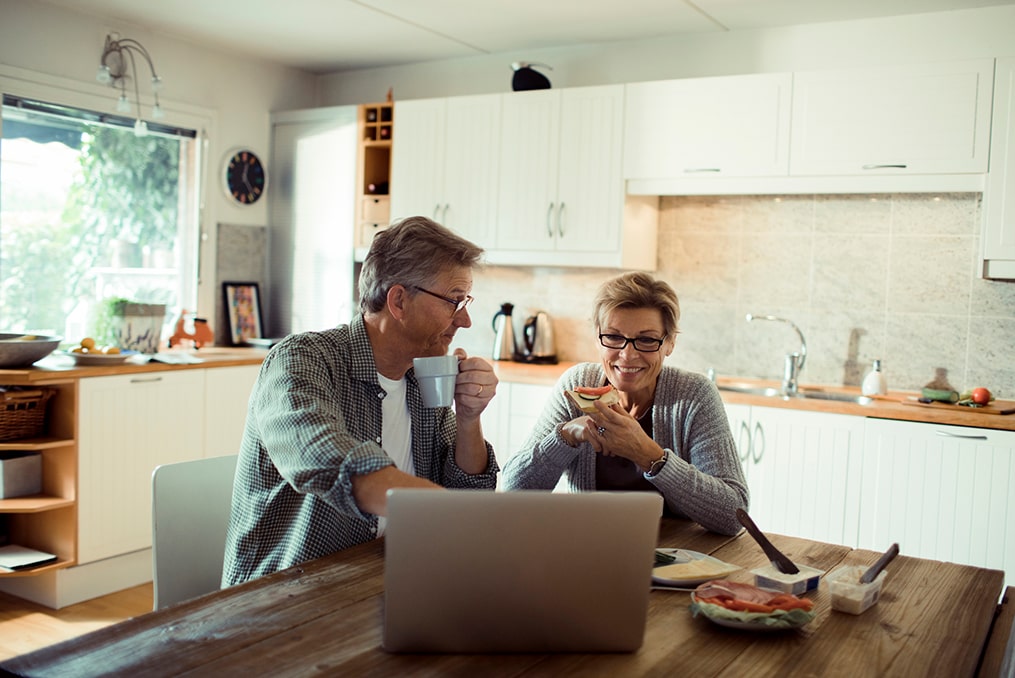 How do I decide between saving and investing?
The best strategy is the one that balances your needs with your goals. For now, interest rates are likely to remain low until the Fed determines that the economy is growing too quickly and we need to fight potential inflation. Taking on some additional risk may be appropriate, and prudently considering your options with a local Financial Advisor can help you determine the best path forward. Finding a balance between value and return through lower volatility options is vital for retirees who need regular income and may need to make withdrawals from their savings or investments.
Diverse portfolios are typically safer and more profitable in the long run over five-, 10- and multiple-year periods. Diverse portfolios can also be complex and more challenging to manage. Working with a Financial Advisor backed by a team can help ensure that you have the information to make it significantly easier to understand your options. Do you have questions about how to choose between investment and savings options? Consider reaching out to a Financial Advisor for a complimentary consultation.