Premium Bundle Rewards Savings account
Don't miss out on your opportunity to earn 5.25% APY* when you bundle three qualifying products or services.
OnPoint is committed to excellent member experiences.
Money doesn't care about people, but we do. When it comes to your finances, we're in it together. With OnPoint, you can check your balance, deposit checks, and pay bills from anywhere. We also offer great rates, low fees and financial education resources just for you. Yet, we're more than a place to bank.
Credit unions do well when members do well. This means if you need more from your banking experience, we're there to provide options, remove barriers and be your guide every step of the way. It also means we support community, because we know we're all stronger when every one of us is stronger. Most of all, it's about people. People like you.
Learn more about becoming a member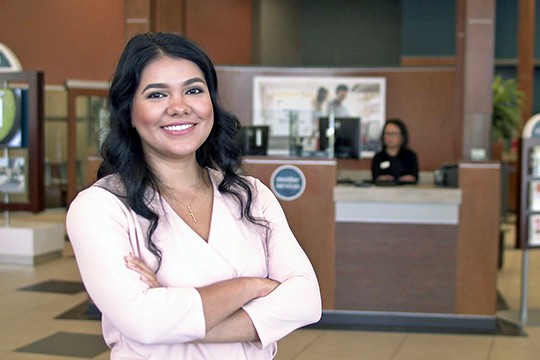 Routing number 323075880
After hours fraud support
Report a lost or stolen card
Call member services
Freeze credit card
Set travel notice
Schedule an appointment
Get member assistance.
Making an impact with your OnPoint membership.
We love being a part of our community, and that's why we're always taking action to improve people's lives for today and tomorrow. We strive to create real connections with the people and organizations within our community so they know who we are, what we do, and how much we care. Let's work together to create the future we all know is possible.
Friendly and helpful. I was with another bank for 20+ years and have never been treated as well as I have at OnPoint. Thank you.

Kenneth K.
Today's promotions & rates.
OnPoint member, Anna won $5,000!
We're excited to celebrate OnPoint member, Anna K., for winning $5,000 as part of the Credit Union Give Back Sweepstakes.
Anna used her OnPoint credit card at least four times per week from July 12 through October 31, 2023, which automatically entered her for the chance to win $5,000.
Congratulations Anna!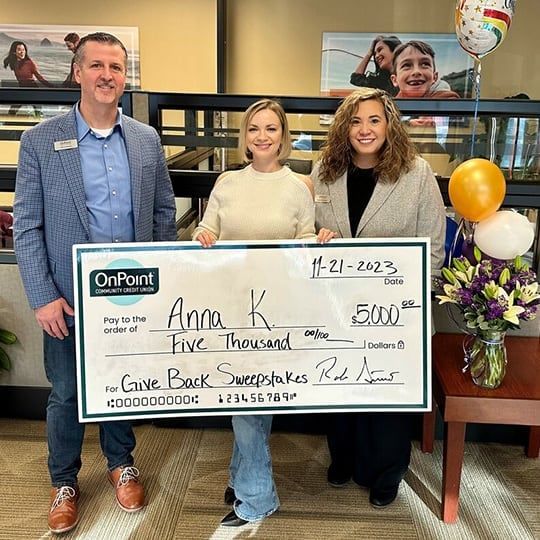 Disclosures
* APR = Annual Percentage Rate
Trending Topics
Community Impact Story
College Possible: Breaking down barriers to higher education
College Possible is working to close the college degree gap by providing resources to young people in Oregon who are likely to thrive given the right opportunities. Since 2012, the organization has provided college access and success programs that have supported more than 2,600 students throughout the state. Most of them are first-generation college students, and 73% of them identify …
Read the full article