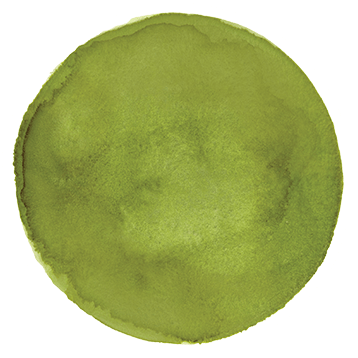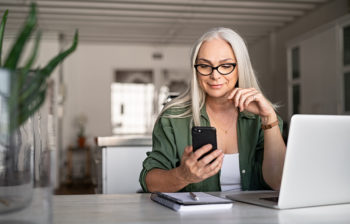 Digital Banking
Managing your money just got easier.
Where the functionality you need meets the simplicity you want.
Enjoy more control and more convenience, with anytime, anywhere banking access and a full suite of online and mobile tools. It's safe, secure and simple.
Account Management
Check your balance, freeze your credit card, update your personal information, and more.
Person-to-Person
Send, request or receive money from anyone using an email address or phone number.
Finance Manager
Track and categorize your spending, set monthly savings goals and create budgets.
Enhanced Security

Verify your login with a secure access code sent via text or phone.

Touch ID & Face ID

Quickly log into Digital Banking securely on supported devices.

Update Contact Information

Update your email, phone and address. In addition, you can let us know when you travel out of the area.

Customized Experience

Simplify your banking by giving each account a custom name or reorder the appearance of your accounts.

Easy Mobile Deposits

Deposit checks directly into your account with just a few steps.

Quick Digital Transfers

Make bill payments and swift and secure transfers between your accounts and elsewhere.
---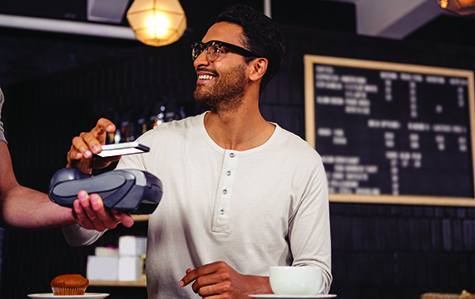 Safe ways to pay.
You can make simple, secure debit or credit card payments without swiping or inserting your card. Just add your OnPoint debit or credit card to Apple Pay, Google Pay or Samsung Pay, and you're all set.
You can also make fast, safe peer-to-peer payments with Zelle®, Venmo, Paypal, Cash App and more.
Learn more about digital wallets and contactless payments
Absolutely amazing. Quick load times, very clean and easily readable, common sense navigation. A must have for OnPoint members.
Kellen - Android app review
Download our mobile app today.
Simply enroll in Digital Banking, then download the app for your device below.
Conveniently deposit checks from anywhere.
With Mobile Deposit, you can quickly and securely deposit checks in just a few quick steps:
Log in and select Mobile Deposit from the main menu.
Select the account you wish to deposit the funds into and the amount of the check.
Sign and write "For Mobile Deposit Only at OnPoint CCU" on the back of the check.
Click Capture Image and you will be prompted to take photos of the front and back of your check. The final step is to confirm your deposit. Once you select deposit, it will start processing.
Your check deposits can be seen by selecting Activity Center and then selecting the Deposited Checks tab.
What to do with the check after you deposit:
Once a check has been deposited to your account, make a note on the front of the check with "Mobile Deposit to OnPoint" and the date.
Keep the check in a safe place for seven days in case it is needed.
After one week, destroy or properly dispose of the check.
---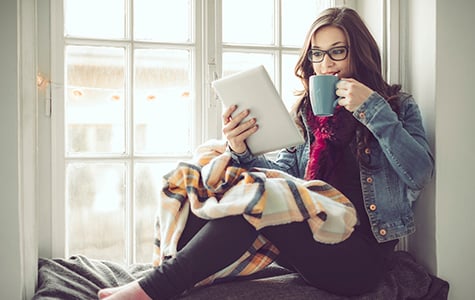 Sign up for eStatements.
eStatements provide you with a safe, convenient, and environmentally-friendly way to access your monthly account statements for free. Find all the account information you need with up to 18 months of account history.
Enroll in eStatements today
Digital Banking FAQs
The person or company to whom you are sending funds is known as the biller. A biller can be almost any company or person to whom you would send a written check, such as a utility company, a cable TV provider, or even a relative. It may be convenient to set up an automatic payment for a biller so there isn't a need for repeating the same scheduling process each month.
Log into Digital Banking and navigate to Bill Payment from the Payments & Transfers tab.
You will see your billers listed in the Payment Center.
Click the button at the top of the page to Add a Company or Person.
Click the name of the biller to see or change their information, such as their address, telephone number, and recent payments.
If you don't activate your Touch ID, Face ID or fingerprint login from the Login Screen you still have the option to activate it within our digital banking app.
Sign in to OnPoint's Digital Banking mobile app and tap the Menu button. In the Settings tab, tap Security Preferences.
Toggle the Touch ID/Face ID or Fingerprint Login switch from "Off" to "On."
Review the information about using fingerprint authentication and tap the Continue button.
Enter your login ID and password and tap the Authorize button.
Note:
You must have Touch ID/Face ID or Fingerprint enabled on your mobile device before enabling it through our Digital Banking mobile app.
From the main menu, select Log Off, which is the final menu item. On mobile, select the Menu button to display menu options and select Log Off.

If you forget to log off before closing the browser window or navigating to a different website, the system will time out. However, it is still best practice to log off and close all internet browsers before navigating to another website or attempting to sign back in. This is also the best practice when accessing Digital Banking through our mobile app.

If you are unable to sign back into Online Banking or need further assistance, please contact Member Services at 503.228.7077 or 800.527.3932 (M-F 7 a.m. to 7 p.m., Sat. 9:00 a.m. to 3:00 p.m.)
You can disable Touch ID or Face ID if you no longer prefer to utilize them.
Sign in to OnPoint's Digital Banking mobile app and tap the Menu button. In the Settings tab, tap Security Preferences.
Toggle the Touch ID/Face ID or Fingerprint Login switch from "On" to "Off"
Tap the Yes button to disable the feature.
For best performance when accessing
Digital Banking
, we recommend you use one of the
supported browsers listed here
. While other browsers may work, these supported browsers provide the highest level of security, accuracy, and functionality. We also recommend that you enable JavaScript and pop-up windows in your browser for certain features to function properly.
If you wish to change your mobile banking Login ID, you will also be changing your online banking Login ID as they are the same. To change your Login ID, log into Digital Banking and select
Settings
from the main menu. Select
Security Preferences
, then select
Change Login ID
and choose your new Login ID.
Note: your Login ID must be between 8 and 32 characters long.
If you don't remember your Login ID or if you are locked out of your account, please call Member Services at 503.228.7077 or 800.527.3932 or visit your
nearest branch
.
Yes! It's a great idea to regularly update your password.To change your Digital Banking password, follow the steps below:
Select Settings from the main menu
Select Security Preferences
Click Change Password
Complete the fields to change your password
If you are locked out of Digital Banking, please contact Member Services at 503.228.7077 or 800.527.3932 (M-F 7 a.m. to 7 p.m., Sat. 9:00 a.m. to 3:00 p.m.) for assistance.

Lockouts occur following 5 failed login attempts.
Yes! If you have a friend or relative who is also a member of OnPoint, the Member to Member transfer option within Digital Banking allows you to send them money instantly. By using their member number, account/loan number and the first three letters of their last name, you can send them electronic payments and link their account for future deposits.
Additionally, you can send and receive money with friends, family and others you trust using Zelle® in OnPoint's Digital Banking. (Note: you must have a bank account in the U.S. to use
Zelle.)
Make a Member to Member transfer today!
Log into Digital Banking
Select Payments & Transfers from the main menu
Click Member to Member
If you would like to remove an external account (loan, credit card, or deposit account) that you previously linked from another bank or credit union within your OnPoint Digital Banking profile, complete the following steps:
Log into Digital Banking.
Select Settings from the main menu (left-hand side).
Select Account Preferences.
Tap on the account you would like to remove to expand the details.
Click the Remove link. (Note: The "Remove" link will only appear on accounts you linked from other external financial institutions.)
Confirm you want to remove this account by clicking the Yes, remove button.
Disclosures
Regulation D limitations apply to online and mobile banking transactions.
Online Banking Agreement
1 Please be aware that while OnPoint's mobile banking services are free, your mobile carrier may assess text messaging and/or web access charges.