At least 45 percent of all consumers have been affected by cybercrime in some form or fashion. These days, we spend more time than ever on the internet, and our children are doing the same. All this internet time increases the likelihood that you or a member of your household will deal with cybersecurity threats or fall victim to cybercrime at some point, and kids can be even more at risk. Take a look at some of the biggest cybersecurity questions parents have and the answers you'll want to know as a parent.
What cybersecurity threats do kids face today?
The internet is more prevalent in the daily lives of our children today than it has ever been. The typical teen or tween spends on average nine hours per day online socializing, playing games, listening to music, or engaged in other activities. In this huge chunk of time, kids can face a number of cybersecurity threats, and kids are often targeted by scammers because children can be easier to trick or lure into doing something. Some of the biggest cybersecurity threats kids face:
Phishing scams
Downloading malware
Providing or posting private information
Mobile security threats
Clickjacking attacks
Social engineering and confidence schemes
Scammers target kids because they lack experience, have access to their parent's information, and commonly share devices with their parents. For example, if a hacker manages to gain access to a laptop through malware after a child accidentally downloads some malware, parents using the laptop could have their info exposed. It is critical that parents talk to their children about the many cybersecurity threats out there, make it an ongoing conversation, and take steps to secure the family's devices.
Learn more about how scammers target kids online.
How do I talk to my child about cybersecurity?
Kids are often more internet savvy than parents give them credit for, but this confidence could lead to them dismissing parental concerns. The fact remains that parents have more experience with keeping information safe and private online. It's best to make cybersecurity part of the overall technology conversation early on. If kids are old enough to be connected to the internet without supervision, then they're old enough to talk about cybersecurity. A few basic things to cover include:
Think before you click—even clicking a link poses a risk
Don't get hooked—phishing, and how cybercriminals use the tactic
Password privacy—never share your password (except with parents!)
Don't be a sucker—describe clickbait and how to handle digital curiosity with patience and research
Electronic housekeeping—keep device and app software up to date with timely security patches
"S" is for secure—HTTPS vs. HTTP show kids how to identify secure and non-secure websites
Gotta have that now—help kids be on the lookout for anything that seems too good to be true
Digital stranger danger—it's easy to pose as someone else online
You get what you pay for—using free public Wi-Fi safely
You may be surprised at how much children can understand about cybersecurity if you approach it collaboratively. Cover the basics, check in periodically, see if they've had any issues, have any questions, or know about the latest threats online. Then add more information as their understanding grows over time.
Learn more about what's essential for your kids to know about cybersecurity.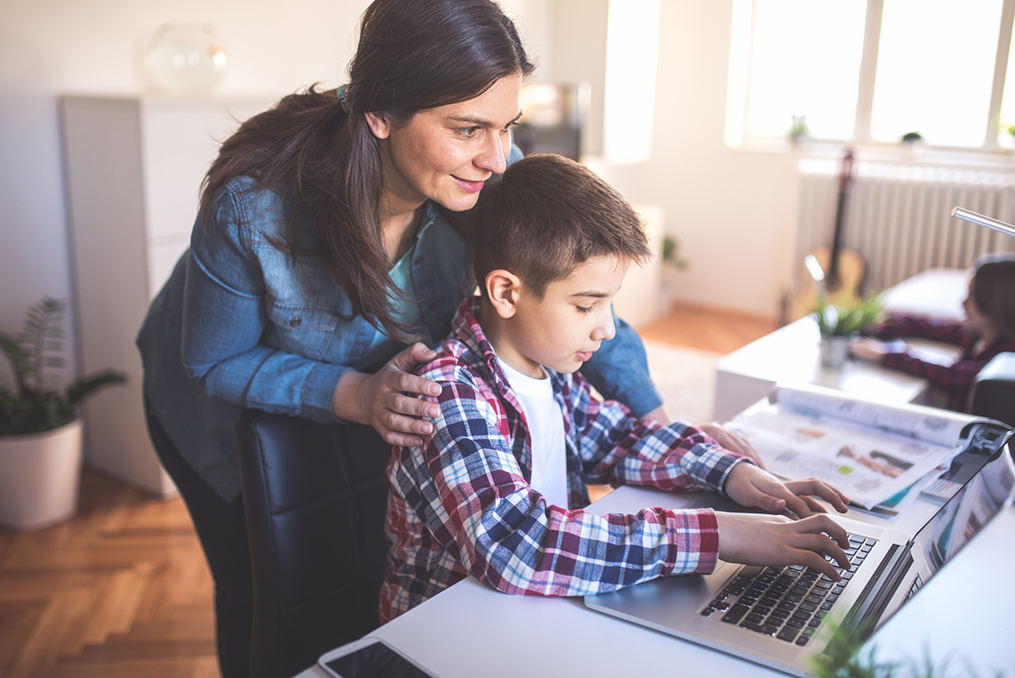 How can we protect our family's mobile devices?
Parents and kids are relying more and more on mobile devices over traditional desktops and laptops. Hackers understand this and focus efforts towards targeting mobile devices. Protect your family's mobile devices by:
Ensuring that personal devices are password protected with a unique, strong password
Bluetooth is turned off when not in use (some devices can be hacked via Bluetooth connections)
Don't trust every downloadable app; apps can contain trackers and malware and even use a camera or microphone to spy on you
Activate trackers like Find My Device on Android devices and Find my iPhone on Apple
Log out of accounts after each use
Keep device software up to date
Avoid connecting to public Wi-Fi
Along with these tips, make sure children are careful about sharing phones or other mobile devices with friends or other kids. Their friends may not be as savvy (after all, you're engaged in their cybersecurity education) and may be more likely to make security mistakes or even gain access to stored passwords or private information.
Learn more about securing your family's mobile devices.
How do we protect our family's computers?
In many U.S. households, different family members have access to personal or shared computers, including the kids. Broad access to the internet provides opportunity to do many fun and important activities online. However, these devices can provide the means of cyberattack if not properly secured. To keep your family's computers protected:
Install a firewall and frequently update software with important security patches
Add antivirus software to protect from malware
Use strong access password for profiles (parents should access to devices as well)
Restrict visitor access (don't let friends use devices unattended and set up guest access for Wi-Fi with a separate guest password, for example)
Ongoing cybersecurity education for the whole family (phishing, malware, ransomware, etc.)
You can also do a lot to protect your home computers with the right router. Many routers are designed with parental control features that will allow you to block certain websites. For example, if your kids frequent file-sharing sites where you can download pirated music, games, or video content that can put computers at risk, you can use your router to block access to these kinds of sites.
You can also use some routers to capture a log file of everything being accessed by every device on the network. You can then take a look at where your kids are spending their time online. Additionally, almost any router can do web filtering by using one of many different either free or pay-for DNS services. You can also configure your router to use one of these DNS services to protect your entire home, usually for free. Just like with your PC and other devices, your router is only remains secure as long as you keep your software up to date.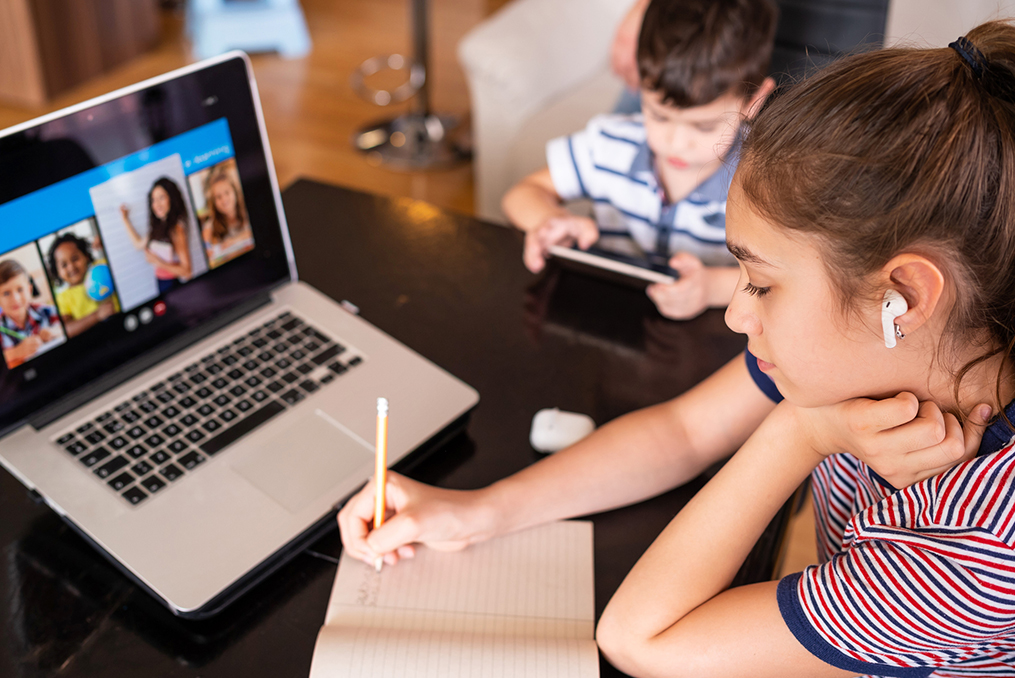 How do we protect our family's gaming systems?
Gaming systems rely heavily on connectivity just like other household electronics—allowing users to download games and communicate with other players. They can even replace other forms of entertainment by entirely performing many tasks that you would expect from a laptop, computer or television. Therefore, gaming devices should also be protected. A few general rules to share with your children include:
Make sure gaming accounts are protected with strong, unique passwords
Never share personal details within a game or chat
Only buy downloadable content from trustworthy online stores
Avoid adding mods to games that don't come from a reputable source
Don't save payment information on the console's store or platform; it's safer to enter it as needed (and it helps prevent kids from making unapproved purchases)
Keep gaming systems and games properly updated even if it means having to pause a game or wait to play (patience can be especially difficult for kids sometimes)
Another complication with protecting gaming systems comes with using them on the go. If your children use the gaming system away from home, make sure they know to avoid connecting to public Wi-Fi. Also, be careful about sharing the console with others.
What should our family know about passwords?
Sharing a password is never advisable, but this can happen among both adults and children. You may even have passwords stored on a post-it note in the office, slips of paper in your purse or wallet, or even save passwords in your notepad on your cell phone. None of these options is secure. These access credentials are like your digital identity in the world of the internet and can often be used to gain your information and commit financial crimes against you and your family. Start keeping your passwords secure by:
Making sure you keep your own passwords private from your children so they don't inadvertently share these access credentials with someone else
Talk to your children about the importance of creating very unique passwords for each website or account while following your own advice
Utilizing a password manager to make password security much simpler while adding this additional layer of security
Get more detailed guidance with our strong password and username checklist.
How can we keep our home network secure?
Your home router should be relatively secure, but it may not be that way straight out of the box or from the service provider. You may have to do a few things to make sure that the router is as secure as possible so you don't end up with unauthorized people using your network and potentially stealing your information.
First, make sure the router is set up as a password protected secured network. Keeping the connection open can make connecting a new device convenient; however, an open, unsecured network connection can pose security threats. Take the time to create a hard-to-guess password for the primary network. If your router has a guest connection feature, make use of it and make sure that has a password as well. When your children have friends over, they can use the guest network so they will not need the primary password for the main network. Also, keep in mind:
Change the default router name
Enable network encryption
If possible, turn off the router's ability to broadcast the network name
Keep your router up to date
These actions will help keep your home network safer for you and your family to use. Make sure children know to never share the primary network password with friends, and ideally change your access password every few months. Need more help with cybersecurity? Download The OnPoint Guide to Personal Cybersecurity.