Buying a home is an exciting and unique process. It's easy to feel overwhelmed; however, when you have help from the right people, your home-buying journey can be hassle-free.
Here are seven steps to take as you look for your new home:
1. Get pre-approval for a mortgage loan
Whether you're a first-time homebuyer or someone who has purchased one or more houses in the past, you'll likely need to shop for a mortgage before you can proceed with your plans. Typically, you will be responsible for regular monthly payments until you pay off the balance of the loan, plus interest.
Before you set out on your home-buying journey, it's important to understand how much money you're able to borrow. Your local credit union can help you determine this amount through a mortgage loan pre-approval.
Once you're pre-approved for a mortgage, you'll have a better idea of the price range you can afford and real estate agents will take you seriously as you've taken a key step toward making your home purchase; this differentiates you from casual shoppers.
2. Find a trustworthy real estate agent
An experienced real estate agent is essential to the home-buying process. Agents know how to negotiate prices, assess neighborhoods and provide advice specific to your local housing market. In the majority of cases, you won't have to pay the agent's commission—that's generally the responsibility of the home seller.
When looking for an agent, ask your friends and family members for recommendations. Once you have a list of potential agents, ask each one about their experience in the market. You'll want to know each agent's scope of coverage. Do they focus on a specific area, or are they willing to branch out to nearby suburbs and towns? Once you've narrowed down your list, ask for references and call them to make sure the agent's previous clients were satisfied with the agent's work. Once you have your mortgage pre-approval and have found your real estate agent, your next step is to find the right home for you.
3. Conduct online research and create a list of needs
At this stage, you've probably explored local listings online. Now it's time to make some serious notes about the essential features of your next home. Sit down with your partner or other family members if they'll also be enjoying this home with you and discuss which home features are "must-haves" and which are "nice-to-haves". Once everyone is on the same page, keep track of online listings and note which ones you'd like to take the time to see in person.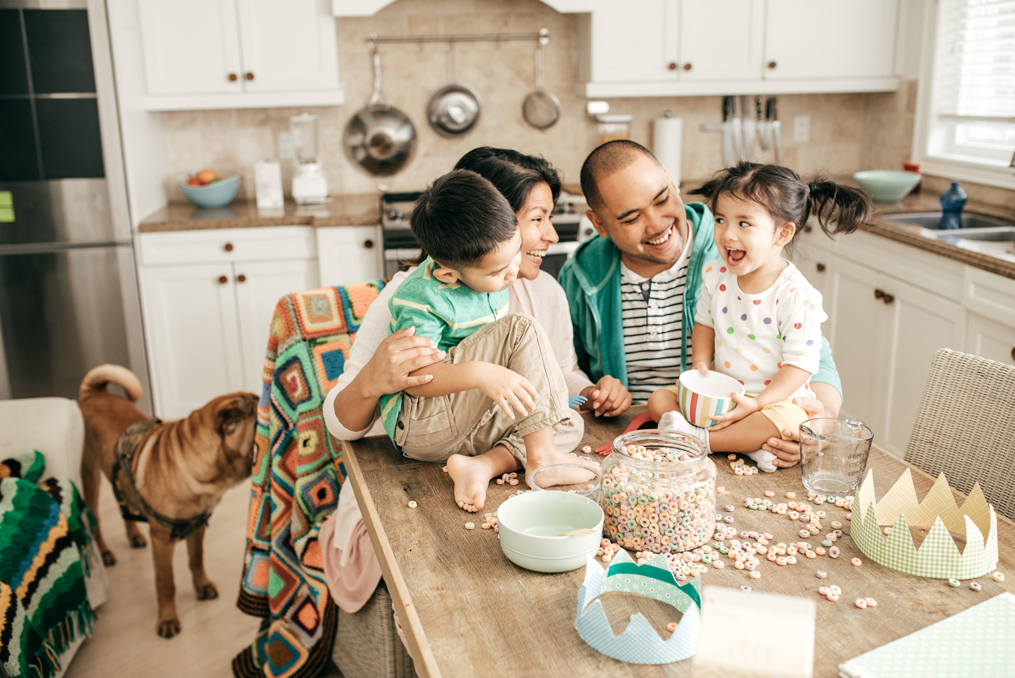 4. Attend open houses
After you've narrowed down your list of homes to check out, work with your real estate agent to schedule times to visit each one. Often, agents will host open houses on the weekends—these are great opportunities to spend some time closely examining your shortlist of options. While you're visiting homes, keep searching online for new listings—you never know when the perfect home will become available. This allows you to keep eliminating some options while adding others as you go.
Come to each open house prepared to ask questions and write down notes. By the time you've seen a handful of houses, it can be difficult to remember which house had the great bathrooms and which had a leaky roof. Ask about any recent work that's been done to each house and pay attention to signs of damage. For example, a musty smell in the basement could indicate water damage—these kinds of concerns may not be a deal-breaker, but could come into play during your negotiations.
5. Make an offer and prepare to negotiate
When you find a house that meets your needs, then it's time to make an offer. This is where your real estate agent will really shine. Your agent should know local rates and other factors that may affect the price of the home. This is also when your mortgage pre-approval will come in handy. Without pre-approval, most sellers won't consider your offer.
Typically, an offer is tendered in written form as a purchase agreement—a contract that describes the house, the price offered and any relevant financing terms. This document may also establish if the payment will be held in escrow until the sale is finalized. You may also want to stipulate that your purchase is contingent on the approval of a housing appraiser and an inspector.
6. Get a home inspection and final loan approval
With your intent to purchase the house in writing and acceptance from the seller, it's time to head back to your mortgage loan officer to help with the finalized details and approval on your mortgage loan and to schedule your professional home inspection.
Although a home inspection is typically not required for your mortgage, it is still highly recommended to get a home inspection done by a licensed professional. A professional home inspector will uncover any potential damage or structural inefficiencies that could impact your decision to purchase, or the price you are willing to pay. For example, if the home requires repairs, you may be able to negotiate for a lower price, even after your offer was accepted. Alternatively, you may decide the house needs too much work and is no longer worth pursuing, in which case, you pull out of your offer.
If you've decided to move forward after the home inspection, your lender will likely require that the home be appraised. Your lender won't finance a property for more than it's worth, so this step is crucial. If the appraiser returns with the conclusion that the house is not worth as much as your offer—and if you are still interested—you may need to cover the costs yourself or renegotiate the home price with the seller.
Once the price is finalized, and before final approval, your loan application will go through the underwriting process in which the lender determines if the level of risk is acceptable. If you've been pre-approved and the information you provided was accurate, then this process should be painless.
7. Close the deal
When your loan is approved and the seller accepts your terms, it's finally time to make the purchase. Arrangements will be made for you to sign all relevant loan documents to close on your home. Then comes that magical moment when you receive the keys to your new home!
Are you looking for a new home? Do you know how much you can afford to spend? Our team of mortgage officers is here to help! Schedule a free consultation today.