If you want to increase your savings contributions or pay off credit card debt quicker, reducing household expenses can free up the cash flow to help you achieve your goal. Many homeowners; however, run into the challenge of just how to cut away at their biggest and often their most important monthly expenses. After all, it's unlikely you can lower your rent or monthly mortgage payment on demand.
Let's explore some of the best ways to reduce expenses at home so you can make room for other financial goals.
1. Reducing your household utility costs
Heating, cooling and electricity costs are necessary and highly variable household expenses. Your utility costs will rise and fall over the year as the seasons change.
While you may be able to manage small increases from month to month, these bills can become particularly burdensome if left entirely unaddressed. What is the ideal range for your thermostat? The U.S. Department of Energy recommends setting it at 68 degrees in winter and 78 degrees in summer.
Some other handy tips to ensure your energy costs don't get out of control:
Wearing a couple more layers of clothing in winter
Ensuring all windows are sealed to improve insulation
Using draft stoppers to keep energy in and home costs down
Additionally, if you dynamically adjust your thermostat, you can save even more money. The Department of Energy reports that you can save as much as 10% a year on heating and cooling costs by turning your thermostat back 7 to 10 degrees for 8 hours a day. That means keeping it lower in winter and higher in summer when you're away from the home or asleep.
2. Cut down on takeout and delivery
We know how hard it can be to make dinner at home on a consistent basis. Many of us don't have the patience to cook dinner for 30-90 minutes plus cleanup, especially after a long and tiring day working. That's why it's common to rely on takeout and delivery options.
The more you frequent restaurants, or order takeout or delivery, the more costly your monthly food expenses become. Seriously consider how much your budget can support delivery fees and surcharges and plan accordingly for each month, rather than making costly last-minute decisions.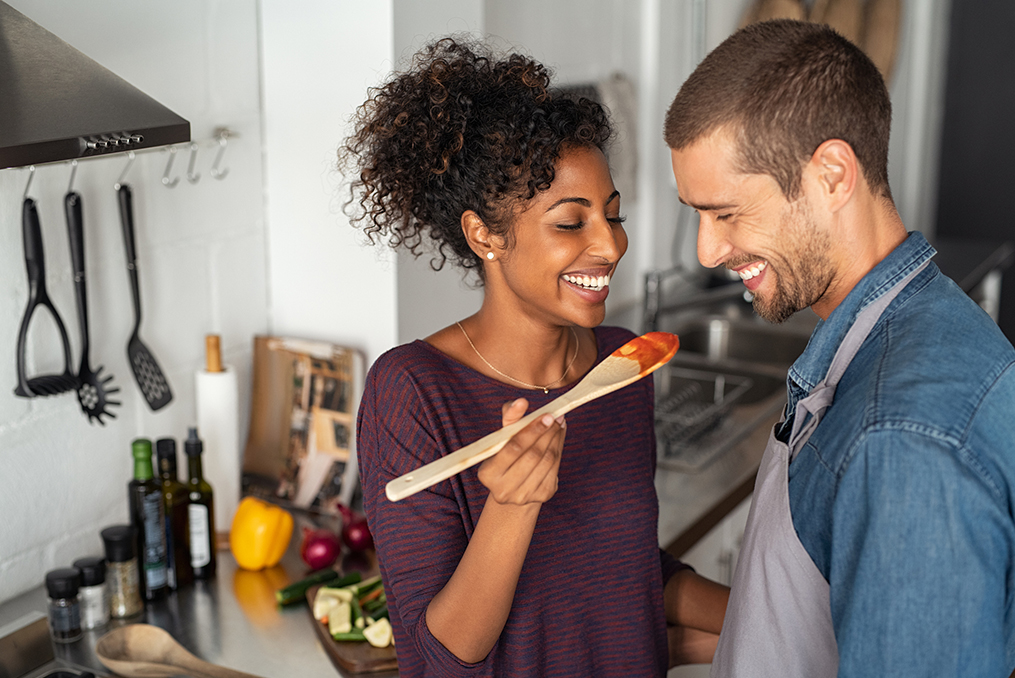 For some, choosing to eat at home more often can lead to big savings. Don't know how much you should be spending at the grocery? The U.S. Department of Agriculture has some helpful benchmarks. In April 2020, for a family of four with children 2-5 years old, monthly grocery bills averaged:
$585.40 on a thrifty plan
$747.50 on a low-cost plan
$922.20 on a medium-cost plan
$1,138 on a liberal plan
Focus on getting the staples when you shop, such as vegetables, fruits, healthy grains and proteins. Try to limit ready-to-go options, as prepared meals can cost more than the ingredients you need to make the dish yourself. If you find yourself skipping out on meal plans because you're too exhausted to cook in the eve, consider setting aside time on the weekend for meal prep.
3. Decide which subscriptions you're actually using
There seems to be a subscription for just about everything. From entertainment streaming services to monthly shipments of clothing items or beauty products, these services have consistently found a place in the modern household budget. The pitfall, of course, is that the proliferation of recurring monthly bills means households are continually signing up for more and more accounts. Each subscription alone can feel like a great deal, or a real time-saver. However, in aggregate, the addiction to automated purchases can start to add up.
Wondering how to lower your living expenses? Take a look at your recurring monthly costs and make decisions on which to keep and which to ditch. Are you getting as much from the subscription as you expected? Do some similar options compete for your attention? Consider eliminating or rotating through redundant options.
For example, there is often overlap between entertainment streaming platforms. Stick with the one provider that has your favorite exclusives and cancel other supplementary services to save money. Looking for overlap between subscriptions, whether they are for media content or household goods, is among the best ways to reduce expenses related to these ongoing monthly charges.
Alternatively, it may be possible for you to leverage new offerings to save money in the long term. Setting up an account for regular deliveries of essential products, such as cleaning supplies, can help you better manage spending by reducing travel and helping avoid impulse buys. Just be careful to avoid redundancy and periodically review subscriptions to ensure that you're still getting the value that you expect.
Trim your costs with a sound budget
Ultimately, keeping your household expenses low can be a challenge. While you may know what to do, taking action can be difficult. When looking for help on reducing your biggest monthly expenses, it helps to have an established budget. Learn more about personal finances and how to build an effective budget with our educational resource Enrich.