In times of uncertainty, you may want to reduce your monthly expenses to save more money for your emergency fund or for bills that can't wait. The stay at home orders in both Oregon and Washington have many of us eating at home more often, and driving up grocery bills. Though groceries are a necessity, it's possible to lower the amount of money you spend on food at the grocery store.
How much should you spend on groceries per month?
The U.S. Department of Agriculture provides grocery spending guidelines for individuals and families. The USDA's March 2020 recommendations offer the following benchmarks for thrifty spenders:
A family of two should spend $391.70 or less.
A family of four should spend $571.80 or less.
For each additional child, add $159.30.
Remember that this is the thrift plan, and is a handy guide for understanding how you can be thriftier. The USDA also offers low-cost, moderate-cost and liberal plans. Also, keep in mind that adults under 50 and growing children may need more calories per day than older adults.
The best ways to save money on groceries
When you know how to save, grocery shopping on a budget doesn't have to be a burden. You can still have amazing meals that taste great and provide your family members with the nutrients they need.
1. Make a budget
Decide in advance how much you can afford to spend on groceries. Whether you're following the USDA's thrifty spending plan or setting your own budget, it's important to know how much you can spend, so you don't use up your budget on non-essentials.
2. Plan your meals
Spend time each week planning your meals. Making a meal plan will help you create a grocery list and ensure you'll have plenty of food available until your next shopping trip.
3. Check your pantry
When you plan meals, don't forget about the food already in your pantry, fridge and freezer. If you have frozen vegetables on hand, then you just need to buy a source of protein and some bread for a complete meal.
4. Make a shopping list
Write down everything you need to buy for your planned meals, plus snacks, and commit to only buying what's on the list. Impulse purchases will increase your grocery budget. When your budget allows, it's perfectly fine to add a few treats to your list.
5. Find coupons or sign up for store rewards
Browse your local grocery store's weekly ad for deals and coupons or utilize their rewards program. You may also be able to find discounts online. Comparison shopping at multiple grocery stores can offer you more saving opportunities.
6. Don't buy more than you need
While buying in bulk can save you money, it's not always the best option. For instance, bulk produce might go bad before you have a chance to eat it. On the other hand, buying bulk dried goods could be worthwhile.
7. Find seasonal produce
Off-season produce tends to cost more because it is grown in a controlled environment, like a greenhouse. Seasonal produce is more affordable because it is often grown locally and in greater quantities. Check out the USDA's seasonal produce guide to see what you should add to your grocery list.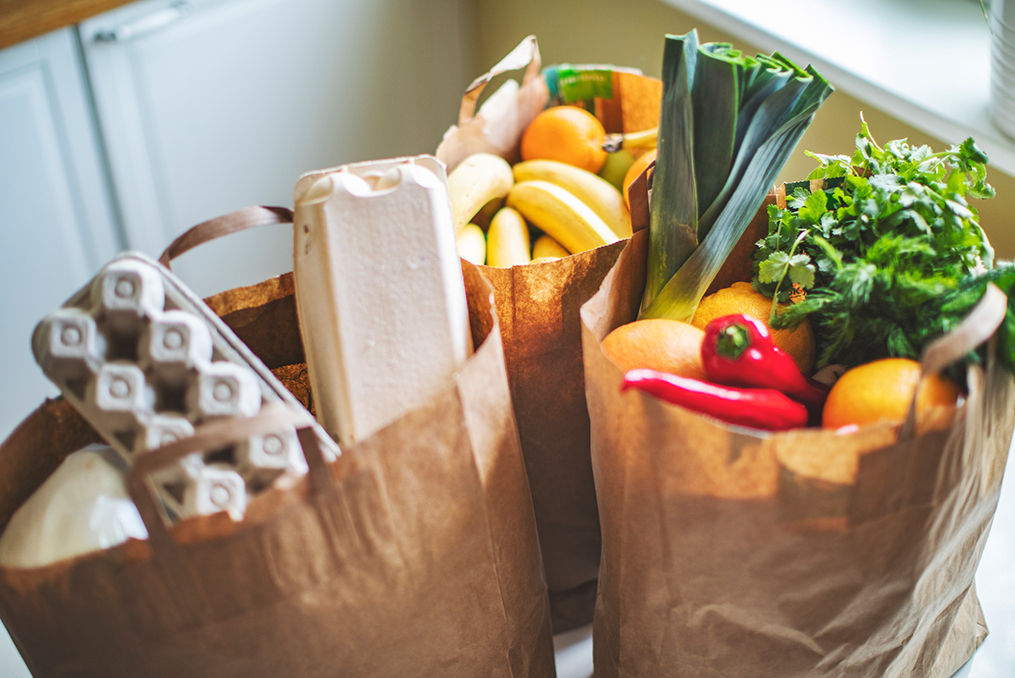 8. Buy generic brands
Generic and store brands are usually more affordable than name-brand products. Plus, there's typically not much difference between their ingredient lists—this is especially true of canned goods.
9. Bring reusable bags
Starting in January 2020, Oregon retailers can no longer provide single-use plastic bags and must charge 5 cents for paper bags⁠—10 cents in some areas. These costs can add up over time, so consider bringing reusable bags with you. It's important to note that local stores have varying policies during the COVID-19 health crisis with some stores requiring the purchase of bags, while others require that you bag your groceries if you bring your reusable bags.
10. Go meatless
Meat usually costs more than other sources of protein. "Meatless Mondays" are a great way to reduce your grocery expenses or challenge yourself to go meatless for a whole month. Alternatively, try only to buy meat products when they're on sale.
11. Use everything you buy
Place a whiteboard or paper list on your fridge to remind you of the perishable items inside. If you go grocery shopping every two weeks, make a point to use the most perishable items first, so nothing goes to waste.
12. Don't go to the store hungry
The urge to impulse buy will be great if you go to the store hungry. Eat a meal or a snack before you go shopping so you can stick to your list. Children also make us more susceptible to impulse buying, so consider grocery shopping without them.
13. Don't buy prepared foods
Pre-made foods look tempting but cost more than if you bought all the ingredients separately. Rotisserie chickens are an exception, as these can be a meal themselves or added to soups and other recipes. If you're spending more time at home, this is an excellent opportunity to try out some affordable new home-cooked meals.
14. Save your leftovers
Use today's dinner leftovers for tomorrow's lunch—this helps you save money and reduces the amount of time you spend making lunch the next day.
15. Track your spending
After each shopping trip, make a note of how much you spent and compare that figure to your budget. If you went over, find out what happened and make a plan to adjust your spending on the next trip.
Managing your spending on grocery necessities is just one piece of the personal-finance puzzle. For more tips and information on how to reach your goals by saving for the future, visit our educational resource center.