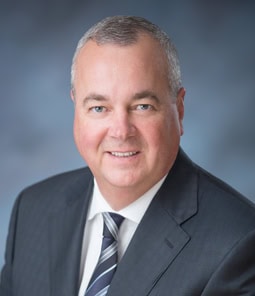 The Treasurer's Report from Rob Stuart
We always remember that the financial health of our members comes first and opens up opportunity for all.

ROB STUART - President, CEO / Treasurer, Board of Directors
Treasurer's Report
As Treasurer to the Board of Directors, I am pleased to present our 2018 report that details another year of success, growth and strong financial performance for OnPoint.
Key Numbers
Our financial performance was successful on all fronts. We reached $5.4 billion in assets, an increase of 5%. Deposits grew 5% to $4.4 billion. Loans rose 6% to $3.5 billion. Net income totaled $80 million, up 25%. Membership grew 7% to 362,000. OnPoint remains safe, sound and secure. Detailed financial information can be found by clicking the Treasurer's Report button to the right.
Connecting with Our Members
2018 was a year of strengthening connections at OnPoint. Connections through our neighborhoods, across our member relationships and in the lives of children learning the aspects of financial literacy.
We completed our Digital Banking conversion, which provides a new platform that brings improved security and a consistent experience across all devices for all members.
We expanded our presence in the communities we serve with two new branches – Hawthorne and Fremont & Williams.
We formed a new partnership with the Oregon School Activities Association where OnPoint will serve at the title sponsor for all high school state championships. This furthers our commitment to supporting education through activities, enrichment and financial literacy.
Our Purpose, Vision and Guiding Principles
Our Board of Directors, Executive Team and Employees collaborated on the credit union's new purpose, vision and guiding principles that further our commitment to our members and communities we serve.
Our Purpose:
Build strong communities by supporting financial growth and well?being, one person at a time.
Our Vision:
To be the leader in delivering extraordinary experiences and value to our community.
Our Guiding Principles
Pursue innovation that values our members' time and helps them achieve their goals.
Vest employees with the authority to deliver superior service and advice.
Always do the right thing and act with the utmost integrity.
Be the champion of education.
Ensure the safety and soundness of our institution to allow for long-range sustainability.
Giving in our Communities
Directed by employees, we celebrated the holiday season through our employee giving program and donated to several local non-profits, including Sunshine Division, Raphael House, Lane County Toys for Tots, Yamhill County Action Partnership, Adler's Voice, Family Kitchen, Beulah's Place, St. Vincent de Paul, Share and Clark County Food Bank.
Our OnPoint Prize for Excellence in Education tradition continued by naming two Educators of the Year, paying their mortgages for one school year and awarding grants to their respective schools. In addition, we recognized four schools through our Community Builder award that are supporting our local students. We continued to host homeowner workshop and personal finance seminars, and partnered with a local nonprofit, Financial Beginnings, to deliver financial education to more than 1,300 students of all ages.
Strengthening Our Connections
Our ability to invest in our community was made possible by our continued focus on the safety and soundness of our Credit Union. We always remember that the financial health of our members comes first and opens up opportunity for all.
On behalf of the Board of Directors, we thank our employees for a prosperous year and look forward to achieving another year of growth for each member and our community as a whole.
The Supervisory Committee Report from Brent Macey
The Credit Union staff is determined and dedicated to provide a safe repository for members' savings and a competitive and convenient source for borrowing money.

BRENT MACEY - Chair, Supervisory Committee
I have the pleasure of chairing OnPoint Community Credit Union's Supervisory Committee. We are a four-member committee and we meet quarterly during the year.
Our responsibilities are to:
Review OnPoint Board-level policies, receive updates on management strategies, monitor financial results and explore and discuss current credit union industry and accounting issues
Review the Credit Union's established practices and procedures to ensure they safeguard members' assets
Present audited financial results—certifying their accuracy and ensuring they are complete and timely
Ensure member accounts are verified to credit union records periodically
To accomplish this, the Supervisory Committee arranges a comprehensive annual audit to ensure OnPoint's financial statements meet all financial reporting objectives. The 2018 audit was performed by Moss Adams, LLP. Moss Adams supports the Supervisory Committee, Board and staff with both their accounting expertise and their thorough understanding of the credit union industry.
Upon completion of the 2018 audit, the Supervisory Committee reviewed the details of the audited financial statements and asked the auditors and staff questions. All questions were answered candidly and completely. You'll find a summary of the financial results included in OnPoint's 2018 Annual Report.
I'm pleased to report OnPoint has received an "unqualified opinion" from Moss Adams. This is the best audit result possible, and means that OnPoint Community Credit Union's financial statements are presented in conformity with generally accepted accounting principles.
The results of this audit, combined with the periodic verification of members' accounts, have provided the Supervisory Committee with assurance that the financial statements prepared by Credit Union management accurately and completely reflect the strong financial condition of our Credit Union.
I'm proud to confirm the members of the Supervisory Committee find the financial state of OnPoint Community Credit Union is sound, and conclude the Credit Union staff is determined and dedicated to provide a safe repository for members' savings and a competitive and convenient source for borrowing money.