About OnPoint
A community credit union, providing members with financial services since 1932.
Local roots that still hold true.
It's been nearly 90 years since a handful of schoolteachers joined together to form our credit union. They didn't do it for profit. They did it to help one another. After all, that's what community is all about.
OnPoint's History
In 1932, 16 school teachers got together to create a safe place to save their money and provide low-cost loans to other teachers and their families. They named it Portland Teachers Credit Union.
As our community grew, we grew right along with it. In 2005, we were granted a community charter in Oregon and Southwest Washington, allowing us to expand our field of membership. To reflect this growth, we changed our name to what you know us as today, OnPoint Community Credit Union.
OnPoint has been improving the lives of our members and the communities we serve—including Portland, Vancouver, Eugene and Bend—for over 85 years. In that time, we've grown to be the largest community-owned financial institution in Oregon.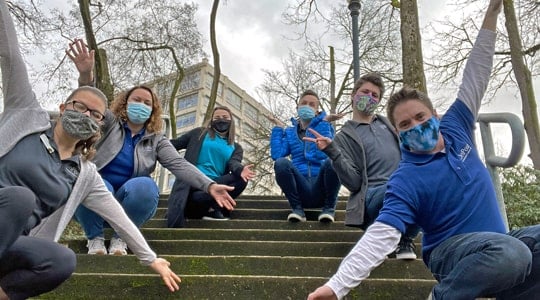 Celebrating our community partnerships
We take pride in fostering connections with our members and the community. That's why we've taken care to develop ongoing relationships with organizations that reflect the interests of our membership.
Investing in education
OnPoint recognizes the importance of giving back to the communities we serve. We support many organizations as part of our commitment to education, including the following:
SMART
Start Making A Reader Today helps kids become confident readers by providing individual volunteer attention and books.
Financial Beginnings
Financial Beginnings provides finance education to youth and young adults in the Pacific Northwest and educates over 25,000 young people each year.
Schoolhouse Supplies
Schoolhouse Supplies provides basic school supplies – like pencils, paper, books, and backpacks –- to students throughout Portland.
Solutions for teachers
Because we're committed to supporting teachers, we offer products designed specifically for them as well as a full range of products with great everyday value.
Solutions for teens
Our commitment to education extends to providing youth with the opportunity to learn firsthand about money. These products make is easy for teens to get started on a life of financial responsibility:
Account Access
Establish or reestablish a checking account relationship.
Savings
The OnPoint Savers account allows teens 17 and under to earn a competitive interest rate without any monthly fees. Plus, OnPoint will deposit $55 when a new OnPoint Savers account is opened with a $25 minimum deposit.*
Online and mobile banking
Our online and mobile banking are perfect for teens who are on the go, allowing them to get account information 24/7 anywhere in the world.
Unlock what's possible.
We're a local community credit union empowering you to get the most out of life through personalized service and comprehensive financial solutions.
Disclosures
*OnPoint Savers Account rate of 5.00% APY is accurate as of October 1, 2019 and subject to change. Stated APY is for balances up to $500; balances of $500.01 and higher earn posted Regular Savings Account rate. Account must be established for members age 17 or younger by parent or guardian with a minimum $25 deposit. Parent or legal guardian must be on the membership and present to open the OnPoint Savers Account. When primary member attains the age of 18, accounts will be converted to Regular Savings Account, earning that account's published rate at that time. Fiduciary memberships, including UTTMA and Minor Settlement Accounts are not eligible for OnPoint Savers. One OnPoint Savers Account per member/TIN. One $55 bonus per tax ID for new members only. Cannot be combined with Refer a Friend bonus or other promotional offers.