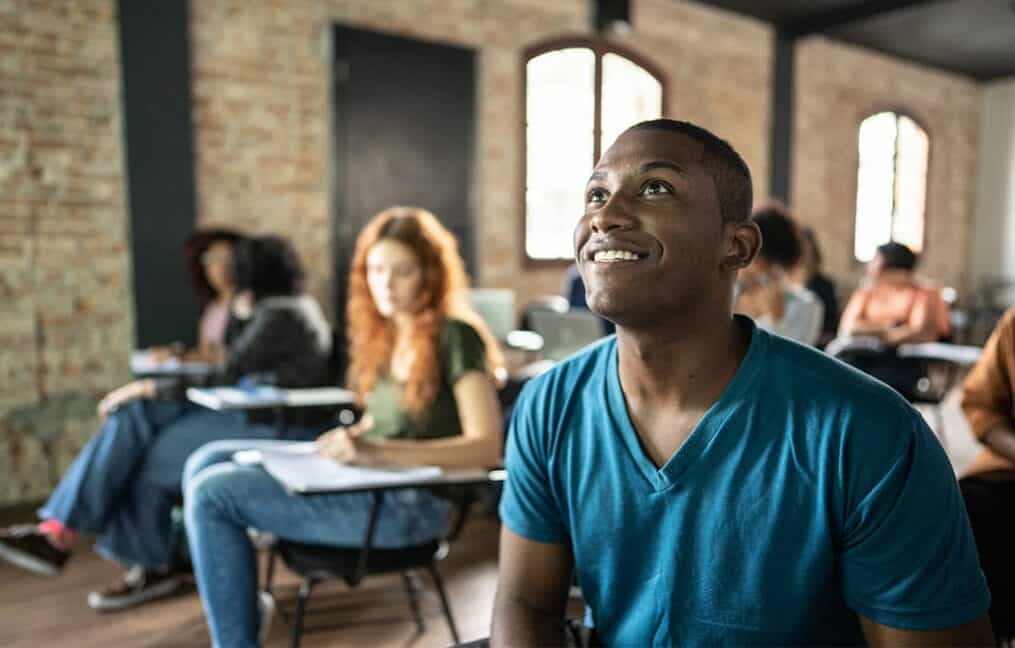 The OnPoint Award for Financial Education Innovation
Celebrating people & organizations leading financial wellness growth in our community.
As a credit union founded by educators, connecting education and financial knowledge is at the core of what we do. In 2023, the Financial Wellness team is excited to launch an annual initiative: The OnPoint Award for Financial Education Innovation. Each year, OnPoint Community Credit Union will invest $100,000 to support a community organization dedicated to expanding access to financial education in a unique way.
2023 inaugural award winner—Portland Workforce Alliance.
For our inaugural award, we recognize Portland Workforce Alliance (PWA) for its substantial contributions to youth career development through financial education. PWA works across the greater Portland-metro area to build outstanding pathways for youth from all backgrounds to gain meaningful early career experience. OnPoint is excited to recognize its efforts to build strong relationships with local business and community partners in ways that enable greater access to early career mentorship and professional development. These elements are foundational in attaining financial wellness, and we are honored to recognize its continued dedication to the success of youth in our communities.
PWA—connecting youth to education and opportunity.
Portland Workforce Alliance is an independent nonprofit, founded in 2005, born out of a community need for career education and workforce development. PWA's first project was the NW Youth Careers Expo, which has since grown into a major annual event that attracts 6,000 students and educators from 75 high schools to explore regional career and education opportunities. Over 200 exhibitors representing leading employers and postsecondary institutions participate in the annual Expo.
PWA sees access to meaningful career development for young people as a matter of social and economic justice. This drives PWA's year-round work with partners to create experiences such as career mentorships, career days, mock job interviews, and the Expo. Part of their organizational strategy is to boost Oregon's graduation rate and build a resilient, prosperous, and well-educated workforce. They do this by connecting young Oregonians to educational paths that will empower and prepare them for their future careers.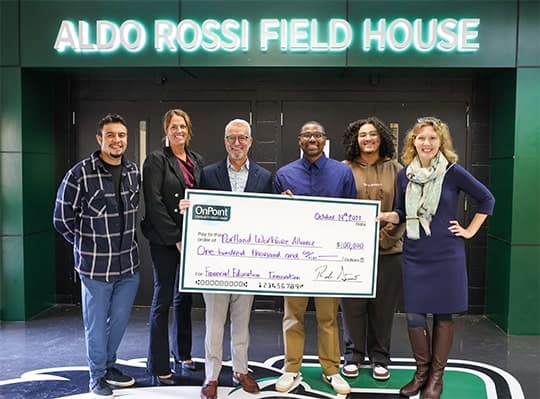 Partners celebrate work supporting students' career development and financial wellness. Pictured at Parkrose High School (L-R): PWA Partnerships Director Carlos Sanchez Huizar, Parkrose High School Principal Molly Ouche, OnPoint Community Credit Union Chief Marketing Officer Tim Clevenger, Parkrose School District Director of Teaching and Learning Andre Goodlow, Parkrose Student Board Member Christian Scott, and PWA Executive Director Susan Nielsen.
An award for capacity building in our communities.
The OnPoint Award for Financial Education Innovation recognizes an organization in our community that provides impactful financial education programing in new and creative ways. This $100,000 award invests in efforts to build capacity around financial education programing. Organizations recognized by this award demonstrate substantial, long-term impact on building financial wellness in our communities. This annual award is made by invitation only.
Learn more about the Financial Education Innovation Award.