OnPoint Community Credit Union donates $100,000 to Longtime Education Partner, De La Salle North Catholic High School
Press Release
PORTLAND, Ore., April 7, 2020 — For almost 20 years, OnPoint Community Credit Union has partnered with De La Salle North Catholic (DLSNC) High School to provide local underserved students valuable, real-life work experience through the high school's Corporate Work Study Program. As the community comes together to tackle COVID-19,  OnPoint announced today it has donated $100,000 to support the school's recently announced capital campaign, which will fund a new permanent campus in Northeast Portland, at this critical time. DLSNC has already reached 85% of its goal to raise $21.6 million.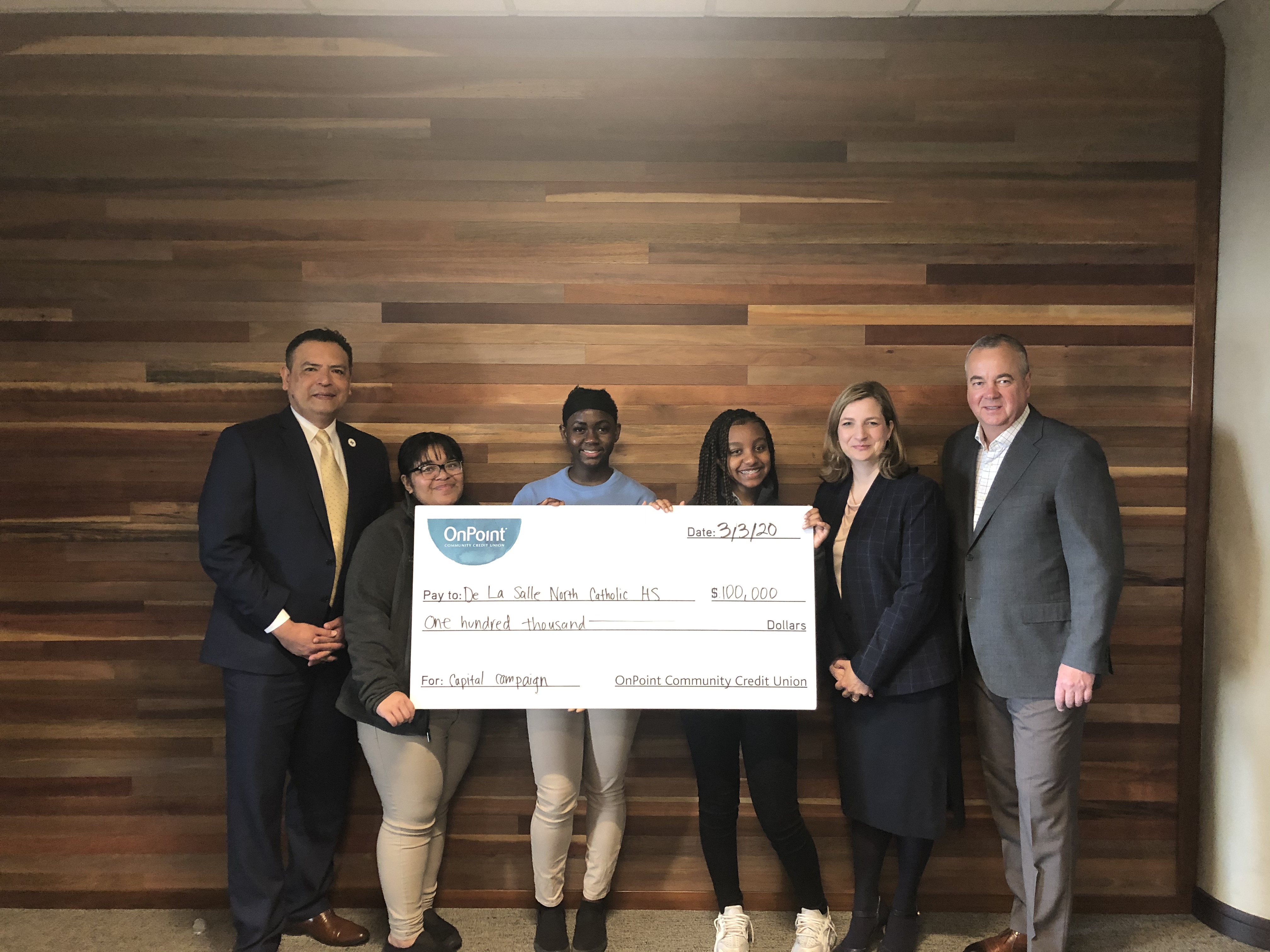 "We have worked with the administrators, students and teachers of De La Salle for nearly two decades, so we deeply appreciate how essential the school is to our community," said Rob Stuart, President and Chief Executive Officer, OnPoint Community Credit Union. "As we continue grappling with the impacts of COVID-19, support of the education community is needed more than ever.  We hope our support will inspire the DLSNC community at this critical time by assuring the students and teachers that they will have adequate space to learn, grow and explore on the other side of COVID-19."
DLSNC currently serves 280 students in its current building, which is owned by Portland Public Schools. The capital campaign is raising funds for a new campus that will accommodate more than 350 students, expanding access to its distinctive combination of strong academics and real-life work experience.
"As the largest sponsor of DLSNC's corporate work study program, we have supported more than 150 students over the years," said Jackie Dunckley, Chief Talent Officer, OnPoint Community Credit Union, and Chair of Board of Trustees, De La Salle North Catholic High School. "De La Salle teachers and students have become our friends and colleagues and we are proud to stand by them and support them at this time."
OnPoint is currently the largest employer-sponsor of DLSNC's Corporate Work Study Program. This partnership, which began when the school opened in 2001, has allowed 158 students to work in an entry-level position throughout the credit union with 100 percent of OnPoint's students going on to graduate. In addition to gaining professional insight, skills development and personal growth, students earn 50 percent of their school tuition. Participating students also graduate with valuable work experience.
"We are so grateful for our longstanding partnership with OnPoint Community Credit Union," said Oscar Leong, President of De La Salle North Catholic High School. "Their ongoing support of our students over the years, and now, at this critical juncture in our campaign, is amazing. Our future and permanent home will enable us to serve more students and provide them with the state-of-the-art facilities that will allow us to thrive and reach new heights."
ABOUT ONPOINT COMMUNITY CREDIT UNION
OnPoint Community Credit Union is the largest credit union in Oregon, serving more than 395,000 members and with assets of $6.5 billion. Founded in 1932, OnPoint Community Credit Union's membership is available to anyone who lives or works in one of 13 Oregon counties (Benton, Clackamas, Columbia, Crook, Deschutes, Jefferson, Lane, Linn, Marion, Multnomah, Polk, Washington and Yamhill) and two Washington counties (Skamania and Clark) and their immediate family members. More information is available at www.onpointcu.com or 503-228-7077 or 800-527-3932.
ABOUT DE LA SALLE NORTH CATHOLIC HIGH SCHOOL
De La Salle North Catholic High School opened in 2001 to provide a rigorous, faith-based education to students from the Portland area who would not otherwise have access to a reliable college-preparatory education. An average of 98% of graduating seniors have been accepted to college, more than two times the rate of peers with similar backgrounds and demographics. Students at De La Salle North Catholic High School attend class four days a week and work for a local company one day a week as part of the Corporate Work Study Program (CWSP). The CWSP provides work experience, business contacts and helps offset the cost to educate students. By the time they graduate, each student has the equivalent of one full year of real-world work experience. A nationwide, independent rating agency has identified De La Salle North Catholic High School as the most diverse private high school in all of Oregon. De La Salle North Catholic is a member of the Cristo Rey Network, is sponsored by the Lasallian Christian Brothers and belongs to the Roman Catholic Archdiocese of Portland/Western Oregon. www.delasallenorth.org.
Go to press releases