OnPoint Community Credit Union Names Steve Leugers Senior Vice President/Chief Credit Officer
Press Release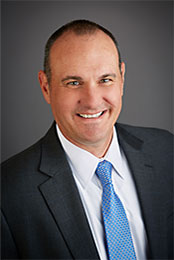 PORTLAND, Ore., January 16, 2018—OnPoint Community Credit Union has named Steve Leugers Senior Vice President/Chief Credit Officer. Leugers joins the Executive Team of Oregon's largest credit union with more than 336,000 members and $5 billion in assets.
"Steve's extensive background in credit, coupled with his proven record of leadership at high-performing credit unions across the West, is a strong asset for our members," said OnPoint President and CEO Rob Stuart. "We are excited about the talent and expertise Steve brings to the OnPoint family, and can't wait to introduce the Leugers family to all that the Pacific Northwest has to offer."
Prior to joining OnPoint, Leugers served as Chief Lending Officer at Nusenda Credit Union in Albuquerque, New Mexico. Leugers previously held senior leadership positions at Del Norte Credit Union, Westerra Credit Union and Elevations Credit Union. Leugers will utilize his more than 20 years' experience in financial services and his passion for the credit union mission to continue to invest in and improve OnPoint's credit and lending services.
"I am honored to join a financial institution with the strong member focus, performance record and reputation that OnPoint has earned," said Leugers. "I'm eager to invest my expertise and talents serving OnPoint members."
Leugers earned his Bachelor of Science degree in Public and Environmental Services from Indiana University and is a graduate of the Western CUNA Management School. He recently moved to Oregon with his wife Jami, and their three daughters, Emily, Abbie and Hannah.
The OnPoint Executive Team is comprised of the following members:
Rob Stuart, President/Chief Executive Officer
Jim Armstrong, Senior Vice President/Chief Information Officer & HR Executive
Veronica Ervin, Senior Vice President/Chief Compliance Officer
Jim Hunt, Senior Vice President/Chief Financial Officer
Steve Leugers, Senior Vice President/Chief Credit Officer
Tory McVay, Senior Vice President/Chief Retail Officer & Wealth Management Executive
Stephen Owen, Senior Vice President/Chief Operations Officer
ABOUT ONPOINT COMMUNITY CREDIT UNION
OnPoint Community Credit Union is the largest credit union in Oregon, serving more than 336,000 members and with assets of $5 billion. Founded in 1932, OnPoint Community Credit Union's membership is available to anyone who lives or works in one of 13 Oregon counties (Benton, Clackamas, Columbia, Crook, Deschutes, Jefferson, Lane, Linn, Marion, Multnomah, Polk, Washington and Yamhill) and two Washington counties (Skamania and Clark) and their immediate family members. More information is available at www.onpointcu.com or 503-228-7077 or 800-527-3932.
Go to press releases