OnPoint Community Credit Union Welcomes Liz Enomoto Martin as Director of Marketing
Press Release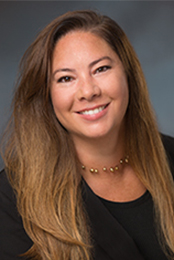 PORTLAND, Ore., August 09, 2017—OnPoint Community Credit Union has named Liz Enomoto Martin the Director of Marketing. Martin joins Oregon's largest credit union, with more than 325,000 members, $4.7 billion in assets, and 27 branches in Oregon and SW Washington.
"With her focus on the needs and experiences of OnPoint members, Liz is a welcome addition to our management team," said OnPoint President and CEO Rob Stuart. "Her integrated marketing and communications expertise makes her the right person to guide the evolution of our brand and lead all aspects of Marketing."
A veteran of the tech industry, Martin has more than 16 years of professional experience in public relations and marketing. She most recently served as director of marketing and communications at Janrain, focusing on brand awareness, content strategy and influencer communications. Prior to Janrain, Martin was the senior director of marketing communications at Webtrends, and previously, she worked at Waggener Edstrom (now WE Communications) leading various Microsoft accounts.
"It is an honor to join an organization that so clearly values its members, employees and community," said Martin. "I am eager to build on our presence as a financial services leader by showcasing how we can help our members with their financial goals while growing our communities."
Martin lives in SW Portland with her husband and two girls, and enjoys horseback riding, traveling, and hiking with her dogs. She is passionate about child advocacy, human rights and animal welfare causes, and is involved with likeminded organizations where she volunteers her time and resources.
ABOUT ONPOINT COMMUNITY CREDIT UNION
OnPoint Community Credit Union is the largest credit union in Oregon, serving more than 325,000 members and with assets of $4.7 billion. Founded in 1932, OnPoint Community Credit Union's membership is available to anyone who lives or works in one of 13 Oregon (Benton, Clackamas, Columbia, Crook, Deschutes, Jefferson, Lane, Linn, Marion, Multnomah, Polk, Washington and Yamhill) and two Washington counties (Skamania and Clark) and their immediate family members. More information is available at www.onpointcu.com or 503-228-7077 or 800-527-3932.
Go to press releases