For more than 30 years, Ecotrust has been committed to building an equitable, prosperous and climate-smart future from Southeast Alaska down to Northern California. This non-profit's mission is to advance climate justice through radical, practical solutions at the intersection of equity, economy and the environment.
A strategy fueled by key values.
In 2021, with input from more than 100 staff, board and partners, Ecotrust created a strategic plan to guide its work for the next five years. Since then, the organization has diligently worked to integrate and advance its goals to:
Become an anti-racist organization
Advance regional climate resilience
Build broadly shared intergenerational wealth
Restore lands and waters stewardship
Build a culture of belonging
Implement a resilient business model
Advancing these goals with the support of volunteers, staff, board members and partners helps Ecotrust amplify its impact across our region.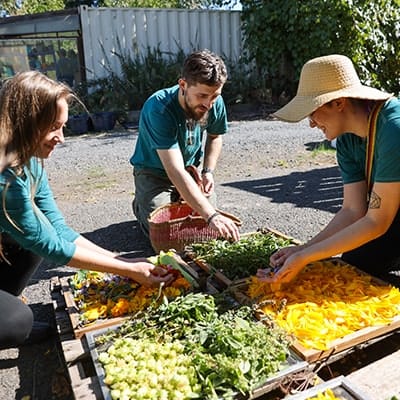 "Working at Ecotrust has helped me realize that radical, practical change is a collective effort. That working together is powerful, whether that be implementing a workplace giving campaign to help employees support climate-smart forestry or building tools that support market connections for climate-smart wood producers. Together, we are leveraging the power of community to do this work," said Community and Funding Partnerships manager Christopher Rachal. "Moreover, we're centering frontline communities along the way. For example, our climate-smart forestry work validates the carbon sequestration impact of Tribal forestland owners. This approach leads to not only positive environmental outcomes but equity and economic benefits too."
A focus on equitable community development.
Ecotrust offers a wide range of services and tools for building collective change. These include program development and implementation, capacity building, technical support, advocacy and communications. They currently have more than 50 ongoing projects uplifting communities from California to Alaska. Here are a few exciting projects happening throughout the region:
Farm to Early Care and Education: Ecotrust supports early childhood professionals in providing food, gardening and nutrition education and programming to infants, toddlers and young preschoolers.
Ecotrust Community Development Entity: Ecotrust invests New Markets Tax Credits in businesses and infrastructure projects in frontline communities in rural areas, Tribal lands and urban neighborhoods disproportionately impacted by climate change.
Green Workforce Academy: Offered by a collaborative of partners including Ecotrust, this paid opportunity for Black, Indigenous and other adults of color in Portland teaches them about environmental issues and green job opportunities. Topics include urban farming, Indigenous food sovereignty, tree care and services, waste management, plant identification and more.
Redd on Salmon Street: This two-block campus is an Ecotrust development designed to support local food enterprises, strengthen community events, and advance a more equitable regional food system. The Redd provides essential infrastructure and flexible working space for food entrepreneurs, including warehousing, cold storage, co-packing and distribution.
Tribal Forestry Workforce Development: With partners, Ecotrust is working to create economic development and career opportunities in Tribal, urban and community forestry. This work has included workforce research and developing and launching an intergenerational mentorship program for Indigenous youth.
Check out Ecotrust's current projects to learn more.
The Viviane Barnett Fellowship.
Named after the Black Portlander and civic leader who spearheaded a groundbreaking community gardening movement from 1968-1970, the Viviane Barnett Fellowship is an 18-month fellowship for aspiring food system leaders of color in Oregon. The project is offered through a partnership between Black Food Sovereignty Coalition, Mudbone Grown, Oregon State University Center for Small Farms and Multnomah County Health Department REACH program and Ecotrust.
Alisha Howard, founder of Deep Rootz Worms, a vermicomposting practice in Portland, OR, shared details about her fellowship experience:
"Being part of the inaugural cohort was truly life-changing," said Alisha Howard. "The experience gave me and so many others something that doesn't exist in any other agro- and people-centered space in Oregon."
Alisha recently attended a vermiculture conference where she was the only Black woman out of 120 people and 60 international attendees. Thankfully, this was not her experience in the Vivianne Barnett Fellowship. Alisha felt she could be her "passionate, worm-loving self and be held in solidarity with other Black and Indigenous leaders."
After completing the Viviane Barnett Fellowship, Alisha applied for Ecotrust's Farm to School Fellowship. She currently works for Ecotrust on its Farm to Early Childhood Care and Education programming, where she supports early childhood care professionals offering programs that promote education about foods, gardening and nutrition for infants, toddlers and young students.
Supporting Ecotrust and strengthening climate resilience in our region.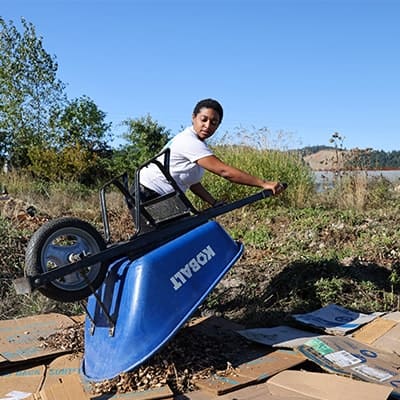 OnPoint Community Credit Union is proud to be one of Ecotrust's regional partners, helping the organization amplify its impact on food systems equity, climate-smart forestry, green workforce development, BIPOC leadership, and more. OnPoint has donated $10,000 annually to Eco Trust since 2021 and became the KGW Good Energy Partner with a $25k donation for 2023.
With OnPoint's donation, Ecotrust will advance a more equitable and restorative regional food economy through its innovative food systems programming and spaces. As part of the partnership, Ecotrust will promote and resource local food producers and entrepreneurs while connecting and fostering key relationships with institutional food buyers committed to sourcing regional products. Consider joining our support of Ecotrust programs to restore our lands and waters, promote climate-resilient communities, and build broadly-shared intergenerational wealth.
You can directly support Ecotrust's work by making a donation or finding other ways to amplify your impact through strategies like workplace giving. Another way to support Ecotrust is by sharing their stories with your community. Stay up to date on their content by subscribing to their newsletter and social channels.
At Ecotrust, every person and organization can have a role in building a more sustainable and equitable future for all. Thanks for your support