Students living in the Parkrose School District can face a host of challenges before ever entering a classroom. The community in northeast Portland is one of the most diverse in the state, and the school district has historically been underserved. Students face low graduation rates, high rates of discipline, and low access to services.
Local community leaders have struggled with many of the same challenges over the years:
Addressing socioeconomic inequities that have been in place for generations
Overcoming years of inattention and documented racism
Determining where to start
Deciding who to help when you can't help everyone
Finding funding to accomplish lasting change and impact
Founded in 2010, Elevate Oregon is a non-profit that works closely with the Parkrose School District to offer year-round mentoring and curriculum for students in grades 3-12. A strong focus on career development and socioemotional health gives students hope, a better understanding of options, and access to what's possible. By building long-term relationships between students and positive role models, Elevate Oregon breaks down barriers and addresses inequities to ensure students have the opportunity to thrive.
The ultimate goal is to raise graduation rates and get more college students for every student to graduate from high school on time with a plan in place for the future, whether that be college or career.
Parkrose students face challenges from all sides.
Living within the Parkrose communities can limit a student's educational experience and opportunities. Students may receive instruction from teachers unfamiliar with their struggles, study a curriculum that doesn't address their culture, or attend a school that only sometimes recognizes their experiences inside or outside a school setting.
Students of color can experience isolation, leading to absenteeism and increased discipline. Economic or domestic challenges at home can further aggravate these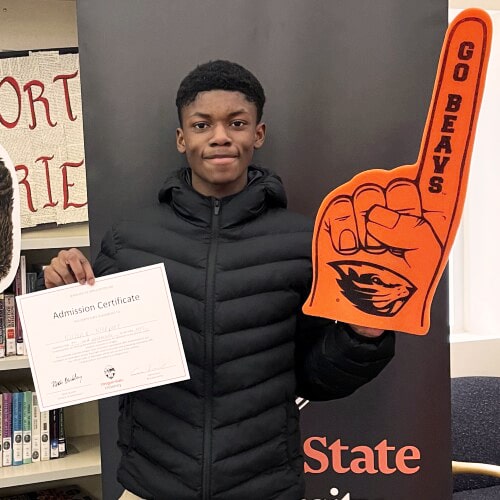 difficult situations. On average, students who join the program also have higher Adverse Childhood Experiences (ACE) scores than their peers. The ACE scores help identify experienced trauma from domestic abuse, poverty, transitional housing, and substance abuse or mental health issues within the household.
Additionally, some students will become the first in their families to graduate from high school. The new expectation of graduating high school can uncover obstacles, as families may need to become more familiar with applying to college, gaining financial support, and obtaining scholarships.
While Elevate Oregon advocates for the importance of post-secondary education and self-empowerment, these goals can sometimes clash with priorities and expectations within the structure of generational poverty. To combat this, Elevate Oregon's Teachers/Mentors provide targeted support in financial literacy, career development, and future-mindedness to students trying to break cycles of inequity.
What makes Elevate Oregon unique?
Elevate Oregon is open to all students in the district but intentionally focuses on serving marginalized youth in its community. More than 90 percent of its students are considered low-income, and 89% are from communities of color. The program focuses on developing character qualities and life skills, building healthy relationships, and providing real-time advocacy and interventions in and out of school.
Connecting with students every day.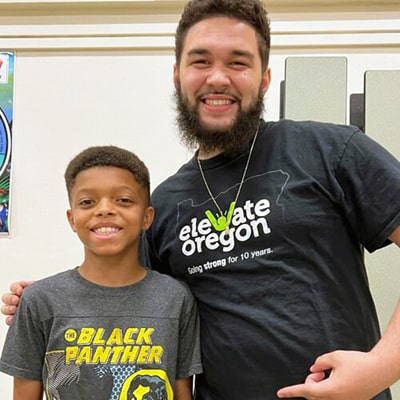 The key Elevate Oregon difference: Teachers/Mentors see their students every day. Elevate Oregon students earn academic credit in a daily, elective class embedded in the school day. Emphasis is placed on holding kids accountable for their success and celebrating accomplishments, which helps with overall engagement. With a program staff that is 92% from communities of color, Elevate Oregon works to improve the diversity of school staff and the overall culture of the schools.
Daily mentorship starts as early as the 3rd grade and continues until the 12th grade. Elevate Oregon Teachers/Mentors fill a long-term, stable, supportive role that students may be missing at home. They serve as advocates, allies, role models and even friends. Mentors communicate regularly with parents, acting as a liaison between families and school district staff. They can engage more deeply with parents/guardians than regular teachers, alerting the school if there are issues of concern and helping connect families to needed services.
Cooperation with family and school staff.
Mentors are also encouraged to work with Parkrose staff through monthly discussions and training on topics like restorative justice, culturally-relevant training, and trauma-informed practice.
With cooperation from mentors, district officials and family members, Elevate Oregon students have the opportunity to get involved in gender-specific after-school groups, Saturday STEAM programming, and peer-to-peer mentoring. Students plan events such as Parent-Teacher conferences, Parkrose Community day and the Black Family Social. A Student Leadership Team brings in more youth voices, and students are encouraged to get involved in topics they feel passionate about, including racial equity issues.
An approach that produces real results.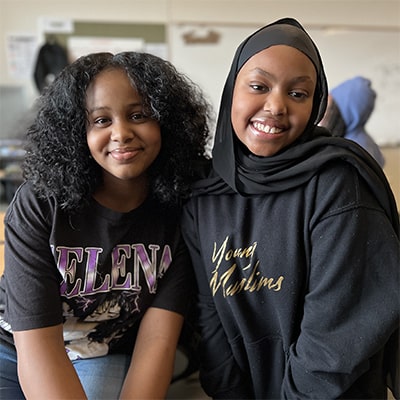 In the last five years, 95 percent of enrolled seniors in Elevate Oregon programs have completed high school. Attendance has grown by 20 percent over four years, from 68 to 86 percent. The number of participating students has also increased, from one classroom to over 300 students today. With ongoing community support, Elevate Oregon can continue to make an impact in the Parkrose community.
Consider supporting Elevate Oregon.
In 2022, OnPoint donated $5,000 to Elevate Oregon as a contribution towards its December Month of Giving goal to raise $100,000. If you are interested in supporting Elevate Oregon's efforts to build a more equitable future for students, the non-profit welcomes financial support through grants, sponsorships, or donations. You can also volunteer your time and skills by visiting the classrooms and speaking to students about careers and life experiences. Corporate partners can invest in students by creating programs for them at their places of employment, ranging from internship experiences to job shadowing to summer jobs. Letting students know about full-time or part-time job openings could be a catalyst for their careers.
Learn more about changing lives through Elevate Oregon