The OnPoint Spotlight is an ongoing blog series that highlights our employees, celebrating the drive and personality of individuals on our team. It's one way we show our appreciation for their hard work and achievements while helping our community get to know the people who make things happen here at OnPoint.
This week's employee spotlight is on Stephanie Hess, a true-hearted Oregonian who loves the great outdoors and is a Contact Center Specialist here at OnPoint. Stephanie was born and raised in Portland and recently moved out to Central Oregon, where she is a full-time auntie of seven nieces and nephews. She received her degree in Social Science at Portland State University, specializing in Gender and Sexuality.
Here's what Stephanie had to share about her life and time at OnPoint:
What were you doing before joining OnPoint or taking on your current role?
Before joining OnPoint, I worked in restaurants, serving and bartending. As someone who loves cooking and crafting fancy cocktails, I will always identify with and feel connected to restaurant work.
I've been with OnPoint for a little over two years now and have always felt included. Before my current role, I worked as a Teller and Branch Service Specialist at the Hillsdale Branch. My time at the branch really laid the foundation for my understanding of banking and the culture of OnPoint. My time now in the Contact Center has helped illuminate my true strengths, interests, and the direction I want my career to go.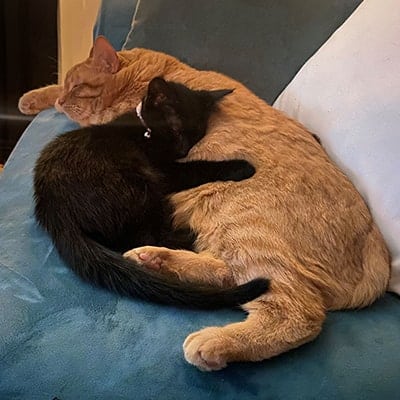 What is your favorite season?
My favorite season is spring. It's not too hot, and not too cold. The plants are coming back to life and the flowers are blooming. Portland is beautiful all the time. Still, there is something special about the transition between winter and summer.
If you have pets, what kinds and what are their names?
I am a cat mom of two! I have an orange male tabby named Remi and an all-black female named Junipurr.
Which sports team is your favorite?
I am not super into sports, but I do like to catch a Blazer game every once in a while!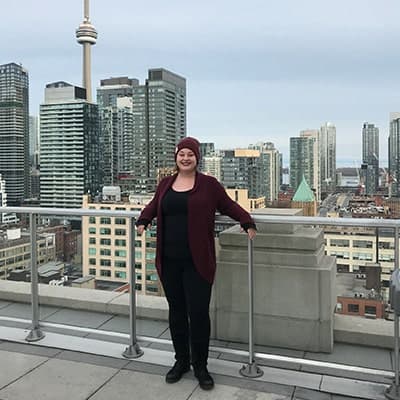 What is your favorite travel spot?
My current favorite travel spot is Toronto, Canada. One of my closest friends lives there and I've been lucky enough to be able to visit every couple of years. It's so fun getting to experience a really big city!
How do you maintain a work/life balance?
I maintain a work-life balance by indulging in my favorite hobbies in my free time. I love getting artistic on the weekends—painting, making jewelry and really anything DIY. I also really enjoy cooking, so I make sure to make myself at least one complex meal or new recipe each week.
Are you interested in joining our team? Learn more about a career with OnPoint.