Since 1996, Basic Rights Oregon has worked to support the needs of the LGBTQ2SIA+ community in multiple areas including marriage equality and access to health care for transgender individuals. The dedicated team works to connect people to direct-service organizations that can meet their needs, and advocates for policy at the local and statewide levels.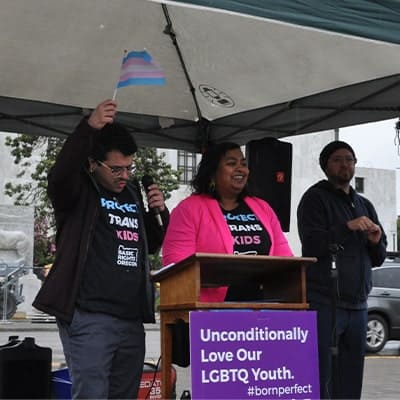 Based in Portland, the non-profit aims to facilitate change and encourage growth through empowering tools and programs, including transgender leadership development, insightful workplaces, organizational equity training, affirming foster parent recruitment, and direct community help.
Helping the LGBTQ2SIA+ community, one person at a time.
Basic Rights Oregon's work focuses on each person's unique needs. Rather than providing just a few direct services, they connect residents with the necessary comprehensive care. To achieve this, the organization has outreach programs to meet the needs of as many people as possible.
Making Oregon a safe haven.
While other state governments continue to target LGBTQ2SIA+ people and their rights, Basic Rights Oregon is helping Oregon to remain a haven for equality. This involves supporting affirming policy, opposing anti-LGBTQ2SIA+ bills, and supporting election candidates who promise to uphold equal rights for all. For many individuals, this commitment is crucial.
"As a queer and trans person, I wanted to work for Basic Rights Oregon because I know firsthand the impact they have on our communities in Oregon," said Blair Stenvick (they/them), BRO's communications manager.
Supporting legal rights education.
Ensuring they know their rights is essential to help meet the needs of people in the LGBTQ2SIA+ community. It is not uncommon for those within the community to be unsure of their rights and, therefore, unprepared to defend those rights and protect their future. Basic Rights Oregon acts as a hub to connect folks with resources they need.
The organization also continues to educate people on the current challenges they face, as anti-LGBTQ2SIA+ laws and sentiment are on the rise across the country.
Providing resources for youth.
Youth are a core audience of Basic Rights Oregon. According to their statistics, 20% of all youth experiencing homelessness are LGBTQ2SIA+. Even more heartbreaking is that these youth are even more likely to experience victimization and mental health challenges.
BRO advocates for youth by influencing affirming statewide school policies, being involved in school board work and elections, and helping the state recruit LGBTQ2SIA-affirming foster parents.
Leadership development.
Basic Rights Oregon aims to foster change by creating tomorrow's leaders through a transgender development program called Catalyst. The program operates on the idea that all transgender folks can be leaders, but leadership doesn't have to mean an elected office or other traditional employment positions.
Basic Rights Oregon also offers organizational workplace equity trainings, with a focus on helping workplaces support and affirm their transgender employees, customers and clients. This helps create a workspace that does not make assumptions based on perceived gender norms.
Challenges facing Basic Rights Oregon.
Though Basic Rights Oregon offers services to improve access to basic human rights, it can be an uphill battle in the current social and political climate.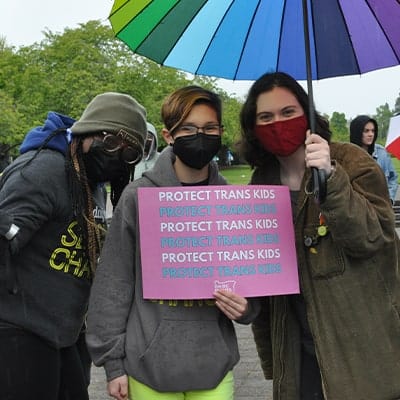 Here are a few of the priorities Basic Rights Oregon is working toward in 2023:
Reproductive justice and gender-affirming care: The organization is focused on reproductive justice within the coming year. They aim to strengthen bodily autonomy in the state by expanding access to gender-affirming healthcare needs. They hope to push legislation through that will support these goals more heavily.
Food insecurity: They partner with Food for All Oregonians, which holds that food is a basic human right and works to end hunger for good.
Education policy: Basic Rights Oregon is also working to support laws and policy changes to make schools more affirming to LGBTQ2SIA+ students.
Some of the previous ways the organization has stood out include helping with the following:
Endorsing Governor Tina Kotek, one of the first openly lesbian governors in the country, along with a strong contingent of diverse state lawmakers
Supporting marriage equality through a statewide ballot measure
Making it easier for transgender people to change their legal gender markers
Requiring coverage of gender-affirming care through the Oregon Health Program
Creating a safer school system for those in the LGBTQ2SIA+ community
Ensuring the Oregon legal system supports everyone
Working to support a pro-equality majority in the state government
How to get involved.
One of the most important steps to take in support of Basic Rights Oregon is to learn and improve conversations in our community. Learn about discrimination, and recognize that even if you are not a part of the LGBTQ2SIA+ community, you can make a difference in protecting the lives of those who are.
You can also help by volunteering. Volunteers play a role in shaping the state's laws, advocacy programs and overall educational efforts. Some of the opportunities available include:
Sharing your story with lawmakers
Attending rallies and advocacy events
Phone and text banking
Fighting for LGBTQ2SIA+ legal and lived equality requires constant investment. Since 2021, OnPoint has donated $13,000 to help Basic Rights Oregon achieve its goals. If you would like to add your support, please visit its site here.