Recent advances in treatment have led to improved outlooks and higher survival rates for children with cancer. However, according to the American Cancer Society, 10,470 children under 15 will be diagnosed with cancer in the U.S. this year. Despite improved outcomes, undergoing treatment is still challenging for these children, and JoyRx Children's Cancer Association provides young cancer patients opportunities to experience Joy during these difficult times.
As part of National Childhood Cancer Awareness Month, OnPoint launched our Refer a Friend Campaign supporting JoyRx. From September 1 through October 31, we're inviting OnPoint members to help support JoyRx with our Refer a Friend campaign. During this time, OnPoint members who refer new members to OnPoint will receive $50, the new member will receive $50, and JoyRx will receive a $50 donation. Thank you for joining OnPoint to support JoyRx in bringing Joy and emotional healing to children during their life's greatest challenge.
Uplifting programs that bring Joy.
Founder Regina Ellis created the Children's Cancer Association—now JoyRx—in 1995 following her 5-year-old daughter Alexandra's death from childhood cancer. Since then, JoyRx has offered a different kind of medicine by boosting children's emotional well-being through the organization's friendship, music and nature programs. These ongoing efforts can help children feel better during hospitalization or cancer treatment.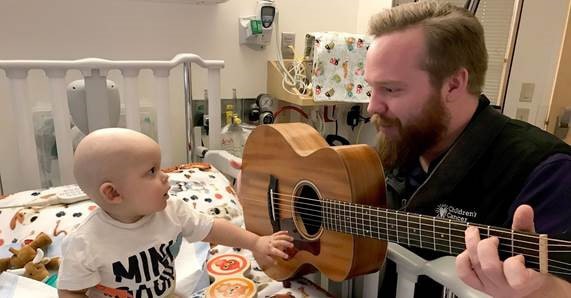 JoyRx programs offer different ways for children with cancer to focus on the positive:
JoyRx Music. The JoyRx Music program brings one-on-one and group music experiences to kids virtually and at their bedsides. The program partners children with musicians trained in bringing music medicine to the world. Their sing-a-longs, instrument lessons and music performances help lift moods, promote healing and infuse the moment with endless joy.
JoyRx Mentorship. The JoyRx Mentorship program offers emotional support for children with cancer and practical support for parents or guardians staying in the hospital with their children. Adult mentors bring games and toys for children to play with, serve as a listener when children want to chat, and conduct fun activities to help ease children's stress. The JoyRx Mentorship program also has a virtual option where mentors and children interact through video calls or handwritten pen-pal letters.
JoyRx Nature. The JoyRX Nature program provides kids and their families a five-day retreat to the Alexandra Ellis Caring Cabin. During these interactions, children and their families can glide across the lake in a rowboat, look for local wildlife, and enjoy the peace and quiet of the natural surroundings.
By providing access to musical performances and lessons, providing a calm and soothing environment, and offering one-on-one support from mentors, JoyRx can foster positive connections for families during one of life's greatest challenges.
Show your support for JoyRx.
JoyRx is now one of the largest children's health non-profit organizations in the Northwest. The JoyRx programs have provided children nationwide with positive and uplifting experiences during cancer treatment or hospitalization. The organization has earned several awards over the years for its efforts, including the Better Business Bureau Torch Awards for Ethics, Oregon's Most Admired Companies, and Guidestar Platinum Seal of Transparency.
Join JoyRx and OnPoint in helping our community overcome adversity. OnPoint is honored to support JoyRx and help children with cancer find Joy in life. Now is an excellent opportunity to show your support for this critical organization by participating in our Refer a Friend program—invite people you know to participate today. Thank you for your support.