Jennifer Krebs was shocked when she heard she won the 2022 Prize for Excellence in Education K-5 Educator of the Year Award. The dedicated, fun-loving kindergarten teacher at Marcola Elementary School and Kindergarten expressed surprise that she was even nominated in light of the many outstanding teachers eligible for the award.
"It was really surprising," Krebs said. "I would have never in a million years guessed I'd be nominated. You know, there are so many amazing teachers out there. And when I was reading through all of the other contestants' bios, I told people, there's no way I'm going to win over these other teachers."
Though Jennifer was shocked by her award, the parents and students she served were not—and neither were her co-workers. For many families in the Marcola area, Krebs made their first introduction to school fun and educational, setting the foundation for a lifetime of learning.
For Krebs, a life-threatening medical condition, the birth of her child, lingering self-doubt, and the desire to purchase a home for her growing family all made the award come at the perfect time.
Creating a lifetime love of learning through the power of connections in kindergarten.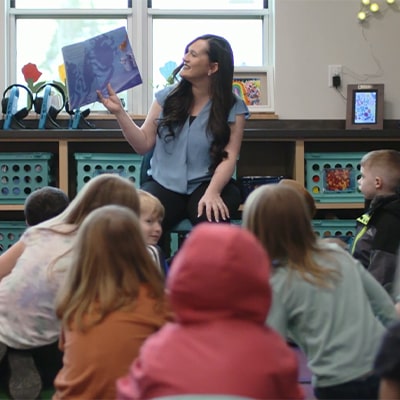 As a kindergarten teacher, Krebs gains satisfaction from guiding students that know very little about letters to reading independently. "The most special part is teaching 25 people how to read each year," she says. The feeling of accomplishment that comes when you look at a room of little people and realize that you taught them how to read is one she craves.
She also strives to create connections with her students and works to create a fun and positive first school experience. After learning that most children don't like school by first or second grade due to poor school experiences, Krebs focuses her career on making kindergarten enjoyable, all while showing a deep commitment to her students.
One of the reasons Krebs stands out to her peers and the parents whose kids attend her kindergarten classes is her ability to build those connections. She is a teacher who truly cares, which shows in everything she does. It also shows when her former students run up for hugs and get excited to see her in the hallways—even after they leave her classroom.
Finding balance with fun and hard work.
Learning how to read, add, and do school is hard work. But Krebs makes it fun. She takes time to be silly with her students, all while showing that she cares, and that is what makes her stand out.
It also makes students work hard for her. Even though she takes time for fun, they make tremendous strides academically in her classroom. It's this combination of care, kindness, and quirky fun that made her the ideal candidate for the award. For Krebs, being recognized was an affirmation that the work she does every day is making a difference. She found it both flattering and humbling to be awarded.
Her success in the classroom with her students is key to their success. The kindergarten classroom is where students learn to read and write and how to think actively, investigate with curiosity, and socialize positively. The social and emotional development that happens in kindergarten enhances a child's entire educational career, and it's through teachers like Krebs, who encourage academic excellence while engaging kids, that helps students feel positively about school.
Putting self-doubt aside to embrace success.
Throughout the nomination and award process, Krebs didn't think she would win. Jennifer looked at the bios of the other educators who were also nominated and felt tremendous self-doubt in her ability to win. She indicated many amazing teachers were on the list of nominees and even within her school who were just as deserving of the recognition. She knew she was helping her students, and she is an effective educator, so she found it very rewarding to have someone else say, "Yes, what you are doing makes a difference, and you are doing it well." Earning the award motivated her to keep making kindergarten an exciting and engaging place for many more years of students.
Overcoming life-threatening birth complications and getting back to class.
The award couldn't have come at a better time for the Krebs family. They found out she was expecting her fourth child right before she won the award. In fact, during the video where she publicly accepted the award, she was able to announce her pregnancy to her colleagues and students.
But this joyful time came with challenges. After the pregnancy, she had serious complications that ended in five additional surgeries and a week in the ICU. These pregnancy complications could easily have ended Jennifer's life.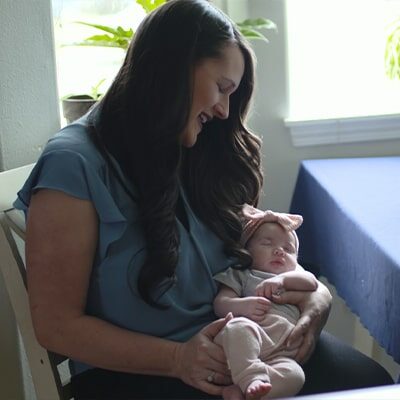 In the ICU, her connection with her students and family pushed her to pull through these serious health risks. Knowing her students and parents thought enough about her to nominate her for the award helped keep her motivated to heal. "One of my charge nurses was the mother of one of my current students. It was nice to wake up and see her," said Krebs. "But I was like, you know what? I have to pull through. I have so many hearts in my hands because when you've been teaching for 11 years, you have 11 years of hearts you know that love you." She knew if she didn't make it, her students and family would be devastated, and that pushed her to continue healing.
The award helped soften some of the financial and emotional impacts of a long and mentally-draining process. The timing was perfect, allowing the family to breathe more freely while Krebs focused on her health and healing. The baby, Kaylee, is doing well, and she joined her three older siblings. After getting out of the hospital, Krebs spent several weeks at home focusing on her recovery to return to the classroom and her students. She and her husband are working on purchasing their first home, and the award is helping make that a reality more quickly. The family also paid down some debt, allowing them to consider a larger home.
Providing recognition to local educators.
Today's teachers face a new level of challenge, especially in the post-pandemic world. Teachers are still working to catch kids up from the losses they had during the lockdowns, and they are dealing with new social pressures, testing requirements, and workforce shortages that make their daily work more challenging. For Krebs, facing a life-threatening physical condition added to the challenges that continue to affect her and other educators in 2023. We understand that the hard-working teachers in our area deserve recognition and everyone can point back to a teacher who impacted their child's education in a positive way. The OnPoint Prize is one way you can have a part in bringing that recognition to a teacher you know.
Nominations are now open for the 2023 OnPoint Prize for Excellence in Education. The prize awards $193,000 to local educators and their schools this year, with the grand-prize winners having their mortgage or rent paid for one year, as well as a donation to their school. Nominate a teacher you care about by April 11, 2023.