The Albina neighborhood is known for many things, including its central location in Northeast Portland and its historically African American heritage. It is a community built by hard-working individuals who were excluded from white-dominated industries in Portland and, during the early portion of the 20th century, were restricted from living in many of the city's communities. Today, the Albina neighborhood remains culturally significant but continues to be marginalized. That's what KairosPDX is working to change.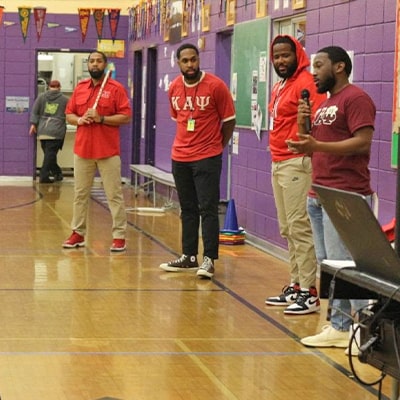 At first glance, KairosPDX seems like just an elementary school, but it's far more than that. KairosPDX is a Black-led educational non-profit focused on transforming education and elevating the voices of historically underserved children, their families and their communities. It's a community-centered organization with a complex mission to eliminate the region's prolific racial achievement and opportunity gaps. To do that, it aims to cultivate confident, creative and compassionate leaders.
KairosPDX operates in the former PPS Humboldt School, a building that serves a community where 78% of people identify as belonging to a community of color, and the majority identify as Black. Its vision is to engage and empower children and families through a liberating education by which each individual is freed to bring their very best to their own goals and dreams. Though the challenge seems straightforward, the path toward achieving this is anything but easy.
Approach to dismantling structural racism.
KairosPDX has structured its focus on policy advocacy, equality-focused professional development services, and family engagement programs in order to accomplish its vision. They also work to create self-sufficient, hands-on learning programs and opportunities within schools.
"Having teachers who reflect the student population is critical in moving the needle and closing the racial achievement and opportunity gaps for students of color," said Marsha Williams, Chief Executive Officer and Co-Founder of KairosPDX. "However, finding and retaining Black/African American educators in Oregon has been challenging. Our goal is still to ensure that all educators are doing the work to be culturally responsive and strengths-based when serving our Black students."
Transforming education one day at a time.
KairosPDX is developing a comprehensive plan to change the status quo and create more opportunities in a diverse environment. The approach has four main focus areas:
Learning Academy.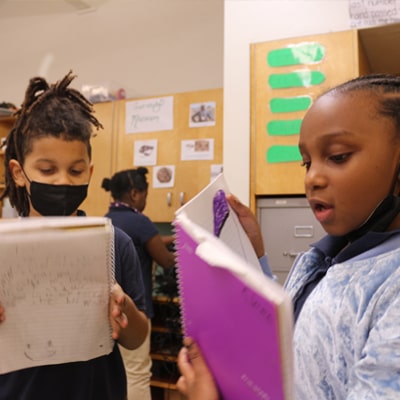 At the heart of KairosPDX's work is providing a foundation for learning and growth for young children ages 0-10.
The Public Learning Academies, serving Preschool to 5th grade, seek to reach students who have been underserved by the current education system. Providing an approach that is more appropriate for diverse youth can foster a love of learning and create new opportunities. That includes a strong focus on improving academic performance while also prioritizing cultural and social growth. Ultimately, the Learning Academies work to support children as they grow into compassionate leaders.
The Learning Academies Provide direct instruction to students while also working to foster mindfulness and restorative practices to teach the whole child. The K-5 Academy opened in 2014 and is seeing remarkable success, including in STEM, the Arts, PE, and PLAY. The Early Learning Preschool Academy opened in 2022 as a part of Multnomah County's Preschool for All program. It places intensive focus on creating strong family partnerships to ensure students receive the support they need at school and home. Each classroom is named after a Historically Black College or University (HBCU), to inspire learning about Black excellence and to embed college as an option from day one.
Training Academy.
An additional component to KairosPDX is its Training Academy, a program focusing on culturally competent consulting as well as professional development services.
The Training Academy provides access to authentic, culturally-focused training designed for organizations, businesses, administrators and educators. As a professional development service, this program component aims to strengthen the system that ends up serving our country's future leaders. Numerous workshops and opportunities exist, including live virtual professional training programs, adaptable training options and practical classroom skill-building.
The training is provided for districts, non-profits and businesses, and focuses on core areas, including:
Rehumanization of Education to Empower
Rehumanization of Education to Transform
Rehumanization of Education for Classroom Focus
Leadership training programs, including Leading in an Equity Movement
Community relations.
A third component of KairosPDX's work is a strong focus on building community relations. To do this, the organization creates and hosts various culturally-specific workshops and events throughout the year. The goal of each of these is to build the intellectual, social and human capital of families. The organization partners with HBCUs and the Divine Nine organizations to ensure that our student leaders gain exposure to Black Excellence via alumni who visit during assemblies and participate in our Community Action Sessions.
For example, the organization's Early Learning Network was designed to provide direct and indirect programs and resources to families and early childhood providers working with underrepresented youth under the age of five. By strengthening this network of providers through quarterly meetings, training programs, and policy discussions, KairosPDX is helping to meet the community's needs by creating stronger, more accessible resources.
This network enhances the quality of education available to young children within the community, many of whom are underrepresented individuals. The success of each child helps support the growth and quality of life for every member of the community.
Government affairs.
KairosPDX also works closely to effect change at the government level. The staff participates in a wide range of government-focused initiatives through Kairos partners, including:
Preschool for All Taskforce
Coalition of Communities of Color
Oregon Partners for Educational Justice (OPEJ)
Early Learning HUB of Multnomah County
Black Student Success Committee for Oregon
CCO Taskforce
Care Oregon
Early Childhood Equity Fund
The goal is to ensure that policies created in Portland and Oregon support the unique needs of underserved communities. That includes a strong focus on Black children and families, and their lack of access to academic opportunity and success.
The success of these efforts is evident, and it goes beyond just increased awareness. The organization worked directly with the governor's education advisor to convene a conversation around the state's funding equity for K-12 and early education.
Cultivating a love for learning and school.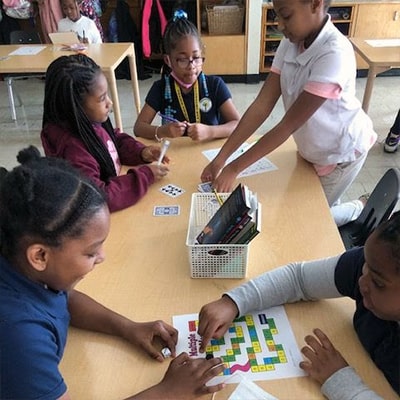 KairosPDX's work is about more than just improving test scores or getting more students to graduate. It is also about fostering a sense of belonging, understanding and love.
A young three-year-old was enrolled at KairosPDX after his previous school isolated him from group activities and labeled him "difficult." It wasn't long before he developed a hatred of going to school. His family took the initiative to move him to KairosPDX, where he attended the Early Learning Academy (for students ages 3-4) and received exceptional support. Within just a few weeks, he was interacting well with his new friends and teachers, and he has become a positive influence. He learned to trust the other children and the teachers who were paying attention to him.
"When he showed up the first week and ran away from the group or knocked down another child's block structure, we slowed down and leaned in to understand more about his experience instead of removing him from our learning community," Marsha shared. "This teaching approach sends a message that he's loved, ultimately creating a new neural pathway that strengthens his sense of self and belonging. He is experiencing what we do best – Kairos Love."
Make an impact with KairosPDX.
Organizations like KairosPDX work to change the lives of students and communities who can get left behind in a city like Portland. This kind of commitment builds strong communities, and we are proud to support KairosPDX to further its impact. Since 2021, OnPoint has donated $30,500 to KairosPDX to support their work in our community. It's also critical to have the support and guidance of other members of the community. Consider donating or volunteering to support the needs of this life-changing school. Supporting organizations like KairosPDX helps ensure that your voice is present at the school and in the policies that promote and support the needs of underserved members of our community.