The OnPoint Spotlight is an ongoing blog series that highlights our employees, celebrating the drive and personality of individuals on our team. It's one way we show our appreciation for their hard work and achievements while helping our community get to know the people who make things happen here at OnPoint.
This week's employee spotlight is on Brianna Viveros, Teller Operations Supervisor at the Orchards Branch. Food is her love language, meaning she loves to cook and feed others. Camping is a summer favorite, and spending time with family is a priority—she has a five-year-old boy who is her world, a puppy named Luna, and five brothers!
Here's what Brianna had to share about her life and time at OnPoint:
What were you doing before joining OnPoint or taking on your current role?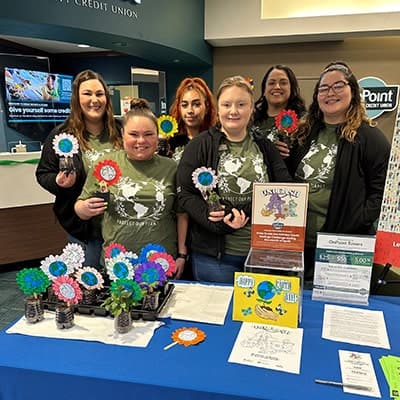 I worked two jobs before working at OnPoint—24 Hour Fitness and Forever 21. Before my current role, I was a Teller Coordinator and a Member Service Representative. I worked my way up from several positions to get to my current role. I take feedback and criticism as a form of how I can become a better version of myself rather than letting it defeat me. I always ask why about everything and continuously work to try to find a solution to a problem.
I strive to help develop my team, supporting them where needed and setting them up for success. Employees who feel respected and supported enjoy coming to work and working hard towards their goals. I enjoy making people feel good about themselves and helping them get to where they need to be. I thrive in busy environments. I am optimistic about everything.
What are you passionate about?
My favorite thing in the world is watching someone talk about something they love. It's one of the most vulnerable moments you can have with someone.
Are you artistic? What kind of art do you enjoy doing?
I went to beauty school. I love doing hair and makeup, mostly for weddings. I also love to paint, although I don't always have time for it.
What's the longest book you've ever read?
The longest book I read was The 48 Laws of Power by Robert Greene, which is 480 pages. It details the laws for attaining power in life, business, and more. It also gives historical examples of each law in practice and examples of those who do not respect these laws.
What is the best meal that you've ever had?
Birria quesatacos are the best. Hands down. It's a Mexican dish comprising birria-style cooked beef folded into a tortilla with melted cheese.
What's the one piece of advice you would give others about life?
Who you have beside you is the most important.
Are you interested in joining our team? Learn more about a career with OnPoint.