Something big happens when kids learn about the importance of saving for the future. They become more prepared for adulthood and they can see the value in helping others. Through the ages, saving, budgeting and investing, have become the go-to for protecting your pocketbook. Early financial literacy combined with active participation can lead to positive results in the future.
The official theme of this year's National Credit Union Youth Month is "Be a Credit Union Saver and Your Savings Will Never Go Extinct." It's a historic take on financial education that makes it fun for kids to save for their future and uncover the joy of setting aside money and helping others.
Helping our youngest members make the biggest difference
Talking to your children about money can be challenging, but OnPoint is committed to giving you the tools and support you need to help your children build good financial habits. To celebrate National Credit Union Youth Month, each of our branches will award 10 youth winners with $250 OnPoint savings deposits*, plus four tickets to OMSI's latest exhibit Dinosaurs Revealed. All OnPoint youth members (ages 0-18) who make a deposit into a new or existing account during the month of April can be entered into a drawing for a chance to win. View full terms and conditions.
What is your child's saving goal? A bike? A special toy or electronic? College? We're also inviting our followers to participate in the #OnPointSaver social media sweepstakes. Share your child's saving goal with us to enter for a chance to win a $500 OnPoint Visa® Gift Card for your children**, plus four tickets to OMSI's latest exhibit Dinosaurs Revealed. View full terms and conditions.
OnPoint was founded by teachers, and we're passionate about developing financial literacy in young people. Stop by your local OnPoint branch during National Credit Union Youth Month to open a youth savings account!
Savings are your protection from financial extinction
Teaching children about good financial habits can be fun. While your kids may already understand that money helps them to get things they want, they may not fully understand the power of saving, budgeting and investing. To make finances more digestible, try these five bite-sized financial concepts that any young dino could consume:
Save: putting money away provides the power to achieve future goals
Spend: the payoff of your savings
Share: help kids to think about how they can help others in their communities
Invest: relay how compound interest can help money grow
Budget: tracking personal spending and savings helps to ensure that you have the money
These basic concepts are enough to help kids understand how money impacts their lives, and how they can control their finances. By demystifying basic concepts like saving and investing, the world of money management becomes more accessible to youth.
Credit unions are uniquely situated to help parents and their children become financially empowered. With strong local roots and a heritage based on community education, OnPoint is ready and willing to facilitate meaningful conversations about money.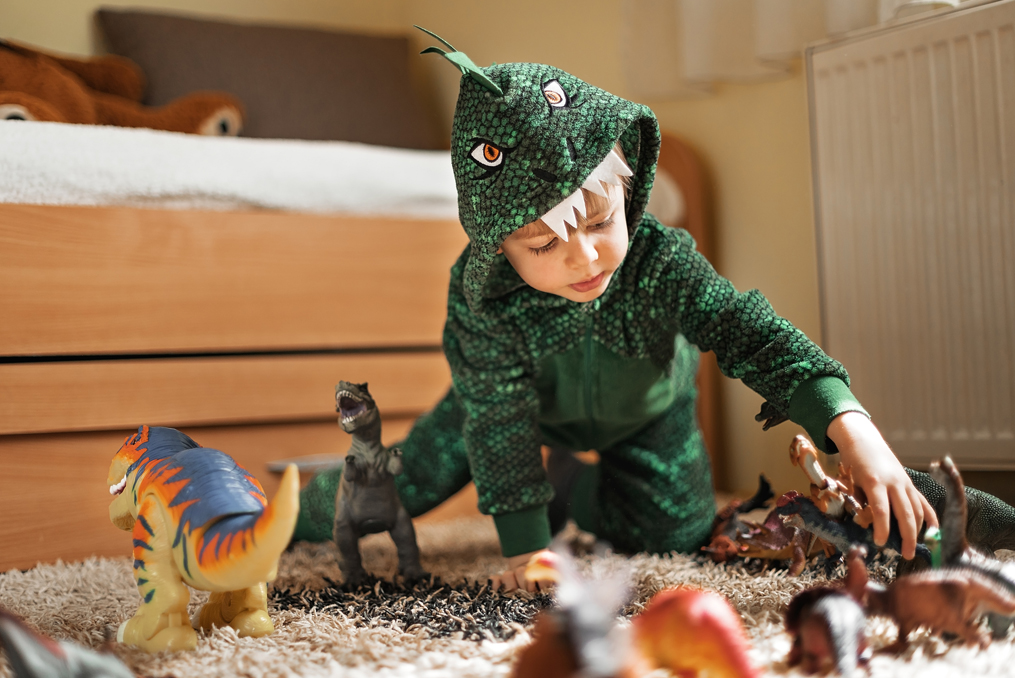 Financial education resources for parents and kids
For additional information and resources, visit OnPoint's Financial Education online resource center, or BizKids.com. Learn how your school or community group can receive valuable learning materials and student supplies, as well as get support from volunteers by visiting OnPoint's community partner Financial Beginnings at www.financialbeginnings.org.
At OnPoint's resource center, you can enroll in Enrich, our free financial education platform that offers full access to digital courses and personalized recommendations. There, you'll find guides on how to increase your savings and income, reduce unnecessary expenses and discover your money personality. You can enroll for free here or sign in through Digital Banking—once you log in, select "Financial Education" from the main menu to register automatically.
By supporting financial education at every age level, we hope to inspire and support our members and their families. When we all possess good financial knowledge, we strengthen our communities.