Despite a 0-41 loss to Central Catholic High School, March 12 was a momentous day for the Sandy High School Pioneers Varsity Men's Football team and its fans, who have longed to see them back in action since fall 2020. Fortunately for most fans who could not be there in person due to COVID-19 safety protocols, they could watch it on TV for the first time.
When Sandy High School leaders envisioned a sports broadcasting program in 2018, their initial goal was to prepare students for careers in creative digital media fields and foster a long-term connection with the Sandy community and its sports fans.
After years of hard work and winning the OnPoint Prize for Excellence in Education Community Builder Award, Sandy High School's Digital Media Career Technical Education department and Pioneer Digital Media Club completed the final phase of the project in December 2020. The school used the $2,000 Community Builder grant from OnPoint to buy closed captioning equipment, the finishing touch on the three-year project.
In January 2021, just weeks after finalizing the studio, Governor Kate Brown approved the return of sports for spring 2021, and Sandy High began preparing for the first broadcast.
"Winning the Community Builder Award was the last piece of the puzzle and brought our program over the finish line at the perfect time," said Andrew Schaffer, Digital Media Instructor and SkillsUSA Advisor at Sandy High School.
The team's first official broadcast was a doubleheader: On Thursday, March 11, they broadcasted live from Sandy High School's freshman football game against Central Catholic High School. They followed up that program with a live broadcast of the varsity team's game on March 12.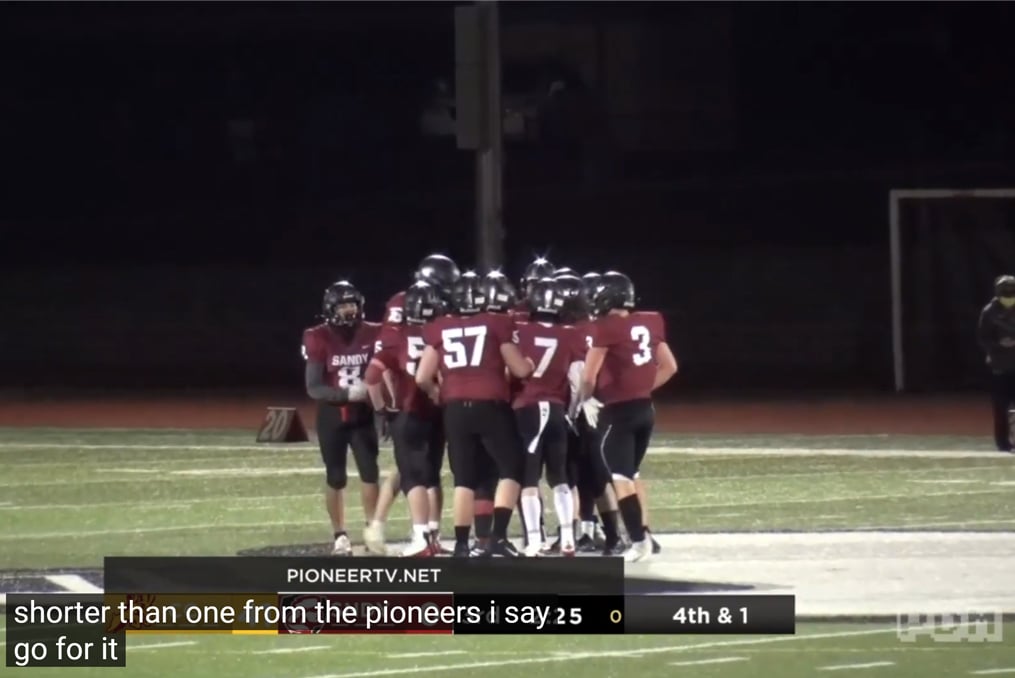 "We are thrilled to be able to share the excitement of live high school sporting events with our student body, the Sandy community, and sports enthusiasts," said Schaffer. "We knew when we started on this journey in 2018 that in-house broadcasting capabilities would be an invaluable new asset for our school and community, but we didn't know how important of a connection it would become."
In addition to live sporting events, the aspiring group of producers, photographers and reporters plans to broadcast live events and addresses from the school's campus. They will produce two broadcasts per week through the end of the school year, including upcoming football, volleyball, soccer, and hopefully baseball and softball games in the future. Learn more about watching future live broadcasts and about Sandy High School's Pioneer Digital Media Club.
"The purpose of the Community Builder Award is to foster connections, and never has that been more important to our community," added Schaffer. "We're excited to see how our broadcast program grows and brings our students, parents, teachers and neighbors even closer."
The team also produces a podcast that resembles WBEZ's This American Life and examines critical issues impacting students. Schaffer and his students began the podcast series in the 2020-2021 schoolyear as remote learning continued, producing all five broadcasts virtually—listen to the group's podcast series here.
If your school has a special project that would make a difference in your community, like the Pioneer Digital Media Sports Broadcasting program, visit www.onpointprize.com to learn more about applying for our 2021 Community Builder Award today. The nomination period ends on April 13, and OnPoint will announce the winners on May 11, 2021.