It's essential for parents to play an active role in how their children use the internet and connected devices. This includes doing homework online, participating in digital classrooms, chatting with friends, playing video games and using streaming services. Being involved in your kids' digital life can help ensure they're accessing appropriate content and keeping themselves and the family safe from scams. Scammers are actively targeting kids online to capture their personal information. Criminals have also found that kids can be a gateway to their parent's personal information and are constantly looking for ways to expose your name, address, phone number, credit card info and Social Security numbers.
Even as you take efforts to minimize risks in your home, scammers are relentless and always looking for new paths to this information. We cannot expect kids to understand all the new threats that are evolving on social media sites, gaming platforms and other sites—but we can make them aware of the risks and reinforce best practices, giving them the skills they need to avoid falling victim or serving as an entryway to your information. Consistent security education about these risks can help reduce the risks to your family's financial security and privacy.
Why scammers target kids online
For the most part, kids do not have the experience or skills necessary to navigate the internet securely. They simply don't know that they are doing something wrong—or ill-advised. Kids today will spend their entire lives surrounded by connected devices, and with this familiarity can come complacency.
Children's personal information (and the access they have to your devices and information) makes them a valuable target for criminals. With a child's personal information they can open up new lines of credit which can go undiscovered for years. If they can, scammers will target payment information—which oftentimes is your information. Gaining access to your computer through malicious software is another means of accessing your information. The end goal is typically using the info they gain to make fraudulent purchases or to sell the information on the dark web.
It's true that your account may send you an email warning you that someone has attempted to access your account from a new device or a different location. Credit monitoring solutions can help pinpoint the use of your personal information automatically. Are these basic safeguards set up for your children as well? Often with kids, automated safeguards are less common or go unmonitored. Securing your kids' internet access at the same level as your own can help your family mitigate these risks.
Getting started with protecting your kids from scams
Connectivity is essential for kids today, and the solution isn't banning your child from internet access and devices. The solution is developing rules and structure, educating them about the risks, and helping them build the skills they'll need as an adult. Security solutions to protect passwords, limit access to certain sites, and eliminate high-risk content links or downloads are reasonable safeguards to put in place to get started. A combination of protection, education and consistency can improve your child's online safety.
One of the most important responsibilities parents have is taking steps to keep kids safe online. Start by establishing boundaries, acceptable behaviors and guidelines for device use—consider a family media agreement to create a sense of ownership and accountability. Having an agreement in place will let kids know what their responsibilities are and what freedoms they have while showing them that you're taking an active role in their activity. Ensure your kids understand the risks, and have specific rules for what happens when they violate those rules. Have this agreement be something that you can work on collaboratively, as every family's specific needs can be different.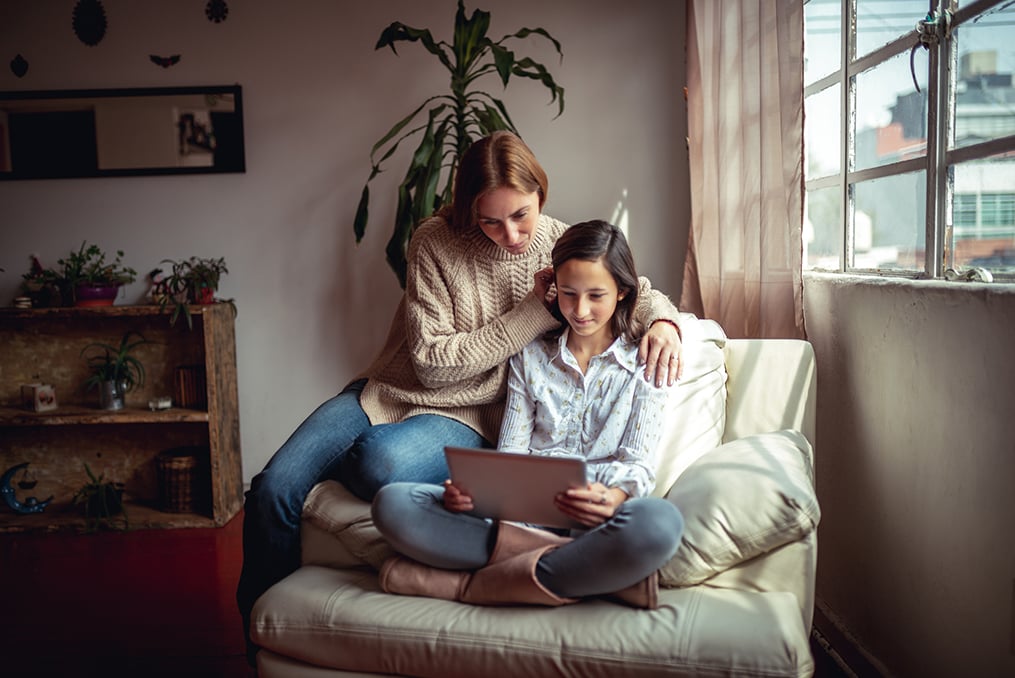 The most common ways scammers target kids online
Once you've established guidelines for using internet-connected devices, it's time to consider key tactics that scammers use to target your kids and how you can protect your children from these risks. Being educated about the ways scammers can reach your child is a critical component of digital security education for your family.
Videos
Youth have natural tendencies toward curiosity and socializing paired with a lack of life experience that can put them at risk and create opportunities for scammers to target their interests through content. Videos are everywhere online and especially attractive to kids today. Popular sites like YouTube, Snapchat, Instagram and TikTok provide endless streams of content for kids to consume and encourage users to become creators with their own fun videos. Videos also create opportunities for scammers to reach children through messages, links and the encouragement to engage in sharing of personal information.
Videos may:
Encourage children to input personal information into the system to gain access to a free video or prize
Include ads that link to malicious software or sites where kids are encouraged to provide personal information
Include direct access to a chatroom or private forum where scammers or predators lurk
Incorporate quizzes or luring messages such as "learn who has a crush on you" or other clickbait messages that attract social responses in children
Kids are drawn to social interactions and may lack the digital-savvy necessary to filter which ads are from legitimate companies or which activities on social media are relatively safe.
Shared computers
Most families share computers. More than one child may use the same tablet or laptop. Parents may use those same devices to log into various accounts online. When you share an internet connection or device with children, be aware that they may inadvertently expose your personal information to scammers.
Some of this activity could come in the form of malicious software downloads to your computer. Malware can collect keystrokes and personal data the next time you log in to access your bank account, then be used to access and clean out your account later.
When sharing computers, invest in reputable spyware and malware protection for computers and mobile devices. Look for programs designed to flag any type of download made to the computer. Also, if your browser's built-in pop-up blocker seems insufficient, you may consider adding an additional pop-up blocker extension to minimize the risk of a child clicking on a link in an ad.
Gaming platforms
Kids love video games, especially playing with others online. Typically, kids play with their friends, but it's not uncommon to make friends online. Desktop computers and gaming consoles such as Xbox, Switch and PS4 are the most common way for kids to play video games. As games have shifted to online play over the last decade, this increased digital connectivity can open additional opportunities for scammers.
The first concern to address is the likelihood not everyone online is honest about their real-life identity. These gaming platforms make it easy for players to join games with strangers they've never met from around the world. Depending on the structure of the game, they can speak to them over a mic, message them on the platform, or share screens. This option isn't inherently bad, but can be used nefariously by scammers or predators. That's why it's important to discuss how to treat these casual friendships with your kids.
Teach your kids that the person they are chatting with may not be a kid at all. There is no way for them to know who the other person is or whether they have other intentions. Drilling this home to kids of all ages helps them confidently question any person they may meet online. Kids love social interaction, want to be able to express themselves and meet new people. The longer kids chat and the more friendships grow, the more easily they are convinced to share information—but the duration of the relationship alone does not confirm that someone online is safe. Instruct them to never share personal information with those they don't know in real life, and to never agree to meet a stranger online. If they would like to organize a play date, make sure they discuss acceptable options with you.
Key info to avoid sharing with people online:
What time they get home from school, or parents get home from work
Where they go to school or what side of town they live
Where parents work
What their usernames or passwords are for online accounts and other gaming platforms
Last names, addresses or phone numbers
Social Security or credit/debit card numbers
Any personal or identifying information of themselves or their family members
If your kids have access to online games, it's not possible to monitor every interaction they have. That's why it's important to help build the skills for protecting their (and your) personal information. Make sure they understand that personal information has value and shouldn't be shared to others in-person or online.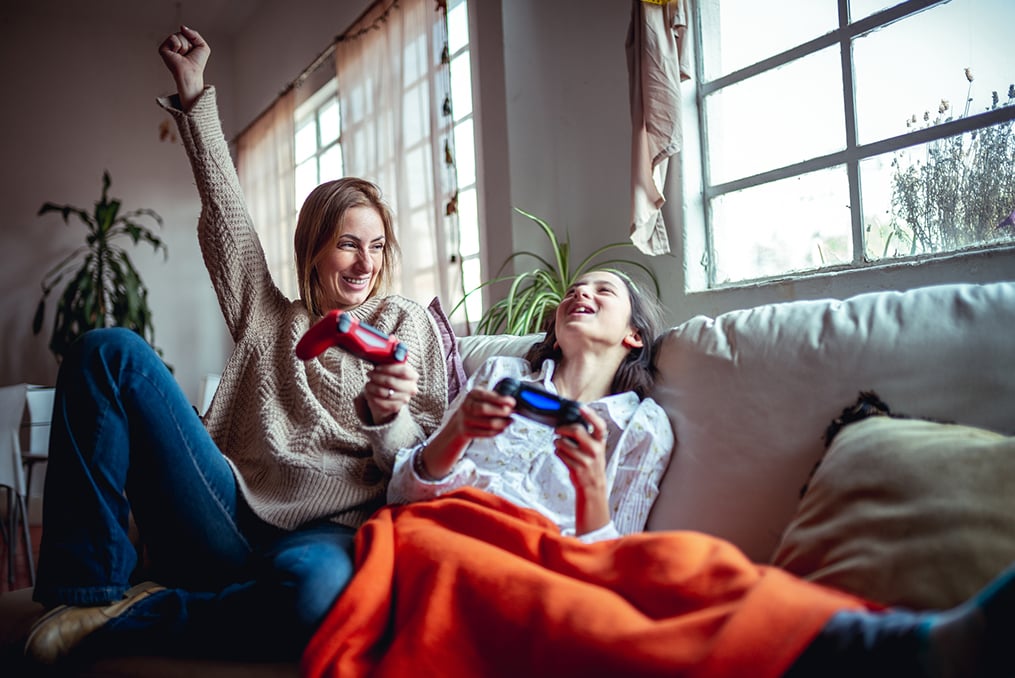 Password sharing
Does your child know the password to Hulu or Netflix? You may have given them a password to your computer so they can hop on to get information or check out something for school. When they have access to shared passwords, they become a target for scams. This can be especially dangerous if your passwords are not unique for each account you use.
Kids love to share videos, memes, gaming experiences and anything else with their friends. What might your child do if their friend didn't have access to the streaming service, or online game?
In the spirit of being helpful to their friend, children may decide to share their usernames and passwords to provide access to content and experiences. With access to these accounts, the scammer can quickly access some of your personal data including your address. This information alone is valuable enough to sell on the dark web. If they share their own Snapchat or Instagram password, a scammer may use the information in these profiles to learn their address, or trick their real-life friends into divulging personal information.
Educate kids about the risks of sharing any personal data related to passwords, even usernames alone. It's essential that kids understand not to share personal information of any kind for any reason, even if that means a real friend has to miss out on a binge-worthy show.
Ongoing monitoring and giving your kids more digital responsibility
Monitoring your child's device use is a constant and ongoing process. It's going to take a toll on your bandwidth if you try and control everything at all times. That's why educating your child and helping them gain skills to protect their own security is essential.
Take these actions today to help keep your kids safe:
Create a family media agreement
Educate kids on privacy and to never share personal information
Help kids understand that not everyone is who they say they are online
Install ad blockers on family devices
Set up parental restrictions on consoles, devices and accounts, where possible
Apply the best practices from our strong username and password checklist
Install antivirus and malware protection on family devices
As your children get older and show a better understanding of how to use the internet and their devices safely, they can take on additional ownership and digital responsibilities while remaining safe online. It all starts with establishing clear rules on when devices are allowed, acceptable uses, and a framework for understanding what content is off-limits, what scams look like and when to ask for help. For additional info on common scams and how you can protect your family's privacy and finances, download our eBook: The OnPoint Guide to Personal Cybersecurity.