With offices closed around the country, 74% of CFOs predict that employees will continue to work from home even after the COVID-19 pandemic ends. Many workers have found that they can maintain or even increase their productivity by eliminating daily commutes. To protect and keep these productivity gains, workers need to think carefully about how they will keep their personal and business information secure.
In a May 2020 poll of IT security decision-makers, 55% said their organization plans to increase its security budget to bridge potential gaps created by new work-from-home policies. Additionally, 69% said they were concerned about network security issues such as public Wi-Fi networks, file-sharing systems, web-based applications, and video conferencing. ⁠However, you don't have to be part of a large organization to take steps to secure your home workspace.
Following essential cybersecurity tips such as using strong passwords will go a long way toward protecting your company's sensitive information. By considering the common ways fraudsters and cybercriminals can access, steal, or corrupt your personal and business data, you can prevent attacks before they happen.
Here are several more at-home security measures you should take to protect yourself from cybercrime.
Physical device security
When you're away from the office, you are likely to expose yourself to additional security risks. For example, if you work remotely at a local coffee shop, your laptop may be more vulnerable to theft. Other people, such as roommates or children, may attempt to use your company device for personal use at home.
According to an industry cybersecurity report published in June 2020, approximately 56% of employees working from home use a personal computer, and 25% of people who work from home don't know what security protocols they should have in place.
Consider asking your manager if it's possible to obtain a company computer or smartphone. Physically separating your work and personal information is a great way to avoid unintentionally exposing all of your data. If this isn't possible, consider installing two web browsers on your personal computer. For instance, you could use Google Chrome for personal web surfing and Firefox for work. Ask someone from your IT department which browser they recommend and take steps to keep your browser secure.
You should always set a strong password on your computer's start-up screen. Remember to log out whenever you step away from the computer, especially if there are other people around. When you take your laptop out into the world, avoid leaving it unattended.
Network security
Before you access the internet for work, ensure that you are using a secure network. Follow these cyber network tips to secure your home's Wi-Fi network:
Change the default network name: A unique service set identifier (SSID) makes it challenging to determine what type of router you're using.
Set a strong password: Ensure that only authorized users can access your network by creating a password that includes upper- and lowercase letters, numbers and symbols.
Use encryption: Set your router's security protocol to WPA2. For the majority of routers, you can access these settings by entering '192.168.1.1' into a browser window.
Check for updates: Many routers check for updates automatically, but it's always a good idea to check for yourself.
Try to avoid using public Wi-Fi when possible. Even though many coffee shops and other public spaces place passwords on their networks, the passwords are often easy to crack. If you must use a public network, consider using a virtual private network (VPN) to hide your network traffic and protect your connection from any potentially prying eyes.
When sending files to coworkers and clients, avoid using your personal email address. Always use your company-provided address, and change your password every three to four months. Sending messages to customers, coworkers, or other businesses with different email addresses could open up an opportunity to expose others to phishing scams where a scammer creates and utilizes an email address with a version of your name. Additionally, do not open emails from addresses you're unfamiliar with—even if you think you know the sender. Follow up with the contact info you already have and verify that it was actually from the person you know.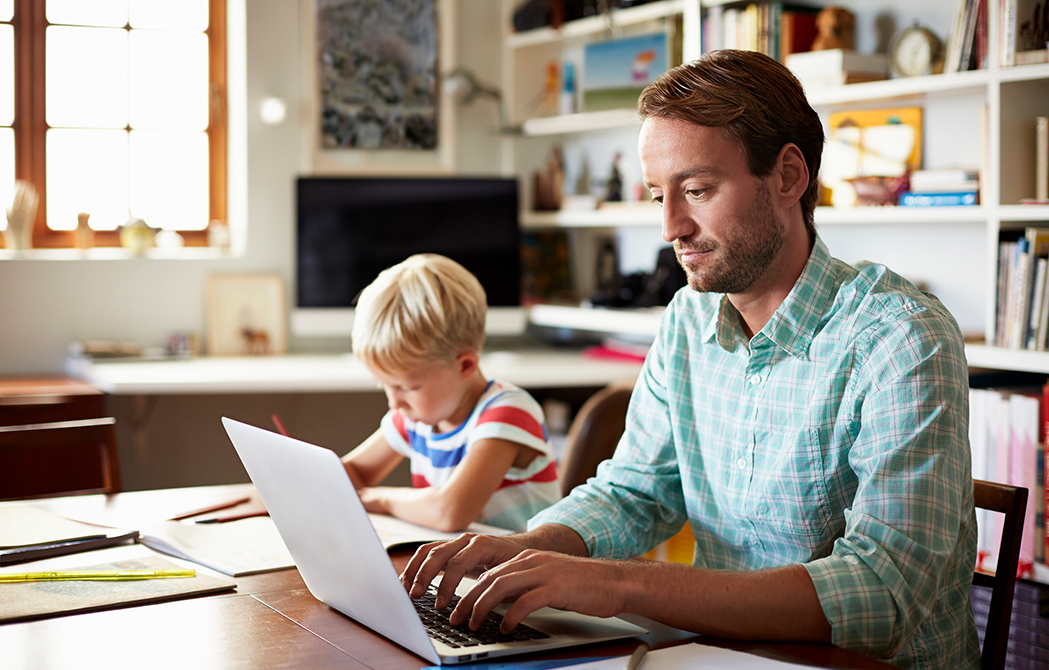 Security software
Antivirus software can prevent malicious programs from wreaking havoc on your system. Most computers have all of the necessary software pre-installed. Windows Defender Firewall comes with the operating system, and it can stop the most common forms of malware. Apple operating systems have similar security features built-in, so there's not much needed to download a third-party application unless recommended by your company's IT department.
Due to the effectiveness of security software and two-factor authentication, you are increasingly more likely to encounter fraudsters engaging in social engineering than you are to download a virus. Like phishing, social engineering scams use convincing lies to trick people into giving up their personal information. When you know how to spot these scams, they become easier to avoid. Just as you want to be aware of your surroundings when you walk outside, you should maintain situational awareness online. If something you encounter online seems suspicious, trust your gut or ask someone from your IT department before you go any further.
For detailed, actionable guidance on how to spot and avoid online scams, download our free eBook on Personal Cybersecurity.