During uncertain times you may need to find a new job, supplement your incomes, or change your living situation. The last thing you want to experience is a scam that puts your job prospects or housing situation at risk. Unfortunately, scammers are looking to take advantage of people on the hunt for a new job or place to live.
Fraudsters often target job hunters and those looking for housing rentals because they are vulnerable groups. With the stress or urgency of moving, you may not be as alert to potential scams.
Be on the lookout for these job hunt and rental scams, understand red flags, protect your finances and avoid identity theft:
3 common job hunt scams to avoid
When you're looking for your dream job, be wary of listings that seem too good to be true:
1. Out-of-the-blue job offers
Scam artists prefer methods that target as many people as possible; this makes email a convenient method. Be suspicious if you receive an email out of the blue from a company to which you haven't sent an application, or otherwise were not expecting to contact you. In this scam, the fraudster sends out an email blast that claims to come from a recruiter or large company.
In the message, the sender will try to convince you of their legitimacy by claiming that they found your resume on LinkedIn or another career site. A scammer may claim to represent a major company that can offer amazing perks, such as Google or Amazon—but they can pose as any company they choose. The scammer will attempt to get your personal information, such as a driver's license or Social Security number, so they can complete your paperwork or send you a malicious link.
Phishing emails often use real logos and can even appear very professional. However, it's best to completely ignore how an email looks when evaluating its legitimacy. First, always check the sender's email address. There are often typos or unusual domain names, and the email address and website may not match. Even if the legitimate website is listed, if the email doesn't match the site, then that's a red flag. The scammer may also appear to provide the official website only to have hidden the real link behind hyperlink text (example: www.google.com). Avoid unintentionally going to the wrong site by hovering your cursor over the link to ensure that the destination is what you expect.
2. Fake job listings on social media
Scammers may set up fake social media profiles or groups to promote bogus job opportunities. Although social media companies have protocols in place to find and remove scammers, they might not be able to spot them immediately. A scammer might legitimately use a profile for several weeks or months to appear as a real person.
Before you reply to any job listings on social media, beware of shortened URLs like bit.ly from unverified sources as they could lead anywhere. Check out the profile and then run a quick search to see if you can find more information about the recruiter or company before taking action.
3. Fake recruiter websites
A spoofed website may be difficult to spot if the scammer has copied the design elements of the actual employer. When you arrive at a fake site, it can seem legitimate, but the job posts don't exist. Typically, you won't find these sites from a Google search, but from a link found elsewhere on the internet.
If the site asks for personal information such as your Social Security number, consider it a huge red flag. Back out of the website and search for the company to see if you can find the real domain.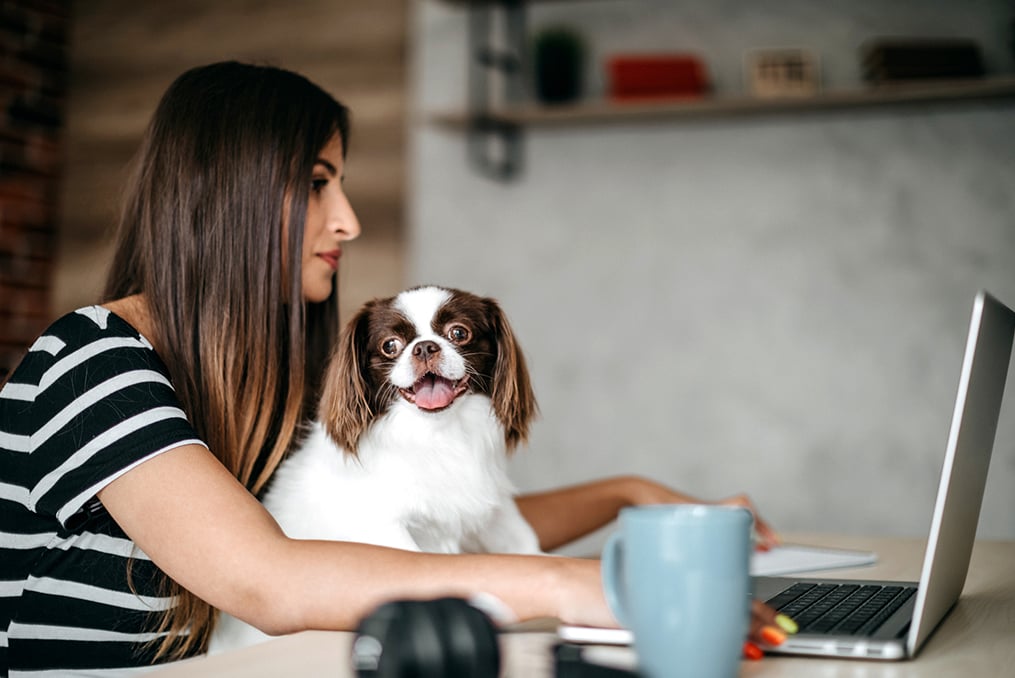 3 common apartment scams to avoid
Everyone is on the hunt for a great deal on housing. Don't get fooled by these common scams:
1. The rent is too good to be true
In cities with a growing population, like Portland, Oregon, apartment hunting can take a little longer than other areas in the Pacific Northwest. Scammers use difficult rental markets to exploit would-be renters into giving up their money or identifying information.
A common scam is where an amazing apartment suddenly becomes available at a below-market price. Often, the poster will claim that they live abroad and desperately need someone to fill the vacancy as soon as possible. They may ask you to wire money overseas to pay the deposit before you can see the unit or to send your personal information via email. A legitimate landlord or property management company will not make this request.
2. Bait-and-switch properties
In this scam, a real estate agent or landlord will post pictures of a beautiful apartment to lure in clients. However, when you arrive to see the property in person, it's no longer available, and the agent shows you an alternative that doesn't come close to the original listing.
A bait-and-switch landlord likely isn't someone you want to rent from long-term. If they're willing to lie to you on your first interaction, who knows what they'll try to do later. Landlords, apartment managers, and property management companies that use unethical tactics may also pressure you to submit an application fee and a security deposit against your better judgment. It's a good idea to bring someone you trust when viewing an apartment to help ensure landlords or their surrogates do not take advantage of your situation.
3. Expensive background checks
When you need to find an apartment fast, you may be willing to pay whatever fees necessary to move the process forward. Landlords who act in bad faith know this and may require an outsized security deposit to guarantee the unit, or exploit your desire for a speedy process by charging more than necessary for background and credit checks.
If you're asked to write a check of more than $100 for these fees, you may want to rethink how badly you want the apartment. Although there is not a prescribed limit to the screening fee that a landlord can charge in Oregon, they are required to complete the screening and provide you with a written explanation upon request of why your application was denied.
The internet can be a fantastic resource for making job and rental searches significantly easier. Still, scammers are always lurking in the shadows, so it's best to approach new opportunities with caution. Are you looking for more moving tips? You may want to learn how you can get back your rental deposit. Also, check out our career resource center for more help in finding and preparing for your next job.