With 197 Oregon and 259 Washington state school districts closed (11 in Clark County), you likely have or know someone with kids at home, doing their part to help curb the COVID-19 outbreak. So, what's there to do when the novelty of no school wears off? Why not take the uncertainty that has blanketed our day-to-day and invite your kids to learn about topics like money and finances in different ways? It might be more empowering than you realize.
Take a money-break with these activities.
English Language Arts: The Consumer Financial Protection Bureau

(CFPB) offers a reading series on kids and finances. The

Money as You Grow Bookshelf

is a curated reading list for children ages 4 to 10. Though the CFPB does not provide access to the books themselves, it does offer thoughtful, downloadable reading guides for parents and caretakers to generate discussions on popular titles like Bob Merrill's "How Much Is That Doggie in the Window?" and Barbara deRubertis' "Cuenta Con Pablo," also available in English.
Mathematics – Finances: BrainPOP

is a kid-friendly, all-in-one learning site. While kids are a fan of the vivid animation and expressive characters, teachers rely on subject-specific content to deliver conceptual topics in digestible form. Start with

BrainPOP's

learning suite called "

Interest

" before moving onto "

Debt

." Bonus: Access to

BrainPOP is currently free to help keep kids learning while out of school. Sign up for the FREE Family Access here

.
Arts: Have any cardboard in your recycling bin? Spend an afternoon designing the ATM PIGGY BANK

featured on Just5Mins YouTube Channel. The 5-minutes refers to the video, piggy bank construction times will vary.
Science: Is there a penny jar in your home? Get the kids to clean the coins while adding them up. This kitchen table experiment calls for household ingredients such as water, vinegar, ketchup, salt, and soap. The question: Which ingredient cleans the coins the best? They'll find a new use for America's staple condiment, and you'll have your loose change counted.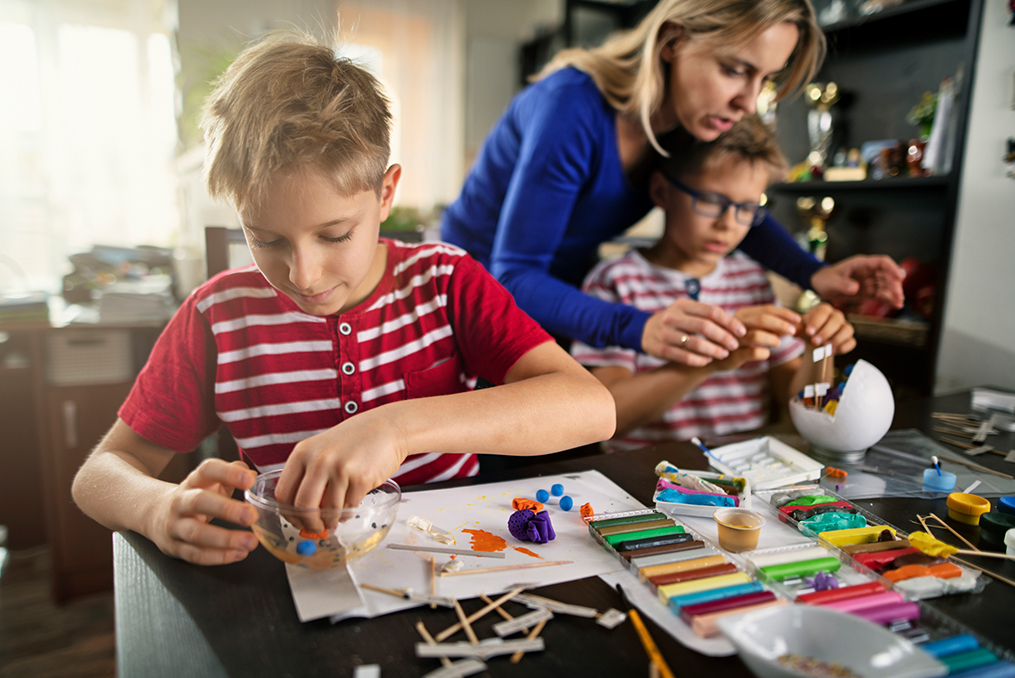 In it for the long-haul? Start a seasonal, virtual family business.
If you're a bargain hunter, you likely ride the virtual waves searching for deals. How about taking your love of bargain shopping, the love-to-hate or hate-to-love season of decluttering, and the ample time indoors to get the family started on a seasonal, second-hand virtual business? Start small with your neighborhood Nextdoor or head over to eBay for a business without borders, too.
It's too early to tell how COVID-19 will affect U.S. consumer spending this year, and more specifically, how it will influence online sales, which reached nearly $602 billion dollars in 2019 (Census Bureau of the Department of Commerce). Regardless, many people are already experiencing financial uncertainties and looking for ways to curb spending and create new funding sources. Starting a virtual business could help other families score deals while bringing some extra cash in for your family. With just over 50% of 11-year-olds having a smartphone, you can at the very least find out if your family is on board with starting an e-shop. Here are some starter tips:
Kids have a knack for brainstorming, which might help the family decide if a seasonal start-up is the right way to go. Use biz KID$ guide to writing a business plan to get their ideas moving.
Have an avid Googler in the family? Task them with finding the resale value of your goods. The Salvation Army Donation Value Guide can get them started.
You'll need some way or ways to record inventory, resale value and track sales. The Cengage Accounting Team has a free packet of printables. Click here.
Risks are involved. Think through various downsides and invite your kids to share their thoughts, creating a discussion around online safety habits. Here are some of the risks you could talk about: monitoring kids' online involvement and interactions with potential buyers; seller's fees and sales taxes; or assuming responsibility for your children's mishaps in online transactions.
Getting everyone involved from cleaning out closets to debating the resale value of soccer cleats and designating who will manage the posts to who will package the sales, is a real-life way to get kids interested in entrepreneurship. It's also a good way to get them to clean their rooms.
Have other ideas? Please share your projects and ideas with us on social. You may inspire others to do the same. Find us on Facebook, Instagram, and Twitter.