When I was a kid, I loved going back to school. I looked forward to seeing my friends, getting new shoes, picking out an outfit for the first day….and, of course, getting new school supplies. I impatiently waited for my mom to get the supply list from my new teacher, hoping it would include the requirement that I get the BIG box of crayons (you know, the one with the built-in sharpener). Alas, that big box never appeared on my list, so I settled for a box of 16 or 24, along with my #2 pencils, spiral notebooks, Elmer's glue, and a box of Kleenex. Even with that small disappointment, I was excited to have all of these new things. I was ready for school.
I was very fortunate.  Sure, my mom was practical, and if it wasn't on the required supply list she probably wasn't going to buy it. But, I could get everything that was on that list. In Oregon today, nearly half all children live in low-income families and can't afford even the most basic school supplies. Each year, teachers spend on average of over $500 of their own money to purchase these supplies.
You and I can help the kids in our community go back to school with the excitement and confidence of knowing they will have the pencils, crayons, paper, and glue on their supply list. OnPoint has partnered with KGW, Papa Murphy's, and Great Clips to sponsor the 9th annual KGW School Supply Drive. Now through August 18, you can donate cash or supplies at any OnPoint branch. Click here for more information about the school supply drive and our partners.
Where does your donation go? Great question! Some donations collected during the drive help fund the Schoolhouse Supplies Free Store for Teachers. This terrific community resource is stocked with new school supplies and gently used office supplies that teachers can use to fill their classrooms – for free! Also, keep in mind that all donations benefit the school district where the donation is made, so everything you give stays in your local community.
Now if you'll excuse me, I'm off to pick up some school supplies…I think I'll get big box of crayons for myself while I'm at it.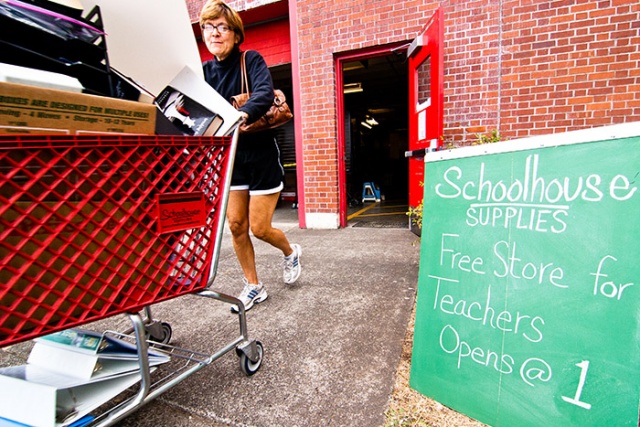 Author: Joan Doherty, Manager | Marketing Services