Founded in 1944 in Portland, Oregon, the Oregon Museum of Science and Industry (OMSI) is one of the oldest museums in the Pacific Northwest. OMSI is well-known for its interactive exhibits and educational programs, which cover various science and technology topics through permanent exhibits and special exhibitions.
OMSI's work also reaches historically underrepresented communities in the PNW, including girls, people of color and those living in more rural areas. OMSI's programs help combat inequities by focusing on providing guidance and getting young individuals excited about taking the next steps in their careers. From early childhood professional development to science camps, OMSI makes a real impact on the education of youth in our community.
How does OMSI provide access to all communities?
OMSI aims to inspire and educate people of all ages about science, technology, engineering and math. To achieve this, the museum offers a wide range of interactive exhibits and educational programs designed to be both engaging and informative. OMSI also hosts special events and programs throughout the year, including science demonstrations, lectures and workshops open to the public.
The museum's educators are some of the best in the nation and take the time to build long lasting-relationships with young learners. Activities include diving deep into a new topic with OMSI After Dark or Science Pub or meeting with an actual scientist to ask questions.
In 2022, OMSI successfully developed and deployed Community Science Nights to provide inclusive experiences for the LGBTQIA+, Latin American, Black and Native American communities. Over six months, the museum hosted four well-attended events:
Pride at the museum with 1,151 attendees
Latin American Community Science Night with 656 attendees
Black Community Science Night with 763 attendees
Native American Community Science night with 860 attendees
Individuals from all communities could come together and connect personally on common interests. Many attendees praised OMSI as a welcoming place that allowed them to let their voices be heard:
"Seeing so many people at a pride event truly gave me hope for the LGBTQ+ community in our country. It was fantastic to see families come and celebrate at OMSI."
"The entire visit was absolutely fantastic! It was beautifully done, very engaging, and very well thought out. I was very impressed with the various activities, vendors and Black-owned food trucks that were available. As a result, my son was connected to a robotics program and is already looking forward to his next visit to OMSI."
Actively combatting inequality.
Determined to minimize barriers for underrepresented groups, OMSI has pledged to be intentional with its partnerships, develop inclusive curriculum and programming, and make education accessible. The museum developed an Equity Action Framework to become more inclusive and anti-racist in three ways:
Systemic Integration: Changing systems, processes, policies and practices
Capacity Development: Shared knowledge, attitudes, beliefs and values centered on equity
Evaluation & Reporting: Establishing benchmarks, measuring and reporting on progress
With support from community members, OMSI is committed to taking action and delivering meaningful results toward educational equity for everyone.
Educational accessibility for everyone.
OMSI's mission is to make the entire museum accessible to all visitors, including those with disabilities and who speak different languages.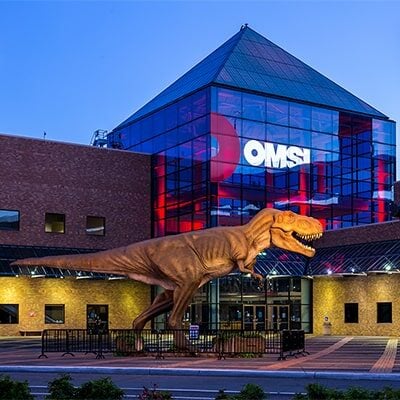 Discounted admission tickets, financial aid, and accessible services are available to help relieve financial burdens.
The museum proudly offers admission assistance for low-income persons and families by participating in the Arts for All program. Qualified participants enjoy up to four tickets at the discounted price of $5 each by simply showing identification and an Oregon Trail Card (used for public benefits assistance programs).
Information on applying for and receiving financial aid for admission, group admissions, museum programs, in-class labs or summer camps is available online. You may also call 503-797-4661 for more details.
Join OnPoint to help OMSI work toward an equitable future.
OnPoint is proud to support OMSI in promoting scientific thinking, reducing inequality, advancing opportunities for all, and pushing toward an equitable future. In January 2023, OnPoint helped create 250 STEAM (Science, Technology, Engineering, Arts, Mathematics) activity kits at the museum's Science and Service event, inspired by the federal MLK Day of Service.
In 2022, OnPoint donated more than $840,000 to DEI (Diversity, Equity, and Inclusion) efforts in our community—with $20,000 going to OMSI in 2022, and $25,000 dedicated to OMSI in 2023. You can add your support and help communities across Oregon and SW Washington benefit from OMSI's efforts by doing one or more of the following:
Become a Sustaining Donor: Give to OMSI every month. Beyond the impact your financial support creates, your contribution entitles you to special benefits, including invitations to OMSI events and receptions, personal tours and exclusive information updates.
Volunteer: OMSI offers a variety of rewarding volunteer opportunities. These positions include greeting visitors and answering questions, presenting science demonstrations in our exhibit halls and labs, mentoring teens in our new Teen Tech Center, and helping behind the scenes in our administrative offices.
Corporate Memberships: Corporate partners play a significant role in helping OMSI grow and serve the community. Corporate memberships give employees and guests access to the museum, offer reduced rental fees for corporate events, and support science education across the region.
Sponsorships: Sponsoring OMSI events and programs affiliates your brand with one of the region's most respected and recognized institutions. Sponsoring OMSI events—MSI After Dark, Museum Access Programming, the Teen Tech Center and more–helps you reach an engaged customer while supporting your company's educational impact priorities.
With your help, OMSI's vision to collaborate with local partners to make science and technology education available to everyone in our PNW community can become a reality.