"I am so thankful to work for an organization that gives back to the community, and I get to be part of deciding how we do that," said Kirsten Williamson, OnPoint's Compliance Manager. "It's given me an opportunity to support organizations I really care about, and I now look forward to this campaign every holiday season."
It's been over eight years since Kirsten began working at OnPoint. However, she still fondly remembers the holiday season when OnPoint implemented their Employee Giving campaign.
Here's how it works: OnPoint donates $100 on behalf of each of its 732 employees to select organizations that make a difference in our community. This year, employees had a choice of three different nonprofits, including Meals on Wheels People, JOIN, and Neighborhood House. Kirsten chose to split her donation among the three options.
"They're all doing such amazing work to make a dent in hunger and provide support to people and families that really need it. I wanted to support them all."
In total, OnPoint employee donations totaled over $73,000:
$32,520 to Meals on Wheels People, which delivers 5,000 nutritious meals each weekday with a mission to alleviate hunger and social isolation and allow seniors to live independently
$20,437 to JOIN, which works with families and individuals that are experiencing homelessness to identify a path to housing that opens the doors to stability, opportunity and community
$20,370 to Neighborhood House, which provides emergency food services, early childhood and school-age education, housing support, senior services and more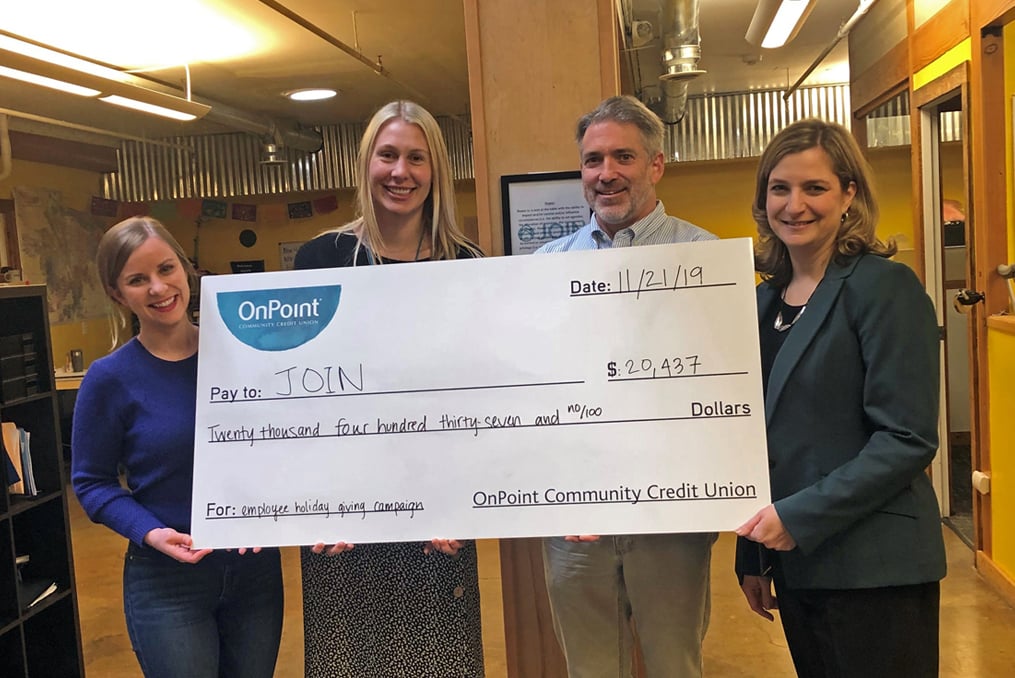 OnPoint's Risk Program Coordinator, Jennifer Moore, just joined OnPoint this fall. She chose to give her entire donation to Meals on Wheels People and plans to volunteer with the organization moving forward.
"As a new employee, I was deeply moved when I found out OnPoint would be donating $100 on my behalf! I selected Meals on Wheels People to receive my donation because I'm passionate about ending food insecurity and its message–Changing Lives One Meal at a Time–resonated with me."
With OnPoint's donation, Meals on Wheels People will be able to provide one full day's worth of deliveries during the holiday season.
"OnPoint's generosity will provide an entire day of meals to the 5,000 seniors we serve," said Julie Piper Finley, Director of Marketing & Communications at Meals on Wheels People. "We are honored OnPoint employees chose us as recipients of this tremendous gift. On behalf of those we serve, we thank them for their continued support of our community."
To broaden its impact across the region, OnPoint also allocated $5,000 to be distributed among employee-selected nonprofit organizations. Recipients of these donations include Looking Glass Community Services in Eugene, Yamhill Community Action Partnership in McMinnville, and Bethlehem Inn and St. Vincent in Central Oregon.
Nominate a cause to receive a donation from OnPoint
We are grateful for the opportunity to make these donations on behalf of our employees. Now it's your turn as the conclusion of our annual Employee Giving campaign signals the start of OnPoint's second annual Social Giving campaign. During the campaign, people in our community will select six organizations to receive donations from OnPoint through our various social media channels. This community-driven campaign kicks off today, December 3, for Giving Tuesday. For Jennifer Moore, this is a chance to rally her network and bring greater awareness to organizations doing great work in our community.
Our Social Giving campaign closed on 12/13/19. Thank you to all who participated.