Loans provide people a means to make large purchases, then pay off the expense in installments over time. Common types of loans are student, home, business, and auto loans, though not all loans fall into these categories.
In fact, if you're looking at options to make a major purchase or complete a long-term project, a personal loan could be a smart option.
What are the different kinds of personal loans?
Personal loans can either be secured or unsecured. Secured personal loans are backed by collateral, such as cash in a savings account or a personal asset.
Unsecured loans don't have that safety net, which typically makes them harder to approve than secured loans. This means unsecured loans are generally reserved for borrowers with good credit.
Beyond the secured/unsecured divide, different institutions may offer various types of personal loans that fall into these categories. For example, OnPoint offers four types:
Personal loans: Borrow up to $25,000 and spend the money in various ways
Personal lines of credit: Gain access to between $100 and $25,000 of credit whenever you need it, similar to a credit card
Saving secured loans and lines of credit: Borrow up to the amount you have in your OnPoint savings account
Payday Advantage loans: Borrow up to $600 or 20 percent of the amount of your most recent paycheck (whichever is less) to cover unexpected expenses that come up before payday
For how many years can you have a personal loan?
Personal loan terms depend on the lender and borrower but generally range from 12 to 60 months. Longer terms mean your monthly payments will be lower, though you'll wind up paying more in interest over time. Shorter terms are the opposite; you'll save on interest, but you'll owe more each month.
What is the limit for a personal loan?
The amount of credit you can access through a personal loan depends on the lender, your credit score and other factors. Typically, personal loans are for amounts between $1,000 and $50,000, though some people borrow amounts outside this range.
The amount of money you take out with your personal loan may depend on your creditworthiness, the lender's rules and restrictions for personal loans, the amount of money you need and other factors.
How are personal loans used?
There aren't many restrictions on how to use your personal loan. Borrowers can often apply this money to whatever expenses they have. A few of the most common uses for personal loans include:
Debt management
Personal loans can be used to pay off credit cards or various other debts. The advantage to this strategy could be to consolidate multiple payment obligations into one monthly bill, to get a lower interest rate or to receive more favorable terms on your debt.
Weddings
The average cost of a wedding in Oregon in 2017 was $20,652, making it the third-most affordable state in the U.S., according to The Knot. Though weddings in Oregon are relatively inexpensive compared to others like Manhattan's average of $76,944, a personal loan may still make it easier to pay for the occasion.
Funerals
The average cost of a funeral is more than $7,000, according to the National Funeral Directors Association. Unfortunately, not everyone plans for this often unexpected event. A personal loan can help people make the necessary arrangements.
Moving
Whether moving across town or to another state, moving can get hectic and expensive. Bulky or delicate items, such as pianos, increase the cost even more. Many people work with professional moving companies, and the cost of moving trucks, packing supplies and gas can all add up quickly.
Medical expenses
An unexpected injury or illness can be expensive. Though health insurance may help reduce expenses, many people still struggle with costs associated with medical problems.
Home improvement
Many home improvement projects can cost several thousand dollars or more. Personal loans are one option to help homeowners pay off a remodeling project.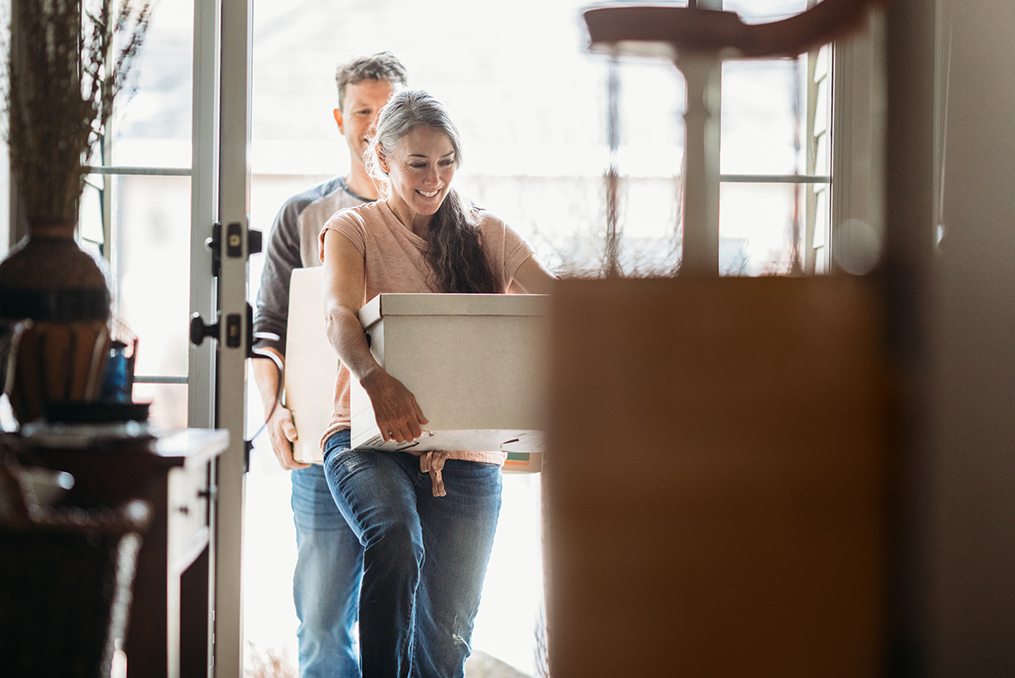 How do you pay off a personal loan?
The monthly payment amount you'll owe will depend on the loan amount, interest rate and term length. Someone with a $5,000 loan, 60-month term and an interest rate of 14 percent (about the average for consumers with credit scores between 680 and 719) will have monthly payments of $116. Over the five years of the loan, this person will pay $1,980 in interest. You can use loan calculators to help you determine monthly payment amounts.
Once you know how much your monthly payments will be, calculate them into your monthly budget. Specifically accounting for this expense will help you plan accordingly.
Some lenders may charge a fee for early payments (OnPoint does not charge prepayment penalties). Find out if your creditor does this. If you can make larger or extra payments without a penalty, you may be able to pay off the loan quicker and reduce the amount of interest you'll pay.
The way you make payments may depend on your personal preferences and creditor. You may be able to set up automatic payments, which will ensure you'll never miss a due date and incur late fees. There may also be online or mobile payment options of which you can take advantage.
Why should you get a personal loan?
Personal loans can be a smart solution when you're making a large purchase or are making an effort to gain control over debt.
If you're taking out a personal loan to manage debt, make sure you're getting a lower interest rate and/or better terms through this method. If your personal loan will help you make a large purchase or cover expenses for a big project, it's smart to consider your pay-off plan first.
Personal loans can also help you improve your credit score in some cases. Credit variety is one factor in determining your score. If you don't have another installment loan on your report, taking one on could benefit you by adding diversity to your credit mix.
Additionally, when you're approved for a personal loan, your credit utilization ratio will change. Initially, it'll go down because the amount of credit you have access to increases. As you spend the loan or draw on a personal line of credit, your credit utilization may go up again, depending on your total debt usage at that time.
When shouldn't you take out a personal loan?
Though personal loans can be helpful options in some cases, they're not always the right solution to a problem. A personal loan may not be right for your situation if:
You can't fit the payments into your budget, or you're already struggling with debt.
You're trying to consolidate debts that you've already tried consolidating in the past.
You have poor credit. Though a personal loan might help improve credit scores in some cases, this isn't a guarantee. Plus, if you have a low credit score, you're more likely to be turned down for the loan or be given a high-interest rate, which will make the loan more expensive.
How do you take out a personal loan?
To take out a personal loan, you'll first need to apply for one with a creditor like a credit union or a bank. An underwriter will review your application and relevant details like your credit report and debt-to-income ratio to determine your creditworthiness, whether to approve or deny your application, your interest rate, term, and loan amount.
Have more questions? We have the answers
Taking out a personal loan could be a smart idea for you. To learn more about the personal loans available through OnPoint, reach out today.