By Susan Anglada Bartley, 9-12th grade English and Leadership teacher | Franklin High School
Susan Anglada Bartley is an English and Leadership teacher at Franklin High School in Portland and the 2014 OnPoint Prize Educator of the Year in the 9-12th category. Bartley was selected as an OnPoint Prize recipient for her work developing Advanced Placement (AP) classes and the Advanced Scholar Program (ASP) at Franklin High School. Bartley's AP class enrollment increased to 40% students of color, Special Education and English Language Learners as a result of her focus on diversity and equity work. Bartley received her mortgage paid for one school year by OnPoint Community Credit Union, plus $1,000 for her school to be used for resources and supplies.
I first heard about OnPoint Community Credit union through a friend who told me about the great deals on mortgages available to educators and first time home-buyers. Through becoming a member, I read each year about the amazing OnPoint Prize for Excellence in Education. Early in my career as an educator, I made a decision to see what it would be like to put every ounce of my life energy into my work as an educator. This meant many late nights, funding some activities out of pocket or through grants, and trying each day to be a better teacher by constantly re-assessing my methods through listening to the needs of the students and the community.
Through my work as an educator, I found many inequities in my school and district—some caused by problems greater than the school district, but some that we could change with the right focus. I worked with a group of dedicated colleagues (all of whom I am perpetually grateful for) to form the Franklin Advanced Scholar Program, which opens the doors for all students to take challenging courses; at Franklin, we work hard to try to remove barriers to higher education. Our work was soon lauded by the Oregon Department of Education, the College Board, and the National Education Association.
When I found out that I had been nominated for the OnPoint Prize, I faced some self-doubt—why should a person receive an award for simply doing the right thing? Then Principal Shay James (now director of PPS College and Career and District Athletics) encouraged me by explaining that the community needed to see the kind of work we were doing and that I did deserve the award. Several of my students were able to join me at the award presentation; I cried beforehand as they held hands and prayed for me in Spanish on the pavement outside the award ceremony. I still was totally unprepared for the incredible moment in which I received this award and brought home an additional $1,000 to the Franklin High School community.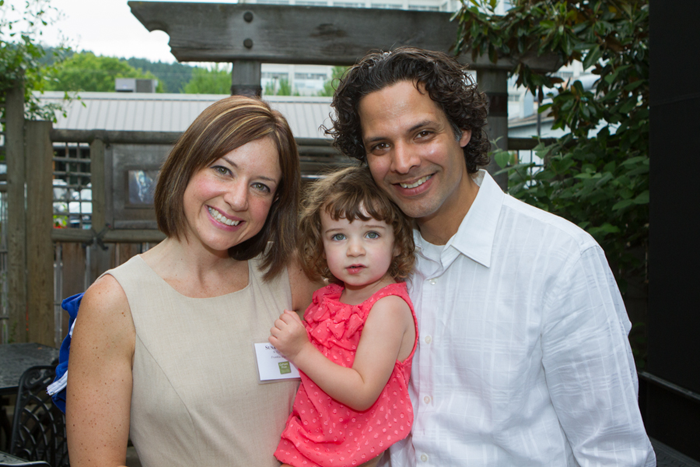 At Franklin, we have put the funding to good use by holding events to support our diverse community and shine the light on academic opportunities that will lead to higher education. My husband Pedro, my daughter Simone, and I are incredibly grateful for the opportunity to have our mortgage paid for this school year. Neither of us came into home ownership with a trust fund (we had been keeping our heads above water with the cost of daycare). We are both employed as public servants who work hard for every penny that comes in. Winning this award has given us the blessing of being able to save a bit for our daughter's college education.
Winning the award gave me something much greater—it gave me faith that the work of educators, every single year, is seen by OnPoint Community Credit Union. It validated the idea that the work of providing greater equity in public education—and providing the opportunity for all students to receive higher education if they wish—is a worthy cause that is celebrated by our community and our credit union.
I strongly encourage my fellow teachers to nominate one another—even the process of putting together a portfolio helped me to reflect on and strengthen my work…and don't give up—I won after two previous nominations!
---
The nomination deadline for the 2015 OnPoint Prize for Excellence in Education is April 6, 2015. Visit onpointprize.com for more information.