At OnPoint, we take pride in fostering connections with our members and the community. Throughout the year, we support local organizations that make a difference in the places we call home. From championing education to giving back to those in need, OnPoint is proud to support these partners who are dedicated to doing good.
Some of the most impactful work we do is creating opportunities for others to lead. Babies With Books is a program developed and led by high school students with a passion for giving back. The program helps student volunteers visit families in the Neonatal Intensive Care Unit (NICU) at Randall Children's Hospital to provide free children's books and materials on the importance of reading with their babies, which supports critical brain development and family bonding.
Promoting early literacy and strong family bonds
Babies With Books recognizes the importance of reading to babies in order to help develop their language and learning skills. Research indicates that NICU babies are at higher risk of poor neurodevelopmental outcomes due to prematurity, critical illness, prolonged hospitalization and/or low socioeconomic status.
Compared with healthy infants, babies requiring NICU care have higher rates of speech and language deficits, as well as other learning difficulties. Reading aloud to babies has long-lasting benefits for developing speech and growing vocabulary. Babies With Books educates parents about the value of reading to infants and provides free books to families in the NICU.
Babies With Books educates parents about the value of reading to infants and provides free books to families in the NICU.
Youth leaders making a difference
Babies With Books was founded by Benjamin Olshin, The 2019 Association of Fundraising Professional's Youth in Philanthropy Award recipient, who was inspired by his own time volunteering at the Children's Book Bank. Olshin wanted to create a reading program in the NICU where he has a personal connection⁠—his mom is a doctor there and helps with the program. Additionally, his aunt was a 28-week preterm NICU baby who wasn't expected to live. Against the odds, she survived and grew up to be the valedictorian of her class at Columbia University.
Olshin and other youth leaders inspire others to achieve success by bringing literacy resources and education to families in need. So far, the teen volunteers have served more than 700 families, providing them with over 1,800 books.
Since the program began in August 2017, Olshin has seen Babies With Books grow beyond his initial expectations. What began as a small pilot program led by a handful of students at a single high school has expanded into an established hospital program led by more than 20 teens from six high schools across Portland.
An amazing reaction from parents
The benefits of early childhood literacy are not widely understood, which is why Babies With Books provides educational materials to show parents the benefits of reading to infants. For many parents with babies in the NICU, reading provides a way to connect with their baby during a stressful time.
"If parents feel helpless in their baby's care, they know that reading will help their baby, in addition to being an opportunity for family bonding," Olshin noted. "In this way, education is a part of health and through Babies With Books, it is part of health care."
Connecting with preterm babies can be difficult, and reading opens the door to making stronger connections. One mother said of her experience with Babies With Books:
"This is a wonderful idea! My husband doesn't always know how to connect with our son since he's so little. Reading to him gives my husband the opportunity to bond in an easy way."
Positive reactions like this one inspire teen leaders to do more. In addition to the books donated to NICU babies, Olshin and his team established a shared reading library in the lobby of the NICU at Randall Children's Hospital in November 2019. The library serves as a place for siblings of NICU babies to make connections and celebrate literacy.
A lasting impact
In a few short years, Babies With Books has made a significant impact on Oregon families, and Olshin developed a model of the program that can be applied to any NICU. The program has generated interest among many health care professionals spanning from Oregon to Houston and Boston, as well as Edinburgh, Scotland, and Doha, Qatar.
In the first survey of Babies With Books participants, 41% of families said they did not read to their baby prior to contact with the program. After working with Babies With Books, 100% of participating families began reading with their infant.
Among program participants, average daily family reading time increased from 11 to 28 minutes. The average number of weekly family reading sessions increased from two to six. That extra reading time can lead to higher levels of stimulation in key areas of the child's developing brain.
A bright future
Olshin and the many youth leaders hope to bring Babies With Books to families throughout Oregon, Washington and beyond. The team has also begun sharing a template of the program to other hospitals.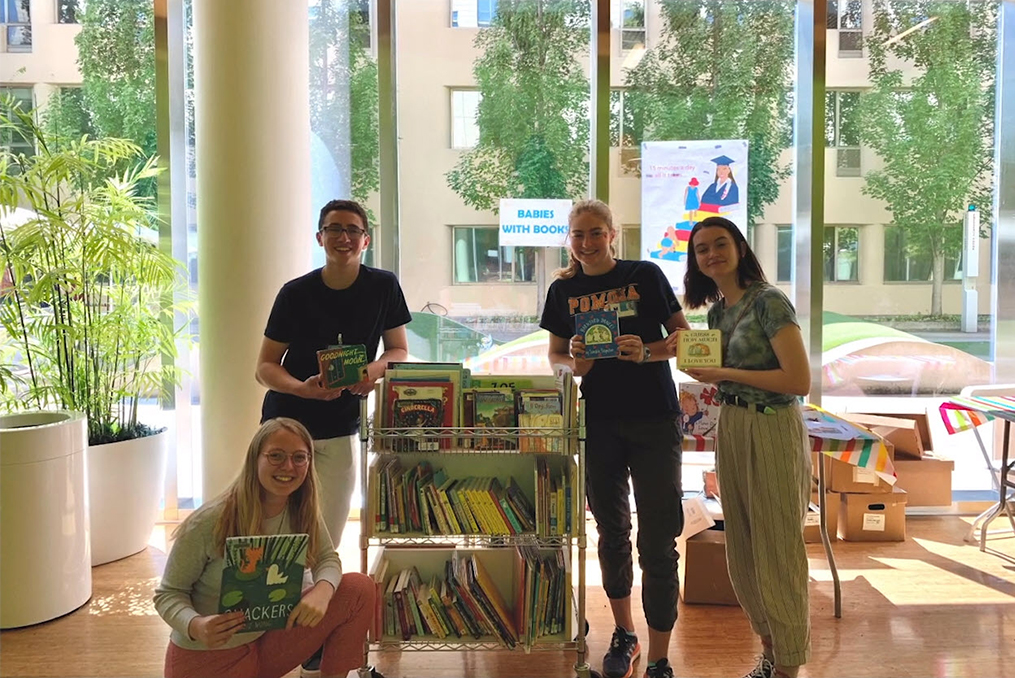 Supporting children today will have a positive impact on the future of our local and regional communities. OnPoint has pledged to give Babies With Books $5,000 annually for three years. If you'd like to learn more or support this program, visit babieswithbooks.org.