It's been almost a year since Francesca Aultman got the surprise of her life: she was named one of OnPoint's 2019 Educators of the Year, an award that pays the mortgages of two winning teachers for a full year.
"I can't imagine another prize that would have as much of an impact on us," said Francesca, a 5th grade teacher at Gilbert Heights Elementary School in the David Douglas School District. "This award from OnPoint has allowed us to make progress on our financial goals and make everything more manageable. It was a huge gift."
Aultman and her husband are both teachers with advanced degrees and hefty student loans. They had recently purchased a home with an OnPoint Homeroom mortgage when Aultman won the award.
"It was actually because of OnPoint's home loan for teachers that we were even able to purchase our house. To have it come full circle and win the Prize, well, it's unmatchable," said Aultman.
The search is on for this year's OnPoint Prize for Excellence in Education winners. OnPoint will award two educators (K-8 and 9-12) with the top prize, as well as give cash prizes to two finalists and six Circle of Excellence honorees. OnPoint also makes donations to all their schools.
Since OnPoint launched the Prize campaign in 2010, it has recognized 260 local teachers and schools for outstanding teaching methods and a demonstrated commitment to making a difference. These are both areas where Aultman has gone above and beyond.  She builds her curriculum to reflect the diversity of her students and uses strategies that ensure students are socially and emotionally centered at school. Her methods get results, with above-average student growth for both her gifted and struggling students.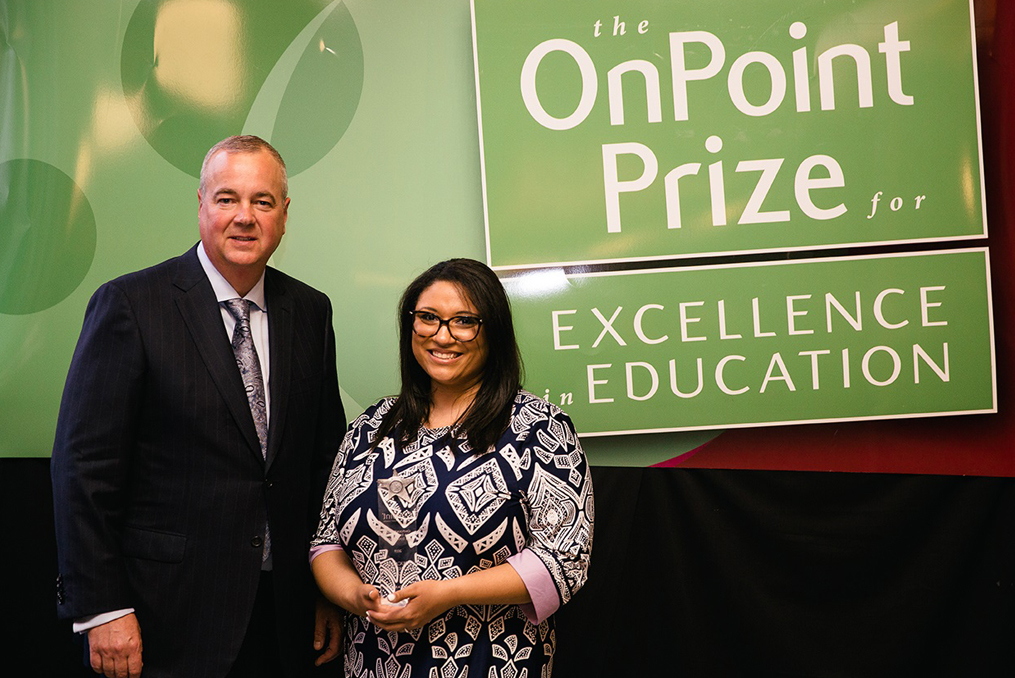 "I think everyone has an idea of what it means to be a teacher, either from their own experience or from stereotypes on TV," said Aultman. "The reality is we're not only teaching academic lessons, we're also counselors, mentors, managers, and every other job you could imagine. Every day."
As Aultman's year of mortgage payments nears an end, she says teaching has never been about professional recognition. It's about the children.
"My recognition comes from my kids. From the notes left on my desk that say 'I used to hate math and you made me want to try,' or 'I've got this going on at home and I really need someone to talk to. Can we talk about that?' That's the recognition," she said.
Teachers may not expect recognition, but OnPoint knows they deserve it. Do you have an educator to nominate? You can fill out a nomination form through April 14. You can also learn about OnPoint's Community Builder awards, which provide funding to help schools finish special projects that inspire creativity and foster community. In total, the OnPoint Prize for Excellence in Education program will award up to $100,000 to outstanding teachers and schools, with a reception aired live on KGW on May 28.