Holy Family Catholic School's Celebration of Diversity Program started small and is now building a local movement for their community. In May 2020, after the murder of George Floyd, a small committee of education assistants, teachers and staff began looking at ways to grow the school's diversity, equity and inclusion (DEI) work to better recognize their students of color. Despite the challenges of remote learning in 2020, the passionate and dedicated committee met remotely, texted, and emailed one another to nurture their vision and spread the word to more people.
Two years later, the Celebration of Diversity program is flourishing and Holy Family is seeing the tangible results of their unwavering dedication.
Enriching students' lives with representation and culture.
Today, the program enriches students in various ways. Holy Family's library has expanded from a collection of books on African immigration to include a rich multicultural section that celebrates cultures from Central and South America to the Philippines. In the classroom, eighth-graders now learn about underrepresented historical figures from The American Revolution, including Black people, Indigenous people, and women that contributed to the founding of the United States of America.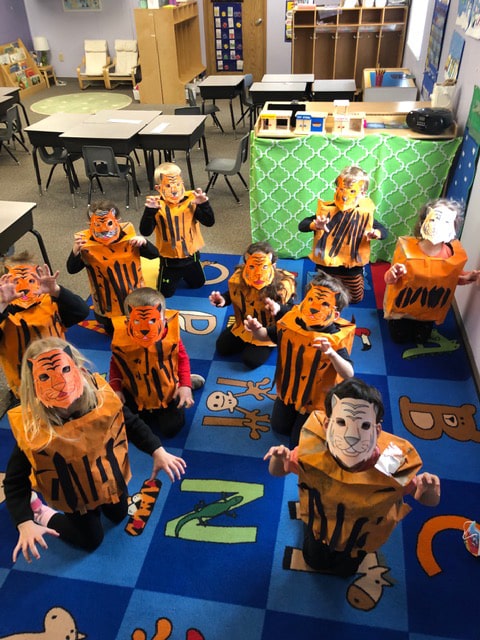 Art takes on cultural dimensions with world maps adorning the walls of each grade, where students track their travels to different countries with yarn, passports and stamps. Each "visit" culminates with an art project that communicates their discoveries. Students celebrate World holidays with richness and depth. For example, on Lunar New Year, pre-kindergarteners create tiger costumes from grocery bags to wear while visiting other classrooms and roaring their New Year wishes.
"It is one thing to create, but it is a whole other thing to process and understand," said Joseph Galati, Principal of Holy Family Catholic School. "Throughout our curricula, we're using creative ways to teach about cultures, but also instill a true understanding."
A key to their success? Faculty buy-in.
The Celebration of Diversity Program has spread from the effort of one committee to a commitment throughout the school. Mr. Galati says teachers and staff actively engage in cultural awareness training. During training, teachers learn how bias fuels historical inequities and how to break these biases apart to create safe spaces, break down perceptions and have courageous conversations. Teachers are now collaborating across classrooms, sharing ideas and sparking new inspiration.
"You can try new things, but if your staff doesn't have buy-in, it won't happen," said Mr. Galati. "Our teachers truly want to celebrate, honor and create different ways of respecting our diversity."
Unwavering commitment leads to tangible results.
In 2021, 22% of Holy Family applicants were students of color, up from 14% a few years ago and higher than the average Catholic school. Mr. Galati says the diversity program has also encouraged people of color to speak up. Black students are sharing more openly about race and what programs they want to see expanded.
"DEI is not about celebrating the Black experience in February and calling it good. It's about honoring cultures every day throughout the year. OnPoint's donation will help us do that. It will propel us into the next phase of our DEI journey."
How the Community Builder Award supports school projects.
With students, staff, and parents embracing Holy Family's efforts, the momentum eventually reached us at OnPoint Community Credit Union. Last year, our online community voted to give Holy Family the OnPoint Prize for Excellence in Education Community Builder Award. The $5,000 prize supports school programs that inspire creativity, foster community, and incorporate DEI.
Holy Family has used the prize to enhance its program in every direction: more books for the library, more cultural awareness speakers, and more intentional planning about how to move their program forward.
"Thanks to OnPoint and its community, we no longer have to make hard decisions about whether we should buy new instructional materials for students or invite a speaker who will help our staff be better allies. We get to do both," said Mr. Galati.
The Community Builder Award is part of the OnPoint Prize for Excellence in Education. We're taking nominations for school projects and excellent teachers making significant impacts on students, parents, and the community. Learn more and submit a nomination.