The OnPoint Spotlight is an ongoing blog series that highlights our employees, celebrating the drive and personality of individuals on our team. It's one way we show our appreciation for their hard work and achievements while helping our community get to know the people who make things happen here at OnPoint.
This week's employee spotlight is on Trisha Stout, Assistant Branch Manager, Sr. at the Kruse Meadows Branch where she gets to develop and influence her platform team. Trisha has been married for 15 years to her husband Darren. They spend a lot of time with their kids outdoors where they enjoy camping, kayaking, swimming, and gardening. They have been to Disneyland as a family 7 times, and can't wait to go back.
Here's what Trisha had to share about her life and time at OnPoint: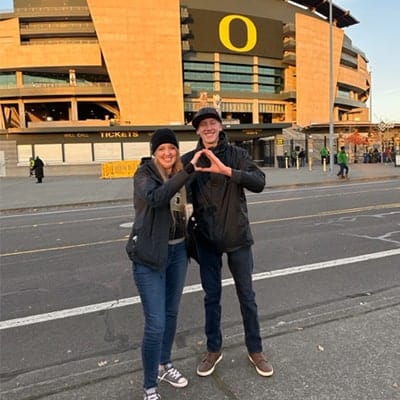 What were you doing before joining OnPoint or taking on your current role?
I worked in retail for 13 years at Old Navy. The transition to banking was really smooth. I started as a Teller at the 205 Place Branch. I quickly moved into a Member Service Representative role, and learned that I enjoyed the financial aspects and becoming an advisor to our members including helping them with their financial wellness. The last 10 years have flown by, but I look forward to the future with OnPoint and the next steps in my career and achieving my personal and professional goals.
What are you passionate about?
Team/individual development. I genuinely enjoy working with my branch and helping each individual become successful in their roles. This includes being a mentor and assisting them with both their personal and professional goals.
What is the "nerdiest" thing that you do in your spare time?
In my downtime I am an avid reader. I love looking for new books to read at garage sales and the library.
What would be a good movie title for the story of your life?
"Boy Mom" – I have three boys, all in high school this year!
What do you like on your pizza?
Pepperoni with NO sauce. 😉
Who was your most influential school teacher? Why?
Mr. Bahns was my 4th and 5th grade teacher. He challenged me in math since I found math easy. He provided additional work, allowing me to continue learning at a higher level. He would also come out during recess and play four square and wall ball with his students.
Are you interested in joining our team? Learn more about a career with OnPoint.