In 1983, Portland Opportunities Industrialization Center (POIC) expanded on its workforce development program and started Rosemary Anderson High School (RAHS)—named for POIC Executive Director, Rosemary Anderson. Today, POIC + RAHS provides a bevy of services to support the success of at-risk youth and young adults.
Over time, the program has grown to encompass five campuses, including one middle school. Programs include Rosemary Anderson Schools, the Community Healing Initiative, Youth Services, Community Outreach, and Work Opportunities Training.
Among the challenges and barriers that can limit the opportunities and success of young people are:
Unaddressed mental health issues make it difficult to perform in the classroom or the workplace.
Food insecurity affects students' ability to concentrate at school.
Stress from unpaid rent, family instability, and other stressors can make regular attendance and performance difficult.
Overcoming these barriers is possible, but a hand-up can increase the chances of success. Culturally-specific wraparound programs offer a wide range of support for those affected by poverty, homelessness, and family instability. POIC + RAHS connects people with the education, career training, and opportunities that can make a difference.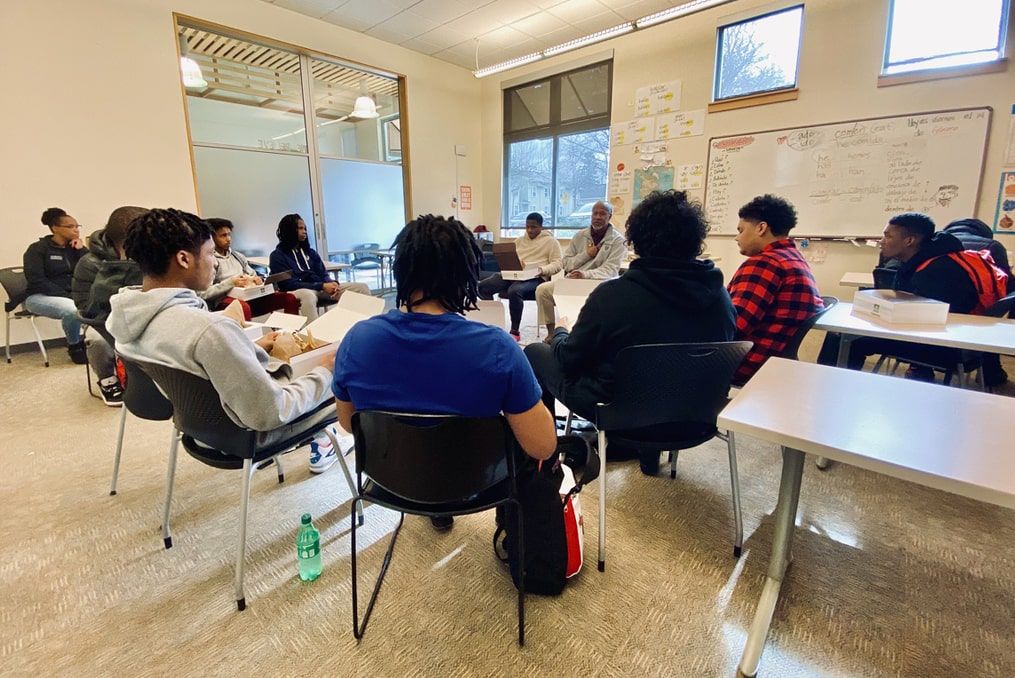 What services does POIC + RAHS offer?
A continuum of services helps our community's most vulnerable youth from classroom to career. POIC + RAHS works against the root causes of multigenerational economic, academic, judicial and social inequities. The services and programs are designed using a holistic approach and focus on addressing the individual, comprehensive needs of each person they serve.
Community programs and services include:
Open-door accredited high school diploma and GED program
Evidence-based young parent education and case management services
Peer, adult, and gang-impacted youth mentoring programs
Leadership development and training
Youth and gang violence intervention and prevention
Trauma-informed and evidence-based therapy and case management services for adjudicated youth and their families
College and career exploration, career coaching services, internship opportunities, and job placement
When youth have access to career coaches and mentors, they also gain access to the tools and resources that can help them transition to college or help them enter the workforce. 95% of POIC graduates are placed into a competitive internship or apprenticeship.
Who does POIC + RAHS help?
POIC + RAHS programs are open to everyone in the community. Most people connect with POIC + RAHS through referrals or government agencies.  The program is well-known, and many others arrive through social media or word of mouth. With a focus on supporting historically underserved populations, Black and Latinx individuals make up ~80% of youth served through POIC + RAHS wraparound services and programs.
Marc (name changed for privacy) is one example of a POIC + RAHS success story. Marc was 20 and raising two children when he lost his job to the pandemic. He found himself in need of some help. However, his circumstances left him worried, not knowing where to turn.
POIC + RAHS paired him with a large tech company. Because of this opportunity, he secured a paid internship with additional assistance toward paying for his engineering degree. Earning a living wage made it possible for Marc to move out of his old neighborhood. He now lives close to the tech company's campus, where he is working on completing school and advancing his career within the company.
With the program's help and through his hard work, he can look to a brighter future. Since its inception, POIC + RAHS has served over 3,000 people like Marc. With a 92% graduation rate and 550 students currently enrolled, the organization continues to make a lasting impact in our community.
Find resources and opportunities through POIC + RAHS.
How can I help expand the impact of POIC + RAHS in the community?
In 2021, OnPoint donated $5,000 to POIC + RAHS on behalf of its members to support the impactful work being done to expand opportunities for historically underserved communities. Donations to support capacity and infrastructure can make a significant difference.
In addition to monetary donations, internships and entry-level positions are critical to students' and trainees' success. If you own a local business, get in touch with POIC + RAHS to discuss potential opportunities.
For over 50 years, POIC + RAHS has been a powerful community resource, particularly for communities of color. They are deeply committed to the future success of everyone they serve.
Please consider donating, mentoring, or providing internship and work opportunities through the organization.