We've all been in this situation: You're away from home and in need of some quick cash, but when you insert your ATM card, you realize that it will cost you money to access your money. Learning how to avoid paying ATM fees will help you save money.
Many of us have accepted ATM fees as a part of life. After all, when you need money, ATMs offer a convenient way to get cash. However, with typical ATM fees ranging from $1 to $5, they can be a significant drain on your budget.
Understanding when ATMs charge fees and how to avoid paying them means you'll have more money in your pocket to spend on the things you need.
Why do ATMs charge fees?
The first ATM was installed in 1967 at a branch of Barclays bank in London, but it wasn't until the late-1980s that ATMs began charging fees to out-of-network ATM cards. Since then, fees have gotten bigger and bigger. A 2016 report from S&P Global Market Intelligence revealed that the average adult American pays over $25 in ATM and overdrafts fees annually.
There are a few reasons ATMs charge fees, including the maintenance and upkeep costs of the machines themselves. Likewise, when you use your ATM card at a financial institution other than the one you bank with, your institution has to pay an interchange fee.
What is an ATM network?
Also known as an interbank network, ATMs connect to financial institutions via a computer network that enables debit card holders to access their funds from machines across the world. ATMs can connect to various networks. To determine if an ATM works with your debit card, use an ATM locator or other details available online from your financial institution. If you use an ATM within your financial institution's network, you likely won't be charged fees for using the ATM—depending on the ATM fee policies of your financial institution.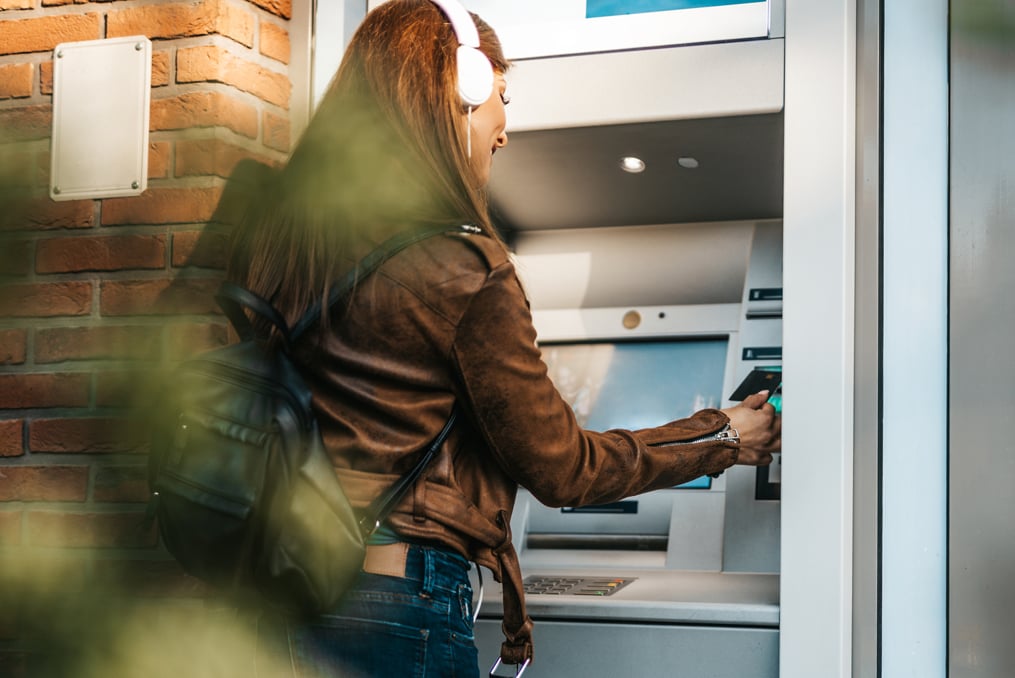 How much do ATM networks charge for fees?
The ATM location and ATM servicer have an impact on the total fee. For instance, an ATM located in a Vegas casino will likely charge a higher-than-average fee because the casino knows its patrons won't want to leave the building to find another machine.
As of October 2019, the average fee for using an out-of-network ATM is $4.72—for example, OnPoint charges $3 for using an out-of-network ATM. So, if you withdraw $50, you'll end up paying over 9% in out-of-network ATM withdrawal fees on average (or 6% through OnPoint).
Can you avoid fees when you use a digital wallet at an ATM?
Recently, cardless ATMs have appeared in metro areas around the country. These machines use near-field communication to access your digital wallet on your smart device. All you have to do is place your device near the machine, and you can make a cash withdrawal from your savings or checking account.
These machines work exactly like traditional ATMs, only without the card. So if you're using a cardless ATM that's outside of your network, you'll still be charged an out-of-network fee.
How can you avoid ATM fees when you're on the road?
Finding surcharge-free ATMs can be a challenge if you're on the road. However, if you bank with a financial institution that is part of a nationwide ATM network, you may be in luck. Even if your institution only has branch locations in one state, it is likely part of a network that extends across the country. Ask your bank or credit union about which networks you can use.
Alternatively, some retailers offer free cash back with purchases. So if you were going to make a purchase anyway and there are no in-network machines nearby, this may be a good option.
How can credit union members avoid ATM fees?
The best way to avoid ATM fees is to plan ahead when you can—avoid fees by looking for machines that are a part of your credit union's interbank network.
At OnPoint, we believe you should have convenient access to your money. Life is less stressful when you can easily withdraw cash and go about your day. Use OnPoint's search tool to find over 40,000 surcharge-free ATMs available for use by OnPoint members across the country.