It's the season of holiday cheer, gathering with friends or family, and most likely, plenty of shopping. Whether you're perusing at the local mall or from your phone while sitting at home, there's always a chance that scammers could take a bit more money from you than you were planning to spend.
The risk doesn't mean you have to avoid holiday shopping altogether, it just makes it that much more important to be aware of how scammers operate.
How to recognize a scam.
A good rule of thumb for avoiding scams is if the sale or deal sounds too good to be true, it probably is. Avoid putting your payment information into a website or giving it to a person if you feel like the situation may be suspicious.
According to the Federal Trade Commission (FTC), there are four important ways to spot a scam:
Scammers may pretend that they are from an organization you already know or trust. If you receive a strange email from your financial institution or other organization, reach out to them directly to verify (especially if they are requesting personal information).
It's common that a scammer will pressure you to act on their request immediately. This is because they want you to make a choice or give out information before you have the chance to carefully consider your actions.
Scammers may request that you pay in a strange or specific way, like in the form of a gift card or through a money transfer.
The fraudster could try to lure you in by saying that there is a problem with the transaction, and then attempt to convince you that you are in trouble with the government or a credit provider. Then, they'll ask for personal information to solve the issue.
Be vigilant during the holidays.
These tips and tricks are valuable to keep in mind all year round, but scams are especially common during the holiday shopping season when people are shopping more and may be more likely to purchase things quickly to take advantage of sales. According to the Federal Bureau of Investigation, thousands of people become victims of holiday scams each year. They reported two main types of scams most common around this time:
Non-delivery crime: This happens when you buy something and then the item is never delivered, even though the money is still taken from your account.
Non-payment crime: This kind of crime happens when a consumer provides goods or services to a buyer without receiving payment. In this instance, the buyer is scamming the seller out of their goods or services.
In an FBI internet and crime report, non-payment or non-delivery scams cost people more than $337 million in 2021. Credit card fraud accounted for another $173 million in losses.
Best ways to avoid a scam.
You need to know how to protect yourself and your personal information, especially when shopping online. According to CBRE, e-commerce made up about 11.8% of all retail transactions in 2021. Because so many retail sales happen through the internet, it's important to understand how to avoid a holiday scam online as well.
Here are five of the best ways to protect yourself when shopping online.
1. Buy items from reliable websites.
If you love shopping from the comfort of your own computer, you know there are many different websites to choose from. One of the best ways to protect your finances is to be extremely cautious when sharing any kind of personal information online, especially payment data. For example, there are websites that promote themselves as having an expensive or otherwise sold-out item, but the site's actual purpose is to commit fraud. If you are suspicious (or become the victim of a crime through a fraudulent website), report it to the internet crime complaint center.
But, how do you know if a website is reliable or not?
Search for reviews of the site to get a general idea of what other people's online shopping experiences have been. If you still aren't sure, stick to buying from reputable websites that belong to well-established organizations accredited by the Better Business Bureau.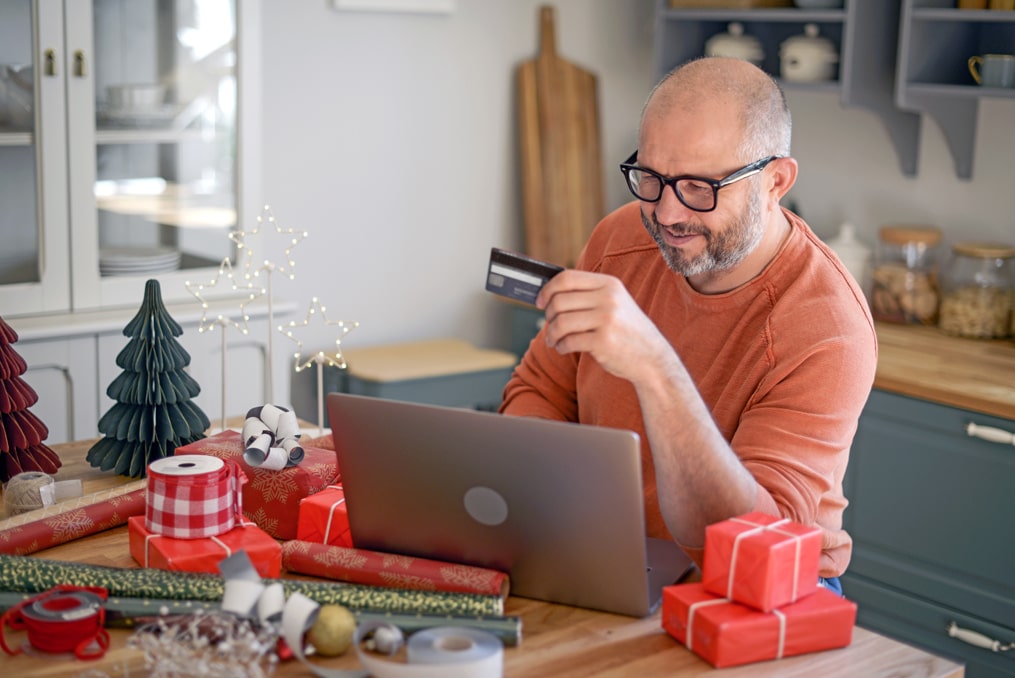 2. Never save payment information.
Many websites have the option to save your credit or debit card information so that checking out will be easier next time. However, this is a common way that shoppers get their financial data stolen. Even if the website host is generally reliable, sometimes their security systems can become compromised.
For example, in 2022, the fashion retailer Zoetop (owners of Romwe and Shein) was court-ordered to pay $1.9 million dollars due to a destructive data breach in 2018. Take the extra step to manually enter your credit card information every time you check out for extra peace of mind.
3. Keep a close eye on your bank account statements.
Even if you already review your bank statements, you should do so more vigorously during the holiday season. The sooner you spot suspicious activity, the sooner action can be taken to prevent further fraud.
Tools like OnPoint's digital banking can make this easy. Instead of waiting for a paper statement, you can have instant access to recent transactions online.
4. Take advantage of financial alerts.
Most financial institutions have the option to receive security alerts when suspicious activity is detected. In some cases, these kinds of notifications can block scammers from withdrawing money. OnPoint has text and email alerts to keep you ahead of potential scammers.
5. Use difficult-to-guess passwords.
It can be hard to remember all your passwords, but it's important never to use the same one for multiple accounts. If a scammer is able to determine one password, that could give them access to every account.
So, what makes a good password? Here are some pro tips for safe and secure options:
Use words that are uncommon and avoid ones like "password" or "12345"
Never reuse your passwords
Use a combination of capital letters, numbers and special characters
Never share your passwords or write them down electronically
Regardless of the tactics used or how careful you are, scams can work on the smartest of consumers. If you even suspect you are being scammed, you should freeze your credit, alert your financial institution and report it to the FTC. It's better to be overly cautious now, than sorry later.
To learn more about how to secure your bank accounts, download the OnPoint Guide to Personal Cybersecurity.