Are you thinking about adopting a pet? You're not alone. During the pandemic, pet adoptions skyrocketed, with 1 in 5 households deciding to add a new furry member to the family. Expanding your family with a pet is a serious commitment that requires significant time, energy and money. If you're considering pet adoption, here are some steps to prepare your finances for a new pet.
Research and plan.
First, do your research and make a plan. Determining how a pet will affect your finances is a critical step that people often skip. Getting a new pet comes with a rush of excitement and joy. Take a breath, dive into the numbers, and the years ahead will be much more joyful.
Here are some common costs to research and consider:
Adoption or breeder fees. The initial cost of a pet can vary widely depending on breed, age, and where you get your pet. Adopting from a shelter is typically cheaper than a breeder, and young pets are more expensive than older ones. Even time of year or general availability can impact the overall cost of your pet.
Training. Having a happy and healthy relationship with your pet often requires some training (for pets and people). Training classes may be especially helpful for first time pet owners. Beyond "shake" and "sit", training can be helpful to ensure the safety of your pet—especially when interacting with unfamiliar animals or people.
Supplies. From crates to puppy pads, litter boxes, toys and more, there is a lot to consider when preparing a pet-friendly home. It may not be necessary to buy every supply upfront, but being aware of ongoing costs is a great start.
Pet food. Feeding your pet can get expensive, depending on the pet's size and food quality. For example, puppy food has more nutrients and higher-quality ingredients because puppies grow fast. This food also comes with a heftier price tag. Additionally, some pets have allergies or require special diets. Researching breeds and food brands can help you better understand potential needs.
Travel and transportation. Some pets are harder to find than others. The more specific or rare your pet is, the more likely that you may need to look outside your local area for your pet. Traveling to get your new pet or paying to transport your pet can add to overall costs. Consider supporting your local animal shelter to keep costs down.
Daycare for pets. Some pets do fine at home all day without their human. Others need more attention or care. Fortunately, there are many excellent care services ranging from all-day care to on-demand dog walkers. If you work from home, have support from family and friends, or have a low-maintenance pet, you may not need help caring for a pet during the day. Otherwise, you may want to consider these costs.
Initial fees/medical costs. Shelters and breeders will often include some initial medical care as a part of their fee like spaying/neutering or treatment for fleas/ticks. Take the time to discuss what is and isn't included. Young pets will need an initial vet exam and vaccines to get licensed—if these expenses are not included in the adoption fee, then you'll want to plan to cover them.
Pet Insurance. There are two types of insurance for your pet: medical insurance and liability insurance. Medical insurance helps keep your pet healthy beyond the first vet visit while protecting your finances from large bills. Liability insurance is often associated with your home or renters insurance and helps cover liability for incidents involving your pet and other people or property.
Boarding or pet sitters when you travel. Travel changes dramatically when you have a pet. Maybe you won't travel as much, or travel will now include a plus one. You may also opt to board your pet while you're away from home or have someone check on them regularly. As with daycare, there are plenty of services to consider based on how much attention your pet needs.
⁠If you're worried about the upfront costs, subscribe to your local shelter or humane society's newsletter and follow their social media accounts. Keeping connected locally is an excellent way to learn about special adoption events or discount days to help cut costs.
Cover unexpected expenses.
After researching potential costs, take a look at your finances. Do you have discretionary income? What about an emergency fund? Even if you can cover the basics, pets can still trigger unexpected expenses. Contributing consistently to an emergency savings account can help you address an urgent issue without disrupting your ability to care for your pet.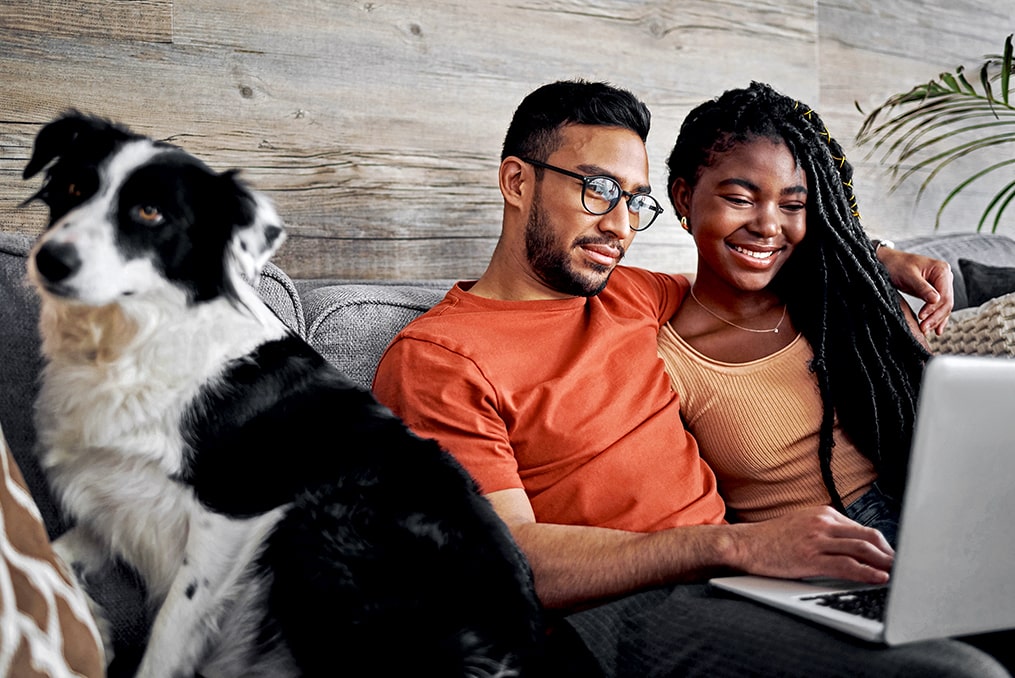 Medical expenses can rise quickly and deplete savings. Even if you have sufficient savings to cover an unexpected expense—and especially if you don't—you may still want pet insurance. Pet insurance can help cover the costs such as vet visits or emergency medical situations. Pet insurance can be a great resource to protect your finances by minimizing significant out-of-pocket medical expenses.
The sooner you insure your pet, the better. Once your pet experiences a medical issue, it can be labeled as a pre-existing condition. Commonly, pre-existing conditions either are not covered or come with reduced coverage. Having consistent coverage from the day of adoption can provide better financial security and stability. Additionally, pet insurance can positively impact your monthly budget by helping you save on recurring expenses like vet exams.
Consider liabilities.
When preparing your finances to get a new pet, it's essential to understand your liabilities as a pet owner. For example, you may be liable if your dog bites or injures someone. You can also be held liable for property damage caused by your pet. Typically, homeowner's insurance policies can offer protection for these liabilities—just don't assume you have adequate coverage.
Vetting insurance costs first may help narrow your search for a new pet. You will have more considerations if you're on a budget, have an HOA, or are a renter. For example, certain dog breeds can impact the cost of your coverage, increase HOA/rental fees or deposits, or even disqualify you from renting altogether. Some homeowners' and renter's insurance will charge additional fees if your pets' breed has a history of being destructive.
Contact your insurance providers, and your HOA, landlord or property manager to get copies of policies and agreements before you adopt a pet. Taking time to prepare before adopting your pet can help you manage your expenses and avoid potential liabilities.
Build a budget.
After you've researched and planned for both short and long-term scenarios, you can build a realistic budget. With the additional expenses of a pet, a budget will give you a picture of how your financial situation will look each week, month or year, depending on what the best type of budget for you.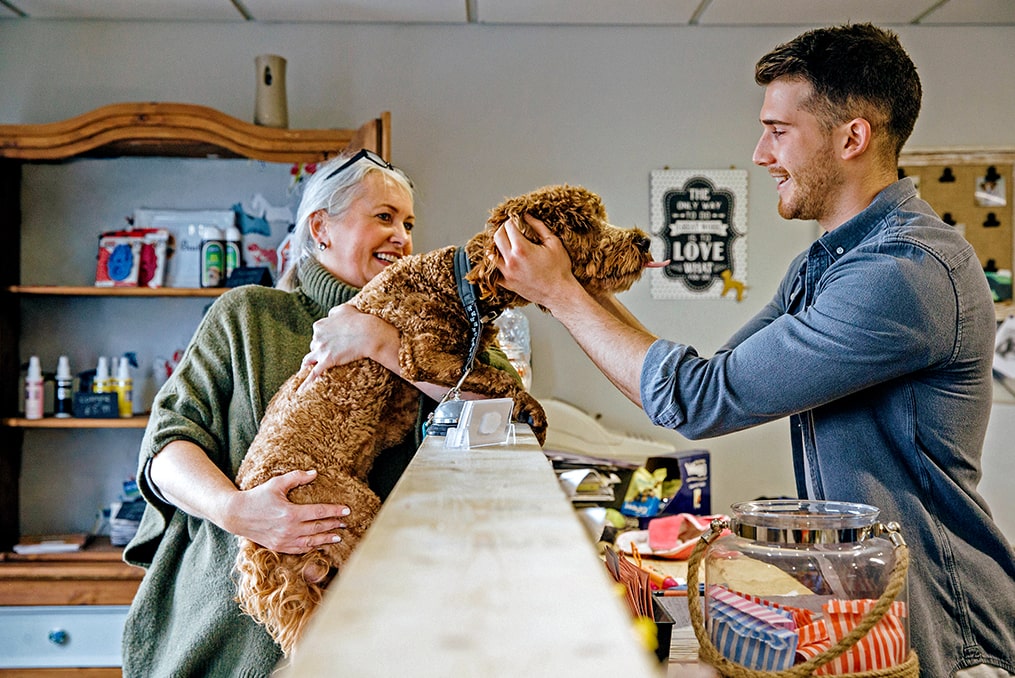 Shopping online and contacting local providers for quotes can help you understand all potential costs. Once you think you have it all figured out, talk to friends or family with pets. They may have additional recommendations and estimates to help you adjust your budget. After your first few months of owning a pet, you can adjust your budget accordingly to reflect your personal experience and expenses.
Adopt your pet.
It's always exciting to bring home a new furry friend. However, it can also quickly become overwhelming without the right plan.
Knowing what you're getting into will make the transition much easier. Adopting a pet can—and should—be a fun and relatively stress-free experience. So, research, explore options, plan for the unexpected, and set your budget. Being proactive and responsible will help protect you, your family, your finances and your new pet for the long haul.