Oregon has one of the highest rates in the nation for mental illness and ranks 47th overall in mental wellness for youth. Additionally, youth suicide rates in Oregon outpace the national average. Children with disabilities and those suffering from trauma are especially vulnerable.
Portland's best-kept secret in special education—Serendipity Center—has been supporting at-risk youth for decades, helping to ensure that all students have a fair chance of leading fulfilling lives.
Here's how Serendipity Center is making a difference in our community.
Making a tremendous difference for kids.
Serendipity Center has been able to address the lifelong challenges many families face, and for many students, Serendipity Center is their last chance to receive an education. This was the case for "Sam."
Sam's mother was beginning to lose hope when he received his referral. "My son was getting kicked out of his second elementary school," she said. "He was unable to make friends or take part in group activities. Sam was struggling with regulating his emotions from one moment to the next. He couldn't ride the school bus due to unsafe behavior. We couldn't get through a single school day without violent outbursts."
As a student with autism, Sam suffered in a system that struggled to meet his needs. Things changed after he enrolled at Serendipity Center. His mother saw incredible improvements both at school and at home.
Now, rather than reacting violently toward peers, Sam chooses positive conflict-resolution behaviors. He's able to take responsibility for his emotions. "My son is learning to not just live with high-functioning autism. He is THRIVING with high-functioning autism," said Sam's mother. "I owe nearly everything to the staff at Serendipity Center. Because of his placement at this therapeutic school, he is becoming himself in all the best ways."
Sam's family expected a dim future for him, but now they have hope thanks to Serendipity Center faculty and staff. By giving Sam practical coping skills, he can now overcome conflict and stress.
Serendipity Center serves students in need.
More than 20 school district placement programs refer students to Serendipity Center. Districts agree to pay school tuition, making enrollment at Serendipity Center free for families. The organization works with school districts, students and their guardians throughout the process.
Many kids referred to Serendipity Center have severe learning and behavioral problems:
80 percent of students had one or more instances of physical aggression
67 percent of students have histories of verbal aggression
45 percent have cycled through many failed school placements
13 out of every 20 students have experienced multiple traumatic events
This trauma often leads to other troubling behavior patterns, including suicidal thoughts and actions. Many Serendipity Center students have experienced academic suspension, residential treatment for addiction, and psychiatric hospitalization.
The organization's experience and commitment to a supportive school community create a life-changing opportunity for students affected by disability and trauma.
Adapting to overcome the challenges of the pandemic.
In May of 2022, the organization welcomed families back to its campus for the first Spring Open House in two years. Getting back to normal wasn't easy.
Serendipity Center anticipated a greater need for mental health services when the COVID-19 pandemic hit. But the acute nature of these needs exceeded all expectations. Like many organizations, it experienced critical staff shortages.
Serendipity Center adapted by raising wages and updating stringent hiring policies, which attracted quality applicants in the mental wellness and education sectors. These adjustments allowed the organization to address its critical staffing needs. Serendipity Center is grateful to report that thanks to contributions from generous donors like OnPoint, they have been able to keep critical mental health and wellness supports intact, ensuring that each student can thrive.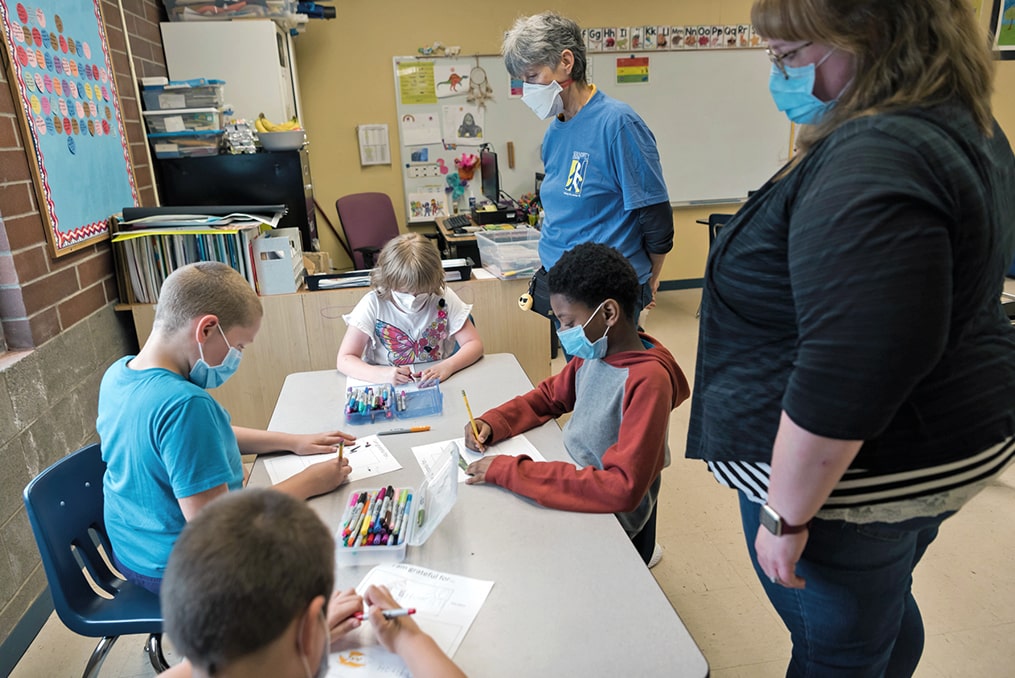 Supporting Serendipity Center and special needs students.
As a fully accredited, non-profit, K-12+ therapeutic school, Serendipity Center is the only special education institution in the region to receive a School of Excellence designation from the National Association of Special Education Teachers.
OnPoint has strong roots in education and supporting teachers, and we are dedicated to furthering access to quality education with a focus on equity and inclusion. This goal aligns with Serendipity Center's purpose and mission, and in 2022, OnPoint donated $10,000 to support the center's commitment to local students.
Through community support, Serendipity Center aims to ensure that each child has the individual supports necessary to thrive. We encourage our members to consider contributing to the cause through a secure online donation or by signing up for Serendipity Center's digital mailing list to help spread the word about its efforts.