The OnPoint spotlight is an ongoing blog series that highlights our employees and takes a closer look at the drive and personality of individuals on the OnPoint team. It is one way we show our appreciation for their hard work and achievements while helping our community get to know the people who make things happen here at OnPoint.
This week's employee spotlight is Hannah Lewis, the new Branch Manager at our Rose City Branch. Hannah joined OnPoint in 2007 as a Teller and has since served as a Member Service Representative, Member Relationship Officer, Branch Operations Supervisor and Assistant Branch Manager. Hannah is enthusiastic about OnPoint and her neighborhood. She's always looking for opportunities to engage with the people and businesses in the area. It's great to have such an active member of the community leading our local branch!
Here is what she had to share about her life and experiences at OnPoint:
Tell us a little about yourself.
I'm a dog mom to two labradoodles named Fozzie Bear and Peggy Waffle—they have a big following on Instagram (@bearandwaffle). I have a green thumb—my friends say that my house feels like a jungle since I have approximately 100 houseplants.
I love photography. My favorite subjects to photograph are my dogs, my garden, the mountains and abandoned buildings. My house is almost 100 years old, so I'm always working on a construction or landscaping project.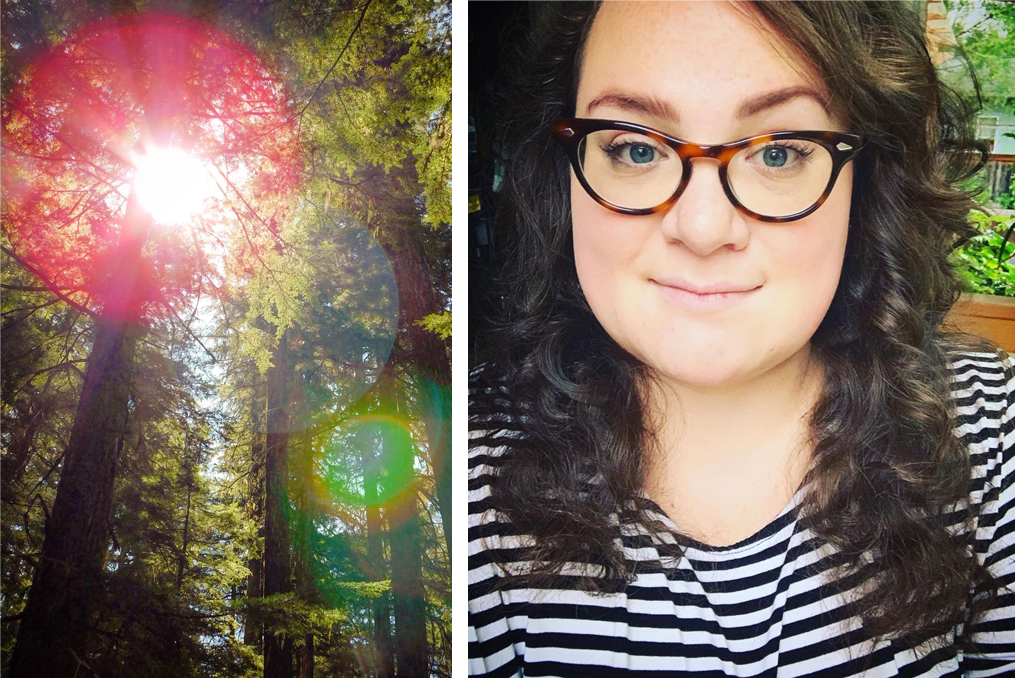 What were you doing before joining OnPoint?
I banked at a small local credit union when I was a child. When I was older, the Tellers encouraged me to work there, so when I turned 18, that's what I did—that's how I got into banking.
What's your history so far with OnPoint?
I started with OnPoint when I was 19, still unsure of what I wanted to do in life. I quickly saw the potential to have a career here. My managers provided support with regular feedback and training. I thrive on the impact we can make in people's lives, from building or repairing credit, buying your first car or house, or in mentoring and developing staff to realize their goals.
What is your most memorable vacation?
Before moving to Portland, my best friend and I backpacked through Europe for two months. We saw 11 different countries and blogged about our experience on a website we set up.
What is the one thing in this world of which you are most proud?
I bought my first house on my own and without any assistance when I was 20. I used OnPoint's Just for Starters mortgage. Later, I turned it into a rental when I prepared to buy my next house. From a young age, I had guidance on the importance of good credit and the impact of financial planning in life—I attribute much of my financial success to the fact that I've always banked with a credit union.
Who was your most influential schoolteacher?
My 5th grade math teacher Midge Rose helped me develop a love for math through an extracurricular course in Architecture and Design. We worked with precise measurements to draw floor plans and later build models of our designs.
Do you volunteer anywhere?
I live in NE Portland very near to my branch, and in addition to volunteering, I love engaging with my community. As our city grows and navigates challenges, it's important we stay connected with our neighbors and never lose sight of our community. I serve on the board of my neighborhood association and recently, I've joined a group of neighbors who are working hard to start the Rocky Butte Farmers Market. The market's primary mission is to remove barriers to participation for beginning and low-income vendors.
What is something you would like people to know about your team?
My team is incredibly diverse, resourceful, engaged in life, and they seek every opportunity to grow their knowledge and skill set. I am consistently learning new things from them and I am so proud and honored that I get to work with them.
What are the values that drive you?
My core value that motivates me is simply growth. Each year, instead of selecting New Year's Resolutions, I set a quote or theme to my year. Here are the last two: "A Smooth Sea Never Made a Skilled Sailor" and "Great Things Never Come from Comfort Zones."
Welcome the bumps and challenges and get out and do something that scares you, because it presents more opportunities to grow as a human.
Interested in joining our team? Check out our current open positions.