Overcrowding at Bridger K-8 created a challenging learning environment. Teachers shared rooms. Some kids attended class in the gymnasium. PE took place in an outdoor tent. Most concerning of all, only 43% of middle school students earned Cs or higher.
"That means 57% weren't meeting basic expectations in their academic classes," said Susan Bartley, a language arts teacher at Bridger in Southeast Portland. "We had to do something."
That something was the Bridger Scholars program. Started in the 2018-2019 school year, the program awards students who achieve Cs or higher in all classes with sweatshirts and t-shirts so they can proudly display their accomplishments. The PTA donated money to get the program off the ground, but the school needed additional funding for apparel.
That's when OnPoint and our online community stepped in. During last year's OnPoint Prize for Excellence in Education campaign, the Bridger Scholars program applied for a Community Builder award. Community Builder schools receive funding from OnPoint to help complete a project that enriches the school, its students and faculty. OnPoint chose four winning schools to receive $1,000, while our online community voted on a fifth school to receive $2,000. Bridger won the community vote, and has made the most of it.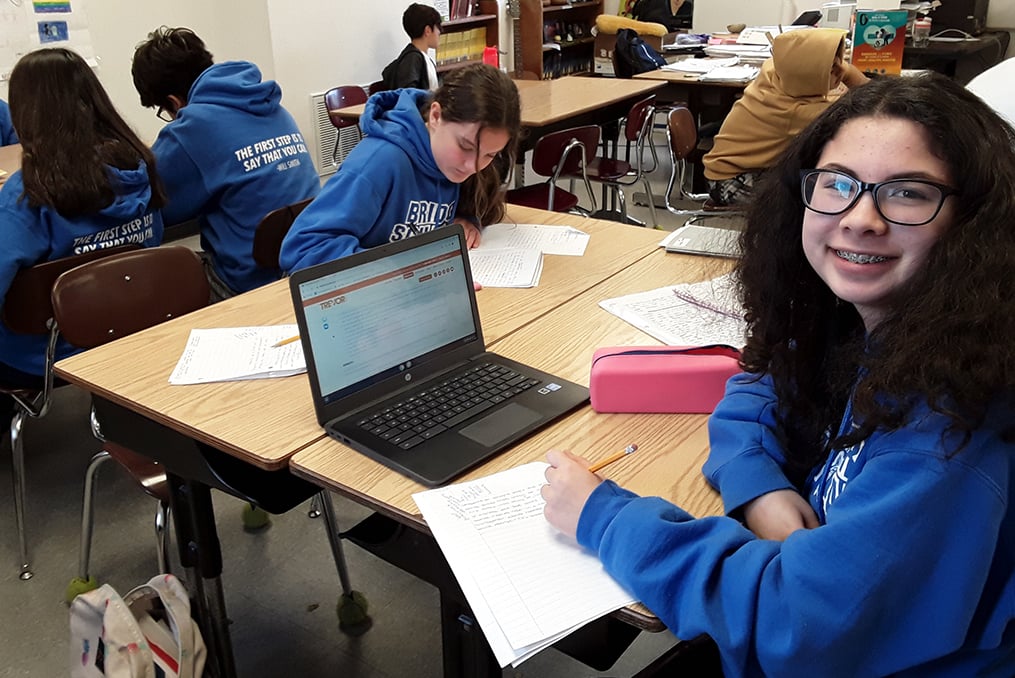 Now halfway through the second year of the program, 61% of Bridger middle school children are earning Cs or higher, an increase of 18%. Behavior at the school has also improved. The Bridger Scholars program requires that students have zero major behavioral infractions.
"We've made a lot of progress," said Bartley. "This is more evidence that when students, parents, administrators and community supporters like OnPoint come together, we can make a difference. We're really grateful for the support from OnPoint."
By the end of this school year, Bartley said they hope to have 75% to 80% of students in the program, and the goal is to eventually reach 100%. To do that, Bartley said the school needs to address social and emotional needs as well. Teachers and administrators track every student who needs additional support, and customize targeted interventions to improve grades. They also address food insecurity. During assemblies honoring kids for getting their grades up, the school provides snacks funded by OnPoint's Community Builder award.
"The success of the program has really impacted the climate of our school," said Bartley. "We're going to keep working to reach every child. We bought sweatshirts for everyone."
Do you know of a school project that inspires creativity, fosters community and needs extra support to make it across the finish line? OnPoint is currently looking for this year's Community Builders. You can learn more about eligibility and how to submit a nomination here. This year, OnPoint will give out four awards for $2,000 and one lucky school determined by community votes will receive $5,000! Get your nominations in by April 14, then watch for our finalists and vote.