The holiday season can be a time of joy and celebration. Yet, holiday budgets can be confusing, and buying gifts can be overwhelming. So, how much should you spend during the holiday season? Unfortunately, there isn't an easy answer as it varies from person to person and family to family, but we do have some tips as you consider your holiday planning.
What percentage of income should go toward the holidays?
As a rule of thumb, most people can spend as much as 1-2% of their annual gross income on holiday expenses. For example, the average annual household income in the Portland area is about $75,000. At this income level, a household's holiday spending should be under $1,500.
One national survey says that most shoppers plan to spend about $1,455 this holiday season. Whether you're buying with cash or credit, you should start by planning how much you spend to avoid overspending or increasing debt.
The 1-2 percent rule is a guideline, and every family is a little different. Income, savings, expenses, values, and traditions, will influence your budget. The key is to create a budget that makes sense for you—then stick to it.
With a spending guideline such as the 2% rule, you're in a good place to start planning your spending. Are you buying gifts? How many? For who? Are you planning to travel? Host a party or go to holiday-themed events? These are a few expenditures that you may consider during the holidays.
If you're not careful, your spending can get out of control. While building your holiday budget, determine what you can afford to spend in each area before shopping.
Budgeting for gifts during the holidays.
Gift-giving can be a considerable part of your holiday budget. Recognize that you don't have to buy a gift for everyone—even if they're buying one for you. Also, don't pressure yourself to "keep up with the Joneses." Understanding how important gift-giving is to you can help you budget an appropriate amount. Start by building a list of close family and friends and go from there.
Once you have your list of people, decide what you can afford to spend on each person—using your total as a limit. Then, search for appropriate gifts within your budget. Consider having conversations with loved ones about spending limits. Setting expectation upfront can help you feel better about how much you spend.
The amount you assign for each person may go up or down during your research or after your conversations. As things change, make adjustments, but don't exceed your budget. You'll likely have to make tough decisions, and that's ok. It'll save you holiday stress, and you'll be glad you took the time to plan within your means.
Additionally, timing is everything when buying gifts for the holidays. Start thinking about gifts earlier to avoid impulse buying and overspending. Also, finding a fun way to reduce the total number of gifts you need to buy can reduces stress. Consider a white elephant gift exchange or drawing names for gifts as a way to manage a holiday budget.
What else should you consider when buying gifts for children?
Buying gifts for children can be a delicate balancing act. Gi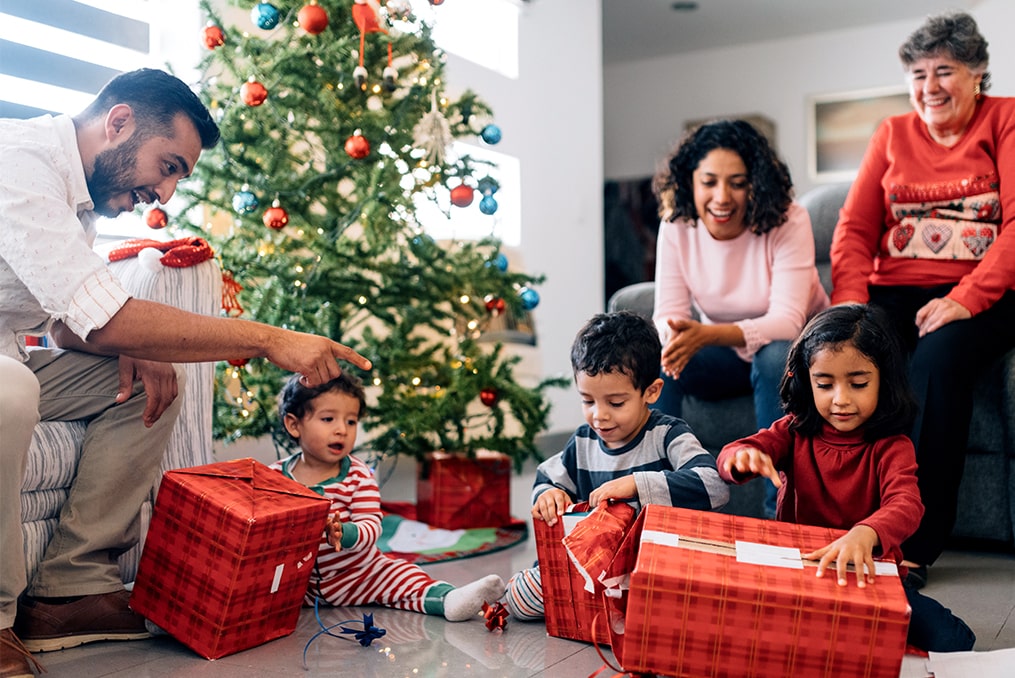 ving kids gifts is fun, but it takes discipline to maintain your budget. Plus, parents are not the only gift-givers. Children often get gifts from others as well—from aunts and uncles to gift exchanges at school. The gifts you get your child do not need to "top" all these gifts.
Additionally, consider discussing gift-giving boundaries for your children with friends and family. If you want gifts to follow particular guidelines (no noisemakers, please!) or you want to limit gifts for any reason, be sure to discuss it upfront.
Keep in mind that younger children often have no idea what an item costs. So, spending more will not make the gift special. Also, children may not understand how an expensive gift could put a burden on the family's finances.
There are lots of ways to create a magical holiday experience. Unnecessary financial stress from their family isn't one of them.
Entertaining during the holidays.
Food can be a huge part of holiday gatherings and traditions. You need a plan, especially if you're feeding a group. Consider grabbing items early to take advantage of sales. Preparing dishes and grocery shopping ahead of time can save you money and reduce stress.
The holidays are different for everyone. Here are some other expenses you might want to consider when planning for events:
Small gifts like stocking stuffers and candy
Decorations, lighting, or crafts
Baking ingredients
Party outfits or updating kids' holiday clothes
Costs related to sending Christmas cards or invitations
As you plan for entertaining, consider the number of people and how much you can afford to contribute. Whether you can afford to provide for everyone or not, consider asking guests to bring a side dish. Friends and family are often happy to bring a holiday favorite.
Charitable giving.
The holidays can be a wonderful time to give back to your community. If you plan to make donations, you'll want to budget for this.
People are most likely to wait until the last month of the year to donate. For gifts below $1,000, the average amount was about $20. For contributions above $1,000, the average amount was about $2,500. How much you should give is a personal preference.
The extra tax advantage for charitable giving in 2021 was not extended to the 2022 tax year. Still, taxpayers can deduct up to 30 percent of their adjusted gross income if they give to charity and itemize their taxes for 2022.
As you consider charities this year, be wary about sham charities. Unfortunately, there are scammers looking to benefit whenever money is involved.
Holiday travel.
Are you planning a trip to visit family? Are you renting a place? Regardless of your holiday travel plans, take the time to think about travel expenses. Be sure to account for meals and discretionary spending. Here are some of the costs that you may experience when traveling for the holidays:
Airfare, baggage fees, flight cancellation fees
Currency exchange fees, passport or visa costs
Car rental and fuel
Taxis and ride-sharing services
Hotel or lodging costs
Meals and grocery shopping
Shopping, sightseeing and entertainment
Travel insurance
There isn't a straight answer to how much you should spend on holiday travel. It will depend on where you're going, how you're getting there, what you need when you arrive—and how much you value the trip.
The holidays can be a time of joy. It can also be a time of financial stress if you don't plan your spending. Create a budget for each spending area, such as gifts, events, charitable giving and travel. Then stick to it. Additionally, start planning early to avoid impulse buys and overspending. Careful planning and budgeting can provide balance. Enjoy the holidays and keep your finances in check.
Do you need more help with your finances? Consider using free budgeting resources from Enrich. If you'd like hands-on help with your finances, you can find support with free individualized counseling, guidance and educational resources.