In September 2020, as many were still struggling with the impacts of COVID-19, devastating wildfires hit our region. During these dual disasters, one of the organizations that stepped up was the American Red Cross. We want to recognize the tireless efforts of our local Red Cross Cascades Region in helping those impacted by the blazes throughout last summer and fall. We've now experienced two consecutive seasons with historic devastation levels—understanding who will be there for us and how to prepare for the coming year is now more crucial than ever.
The multi-faceted response of this tireless organization has been amazing. Here is a closer look at the Red Cross Cascades Region.
The response to the Oregon wildfires
Efforts involved staff and volunteers transporting and warehousing supplies, putting together thousands of relief kits, and providing tens of thousands of meals to first responders and those displaced and otherwise impacted by the wildfires. The Red Cross Cascades Region helped facilitate thousands of nights in hotels, shelters, recreational vehicles and other emergency housing. Housing and assistance sites also included many of the fairgrounds in the region. COVID-19 and social distancing guidelines added challenges to the housing typically provided by large shelters, adding more hurdles in finding critical shelter. On top of this assistance, Red Cross volunteers gave personal assistance with counseling and even individual medicine and medical treatment for those in need.
Roxanne Myslewski, Regional Philanthropy Officer of the Red Cross Cascades Region, recently discussed her organization and its response to the wildfires: "Once a need has been identified, volunteers are mobilized, supplies are moved from warehouses, shelters are set up, and we work with our county partners (like the Salem Fairgrounds)." Hundreds of volunteers were deployed, many using an online portal. The need was great, and the response was swift.
For perspective, here are some details on the Oregon wildfire and the relief efforts from Red Cross Cascades Region and their partners:
Approximately 3,713 Red Cross staff and volunteers worked alongside community and government workers in providing comfort for those affected
Provided approximately 173,489 overnight stays at hotels and shelters
Helped fire victims with over 22,000 emotional and spiritual assistance contacts made throughout the region
Over 2,000 wildfires in Oregon alone with over 1.2 million acres burned
Over 1,700 households received Red Cross emergency financial assistance to help them replace essential items and begin recovery
Not only were volunteers challenged by COVID-19, but poor air quality from the fires became an additional obstacle for volunteers and workers to overcome in their ongoing battle. The Portland area was registered as having one of the poorest air qualities of major cities in the entire world. The smoke created low visibility and made breathing difficult and potentially hazardous.
Health and safety training and education
Responding to disasters is a critical component of the Red Cross mission—health and safety training and education for both adults and youth is a vital extension of its mission. These courses and certifications provide for a more educated and safer community and offer critical training for healthcare workers, teachers, first responders, child care workers and lifeguards. Having a disaster preparedness plan is vital for staying safe during a crisis and understanding how best to prioritize personal safety with protecting your property. Investing in additional training could help save a loved one or neighbor during a crisis.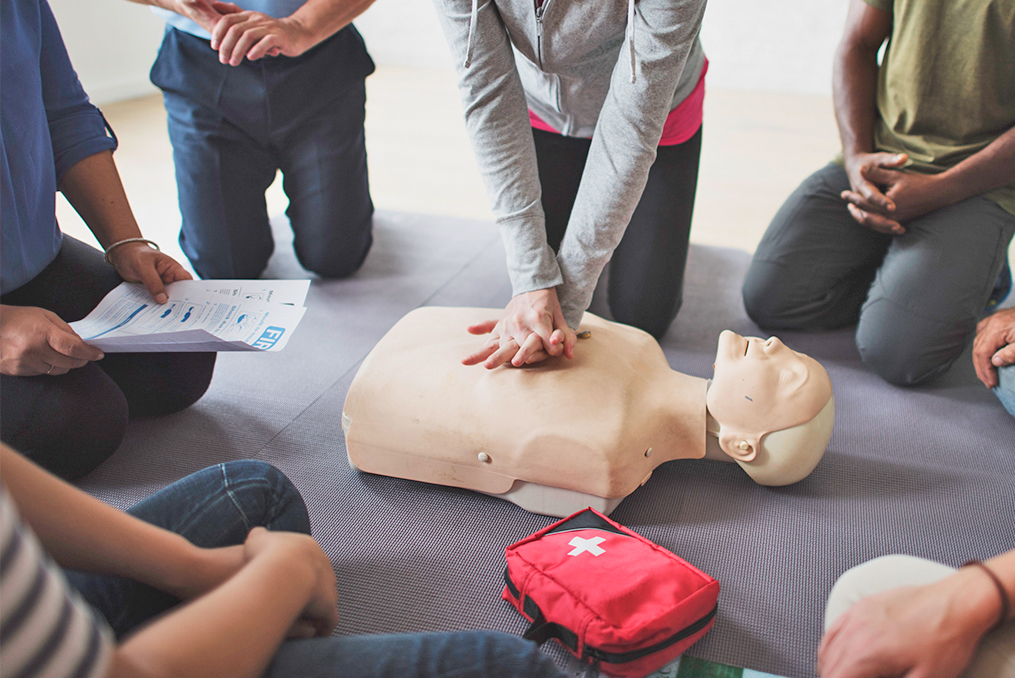 Courses to consider:
The Red Cross also offers a variety of employee training programs, including certified nursing assistant (CNA), automated external defibrillator (AED), basic life support (BLS), and even emergency medical technician (EMT) certifications. Although some of the advanced training may not be practical for personal use, your employer may sponsor some of these programs or you may be interested in exploring career opportunities that require these certifications.
Please visit www.redcross.org/prepareguide to learn more about how to prepare for local emergencies and be Red Cross Ready!
About Red Cross Cascades Region
Established in 1917, the first regional chapter to serve Oregon and Southwest Washington is the Red Cross Cascades Region. Since then, they have served millions of area residents requiring assistance due to floods, fires and other disasters.
There are about 2,600 volunteers who provide relief and recovery services in Western Oregon and Southwest Washington. This doesn't include those who donate blood, funds or resources to help the organization assist those in need. Their network is extended even further through its partnership with AmeriCorps. The Red Cross Cascades Region is headquartered in Portland.
Supporting the Red Cross
About 90% of the humanitarian work carried out by the Red Cross is made possible through its volunteers. It is one of the best ways to assist your Regional Red Cross. During disasters like the Oregon wildfires, Shelter Services Associates and Shelter Supervisors are in critical need. Learn more about volunteer opportunities here.
Since the Red Cross and the Red Cross Cascades Region is not a government-funded agency, it operates largely on the donations of companies and individuals. We can all do our part by helping to support this critical organization financially. In September of 2020, OnPoint Community Credit Union contributed a $50,000 donation on behalf of our membership to assist the Red Cross Cascades Region Oregon wildfire response and relief efforts.
While the Red Cross does a remarkable job getting many of its needed supplies and services donated, a cash donation is still the best way to help the organization. Monetary donations are particularly important as assistance efforts move to longer-term housing and recovery. Additionally, blood donation is always in high demand—a donation can save up to three lives, the Red Cross is also currently using plasma from recovered COVID-19 patients to treat those suffering from COVID-19.
Strong communities are a combination of vibrant, responsive organizations like the Red Cross, individuals who are generous with their time and resources, and involved businesses. We are proud and pleased to be a part of the communities we serve and recognize vital organizations serving the community.
Learn more about the ways to donate to the Red Cross Cascades Region.