The OnPoint spotlight is an ongoing blog series that highlights our employees, celebrating the drive and personality of individuals on our team. It's one way we show our appreciation for their hard work and achievements while helping our community get to know the people who make things happen here at OnPoint.
This week's employee spotlight is on Orlando Venegas, who became a Member Service Representative in 2018. Orlando says he has enjoyed his time with OnPoint and that the opportunities, connections, and friendships he's accumulated throughout the years have inspired him to become a better version of himself every day!
Here's what he had to share about his life and opportunities with OnPoint:
Tell us a little about yourself.
I was born in Brownsville, which is a border town in the southernmost tip of Texas, and I moved to the Portland area in my early 20s. I love being at home playing video games with the company of my two cuddly kitties, Winston and Archie. However, I will also jump at the chance for a long weekend road trip with my partner, Brian. I guess you could say I like to see the best of both worlds.
What were you doing before joining OnPoint?
Before joining OnPoint, I worked as a sales representative for Verizon. I also enrolled at Portland State with the goal of obtaining my Bachelor's in Accounting. I'm currently attending school part-time while keeping up with life's other demands.
If you could be an animal, which would you choose?
I would be a sloth. Besides being the cutest chill animal in the animal kingdom, sloths are also practically blind. I wear glasses, so I think I can empathize with them in that regard.
Are you handy at fixing things?
I very recently became a homeowner, which has forced me into becoming a handyperson! Unfortunately, I've had a few necessary home improvement projects, including my shower. I'm also the unofficial Tech Expert at my Beaverton Branch.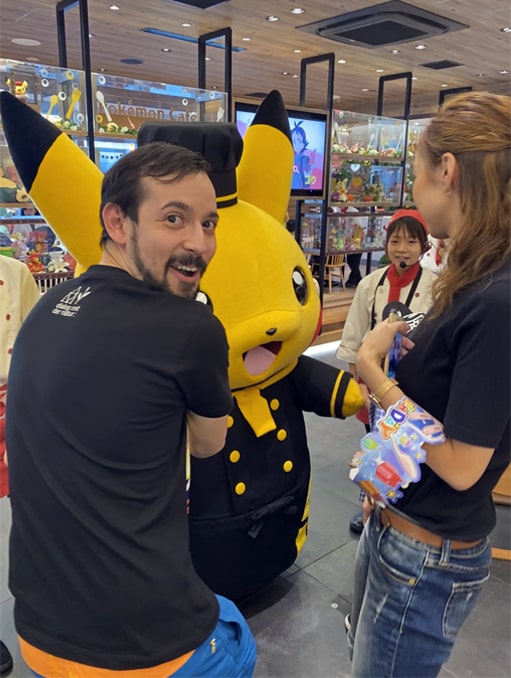 What was your favorite TV show growing up?
I have been a Pokémon fan for the longest time. The TV show only solidified my obsession when growing up. "Pokémania" has even followed me to my adulthood! I actually met the Pikachu during my Tokyo trip a couple of years ago—definitely a life-changing moment.
What was the best concert you've ever attended?
MGMT was a huge part of my teenage years. Seeing them live for their most recent tour was a bucket list item checked off the list.
What do you enjoy most about working at OnPoint?
The one thing I've learned about myself after working in customer-facing roles for so long is that I love helping others. Whether that means making a difference in someone's life by sharing resources or just providing quality service, the OnPoint team has encouraged my efforts. With this in mind, I never truly leave work feeling like another cog in the machine. Instead, I look forward to the next opportunity to make someone's life just a little better.
Are you interested in joining our team? Learn more about a career with OnPoint.