For over 35 years, the Black United Fund of Oregon (BUF) has helped students of color pursue their dreams of higher education and vocational training. Through mentorship, workshops, scholarships and many other targeted resources, BUF fuels social and economic development in underserved communities, one student at a time. The mission of BUF embraces the belief that education is a catalyst for change. In the words of Chief Executive Officer LM Alaiyo "Dr. A." Foster, BUF represents that change and academic learning is "the intersection of curiosity and preparation—on behalf of students, educators, and community alike."
BUF makes a difference by creating new opportunities, fostering change, and igniting new passions. This work deepens connections between individuals and families, business firms and service organizations, our collective communities, and eventually, our entire region.
Since 1983, BUF has helped guide funds to underserved areas and provided additional support to communities of color. This distinctive organization has strong roots in the North and Northeast Portland area, and a long history of supporting students in the greater Portland area with grants to organizations led by and serving communities of color, scholarships to students, as well as, mentorship and guidance to grassroots non-profits.
Combating historic inequities
The need for educational assistance for students of color in Portland and neighboring communities is essential to combat historical inequities in schools. BUF understands that educational inequalities can lead to crippling lifelong opportunities for people of color in the community.
"We have lived the entirety of our lives with systemic racism, oppression, and implicit biases permeating the fabric of the country and contaminating the air we breathe. We raise our children to understand injustice as a norm – under the guise of their own survival," explained Dr. A Foster in a recent letter to the community. "I stand with you in attempting to process, understand, and right historically heinous yet intentionally continuous wrongs."
Fortunately, there are ways that we can help serve disadvantaged students better. Elevating students is the primary reason programs such as those developed by BUF are vital for the future. They provide substantial opportunities for students to break through some of these systemic barriers. Providing additional opportunities for the Black community to achieve better lifelong outcomes. In addition to sponsoring educational programs for high school students and young adults, BUF collaborates with other community organizations to expand the depth and breadth of local community programs.
A guide to innovative programming
The staff and volunteers of BUF have developed a multi-faceted approach that is changing local communities and the future, one student at a time. Equip, Empower, Encourage, Engage and Emerge embodies their distinctive approach to help individuals thrive and strengthen bonds between communities. These teams forge lasting relationships by working with ethnically and culturally diverse groups. The community bonds they help create foster positive change and instill success as an expectation, rather than just a dream.
Some of these innovative programs include:
Mentor4Success (M4S): Designed to provide the skills and resources necessary to succeed in high school and transition to post-secondary learning experiences. The program complements the school year and includes workshops, networking and one-on-one mentorship.
Alumni Program: Support for young professionals of color in the form of professional networking as they enter the workforce.
BUF Talks: Small group presentations by professionals in various fields for interested students.
Scholarship Writing Workshops and School Resource Programs: BUF offers The Path to Scholarship (R), an award-winning low-cost education workshop—in conjunction with Portland schools—to help students identify and apply for available scholarship help. Other presentations deal with financial education and college debt topics.
Virtual Resources: Digital and online resources will soon be available in response to the need for more virtual and remote options in both education and business.
Congrats to the 2020 scholarship recipients—checkout the BUF video on Facebook.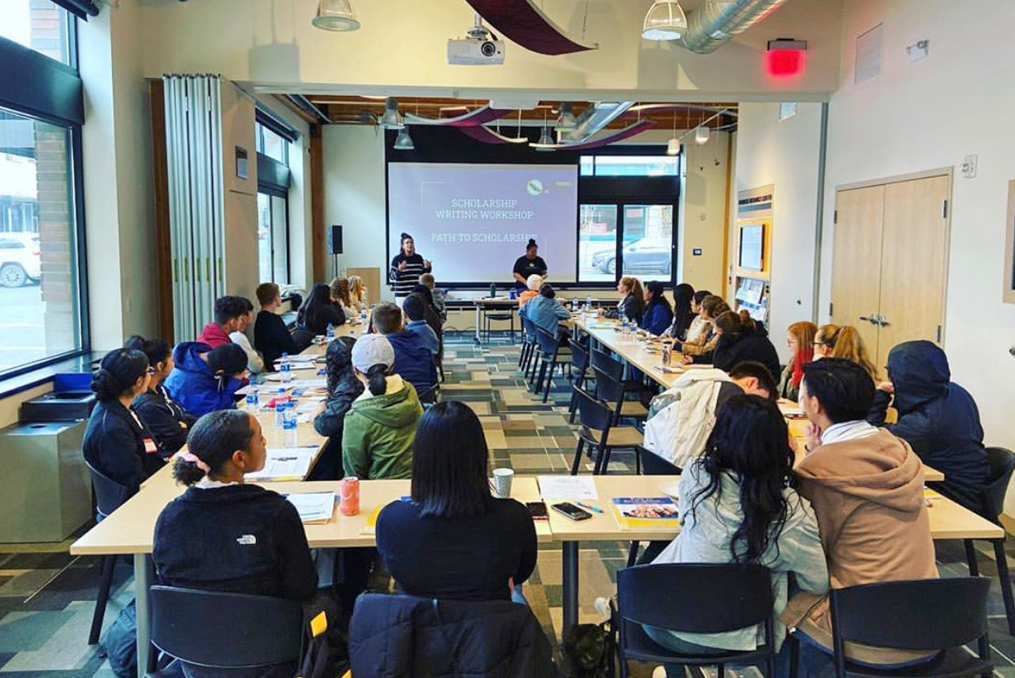 Support for other organizations
BUF actively enlists other groups and organizations in this ongoing effort to invest in inclusive education, ensure success for underserved youth and provide community support for programs that work. Grant funding for qualified organizations is available through BUF, based on their guidelines. Although 2020 applications are closed, interested groups that serve youth in Oregon and Washington can look for other opportunities to become involved with future programming.
They also provide support through nonprofit mentorship for BIPOC-led organizations and affordable office space at their community center. For additional information about the organization and its programming, or to volunteer or donate to its efforts, or support for other organizations, we encourage you to visit www.bufor.org/about.
A shared commitment to education
OnPoint is partnering with local organizations like the Black United Fund of Oregon (BUF) to combat racial disparity in our community. For too long, communities of color have lacked access to quality and culturally appropriate education. In a recent letter to the community, our CEO, Rob Stuart, explicitly condemned racism in every form and vowed to listen, learn, be better, and immediately begin building a more just community for everyone. Our initial financial commitment of $25,000 to BUF was a part of our recent $100,000 donation to organizations supporting people of color. We are proud to support these students through our donation to BUF, and we will continue to look for opportunities to support equal rights for all.
Please join us in supporting BUF and our Black community.