Located at the Columbia Food Park in downtown Vancouver, Slow Fox Chili Parlor is a small kitchen with a walk-up window that dishes up delicious slow-cooked comfort food—flavorful meals that nourish the spirit and feed the body. Since 2019, Derek Saner has been living his dream of operating a local food cart, serving up a range of chili options, ribs, meatloaf, vegetables, and much more.
Though the business started small, Derek plans to open more locations as time and resources allow, and eventually a full restaurant. Currently, he's working as a one-person shop with 12-hour days. His devotion to creating quality comfort food helps him navigate these uncertain times and pursue a beautiful dream. Surrounded by other foodie entrepreneurs in the Columbia Food Park, his taste for success is sure to be a winner.
Continuing a strong tradition of food carts in our community
Food carts in the Portland Metro Area date back over a century to 1913. With a deep local history, new food carts face high expectations. Local foodies have over 600 different available food cart options in the area, and are always looking for unique and delicious options. Slow Fox Chili Parlor has risen to the occasion by developing its own specialties. The OnPoint team is fortunate to have Slow Fox Chili Parlor just a short walk from our Vancouver Waterfront Branch.
"I wanted to start something of my own, cooking my own food, expressing what I love about comfort food. I do feel the same way about this. It's hard work, but it's worth it," Slow Fox Chili Owner Derek Saner said.
The Columbia Food Park was a strong driver in this growth. Seeing the opportunity available at the old C-Tran site, in 2017 Alex Mickle started a food truck and cart incubator for entrepreneurs in the area, using old shipping containers to set up kitchens with serving windows to grow community engagement in the area.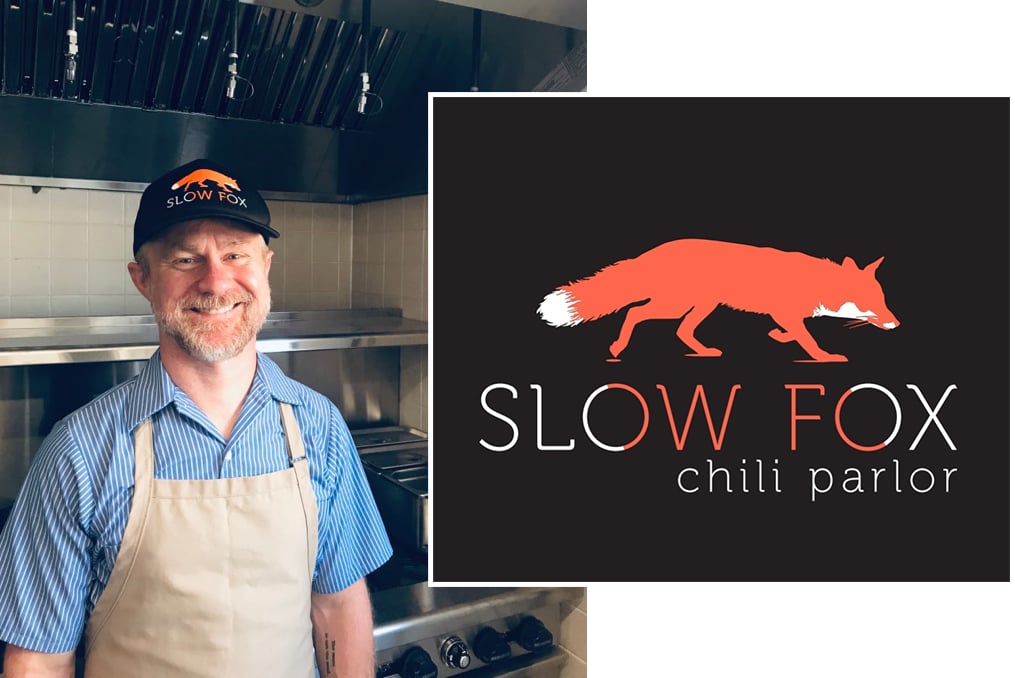 COVID-19 impact on food carts
COVID-19 hit within the first year of Slow Fox Chili Parlor's opening. Unlike standard brick-and-mortar dine-in restaurants, food trucks have seen a brisk business during the pandemic, partially due to social distancing rules. Instead of going out to eat, individuals and households are getting take-out from food carts by ordering online or calling ahead, then picking up the food to bring home. This allows locals and visitors to enjoy exceptional flavor and cuisine while supporting small businesses.
"Making people happy and nurtured is success. My greatest achievement is going for my dream. No matter how this turns out, I feel like I have already climbed a mountain," said Derek Saner.
But what's it like operating a food truck during a pandemic? Because so many people are reluctant or not allowed to eat indoors at restaurants, there is some opportunity for food carts. At the same time, the usual food truck locations near offices, schools, and shopping centers have seen a decline as potential customers opt to stay home. This forces some of these mobile businesses to close or operate on a limited-access schedule. It's a delicate balance between opportunity and a general decrease in overall demand.
Although dine-in restrictions do not have a large impact on food cart businesses, with more people working from home—and more people staying home in general—there's often less foot traffic from those grabbing a bite during the workday. Additionally, with temperatures dropping, others may be less likely to stand out in the cold to pick up lunch or dinner.
One advantage of food carts is their mobility. The option to move from one location to another can make it easier to go where the customers are but can also increase operating costs. Ultimately, the severity of this winter and additional COVID-19 restrictions could continue to put a strain on local businesses like Slow Fox Chili Parlor.
Forming a Lasting Partnership with OnPoint
When Derek Saner, owner and operator of Slow Fox Chili Parlor, needed help getting his business up and running, his local OnPoint on the Vancouver Waterfront was happy to help. OnPoint has formed solid partnerships with small businesses in the areas we serve. Our partnership with Derek helps him realize his dream of creating nourishing comfort food for the area. Plus, our Vancouver Waterfront Branch team enjoys the occasional visit to the food truck.
December 14-18, we'll be celebrating the Vancouver Waterfront Branch anniversary—come visit us for some fun swag and delicious treats. While you're in the area, please consider supporting our favorite local food cart, Slow Fox Chili Parlor, just a short walk or drive from our branch.