The ability to create and follow a budget is one of the most important skills in life. Budgeting promotes financial independence and stability, prevents overspending and helps you afford the items you need and want. The recent health crisis and restrictions on the service industry and retail stores—common first job opportunities for teens—creates an opportunity to discuss how budgeting and creating an emergency fund are integral for long-term financial planning.
When teenagers hear the word "budget," they often hear "a list of ways I can't spend my money." It's important to get past this mindset by discussing how budgeting can lead to more freedom, including the ability to avoid unhealthy debt, stay up to date on bills, and have funds available to pursue passions and fun experiences. During times of uncertainty, budgeting can help to navigate risk and stay afloat.
Rather than using a budget to limit "fun" spending, consider positively framing the habit. Use these tips as your teen gets his or her first job and begins to earn money:
How to teach teenagers the value of saving money
Teenagers are only a few years away from becoming independent adults. The skills they develop during these years will have a direct impact on the start of their adult lives. Learning how to save money and budget for the future means they'll have a firm footing when they set out on their financial journey.
While an allowance can be a good starting point for learning valuable economic lessons, by the time young adults begin to receive their first paycheck they'll need a more in-depth understanding of finances. Here are few ways to instill the value of saving before their first paycheck:
Create a rewards system
The impact of savings is long term. It can be difficult for teens to see how a dollar saved today can transform into enough money for a big purchase in several years. At this early stage, having rewards for saving can provide a necessary incentive for building the habit.
Examples of rewards include:
Savings match: Offer to match a percentage of the money or a flat dollar amount that your teen saves.
Help with big purchases: Offer to pay for half a large purchase, such as a vehicle, if your teen saves the other half.
Incentive trip: Offer to take a day trip somewhere special if your teen can save a certain amount of money.
The OnPoint Savers Account is a great way to build towards a savings goal with a high-yield interest rate and the opportunity for new OnPoint members to receive a bonus deposit.*
Give them some financial responsibilities
If teens can get access to spending money just by asking for it, they won't have much of an incentive to save. However, making it their responsibility to pay for some of their personal expenses can help them to see the value of saving.
Once your teen starts earning a paycheck, reduce how much money you give them for non-essentials like movies, video games and fast food. Or, ask them to pay a percentage of their phone bill to gain experience with covering monthly expenses. Depending on your financial situation, you may consider opening a savings account and depositing their contributions. Since you may already be accustomed to paying for these bills and expenses, it won't impact your budget and it creates an opportunity for you to put money away for college, or a graduation gift.
How to get your teenager to start budgeting
One of the keys to getting teens to understand the importance of budgeting is to help them see the habit as a means to freedom and independence. As teens near adulthood, they crave more independence.
As teens start earning money, discuss how they might want to achieve their goals rather than simply restricting their spending. You could talk about big goals like where they want to go to college, or small goals like making a purchase. Then sit down and make a budget together.
Here's an example: your teen has a few ongoing obligations and some known spending habits. They also want a new gaming computer that costs $1200. Use this info to make a list of common expenses such as food, entertainment, travel, etc. Then, determine spending amounts for each category:
Takeout: $100 per month
Phone bill: $60 per month
Entertainment: $150 per month
Transportation: $200 per month
Computer savings goal: $200 per month
From there, adjust spending amounts in each category based on how quickly your teen wants to get the new computer. For instance, they might choose to decrease how often they go out to eat to put more money toward the computer. However, this budget is incomplete. What happens to their savings goal if they get sick and miss work? Or if their vehicle needs an unexpected repair?
That's why it's also important to teach teens to pay themselves first. If an emergency expense or financial hardship arises, the rainy day fund can help get them through it without disrupting their long-term planning.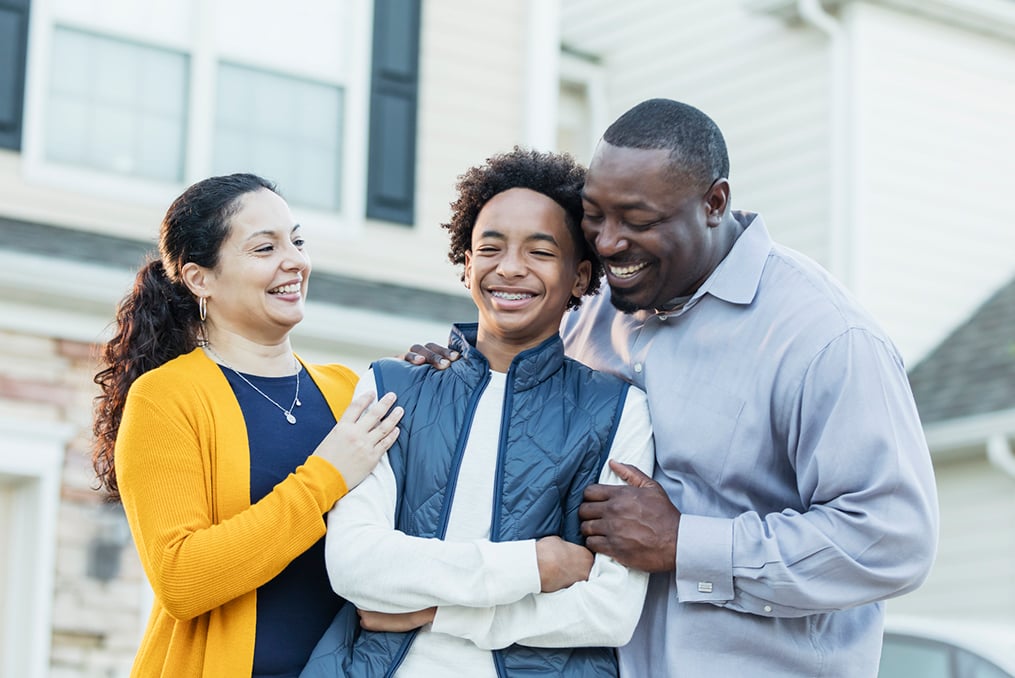 How to help your teen save more
"Pay yourself first" is an important savings principle to teach kids. When "paying yourself first" start by saving 10-20% of net income. Most employers allow for a fixed percentage direct deposit to one account before depositing the remaining balance in another account—typically a checking account for everyday use. Help your teen set up their automatic savings and checking deposits, then work together to create a spending budget with the remaining 80-90% of their income.
Once your teen has a consistent unused savings balance, they may want to consider opening a certificate of deposit (CD). Does your teen need more convincing about the importance of saving? Check out our Emergency Savings infographic to illustrate the value of building a rainy-day fund.
Other money topics to discuss with your teenager
Saving and budgeting are just two pieces of a larger financial plan. As your teen earns their first paychecks, consider discussing:
The difference between gross pay and net income
What the information on their W-4 form means
How tax brackets work
Why it's important to save for retirement early
OnPoint has many free resources available to financial literacy—check out our financial education resource Enrich to discover more ways to achieve your family's financial goals.